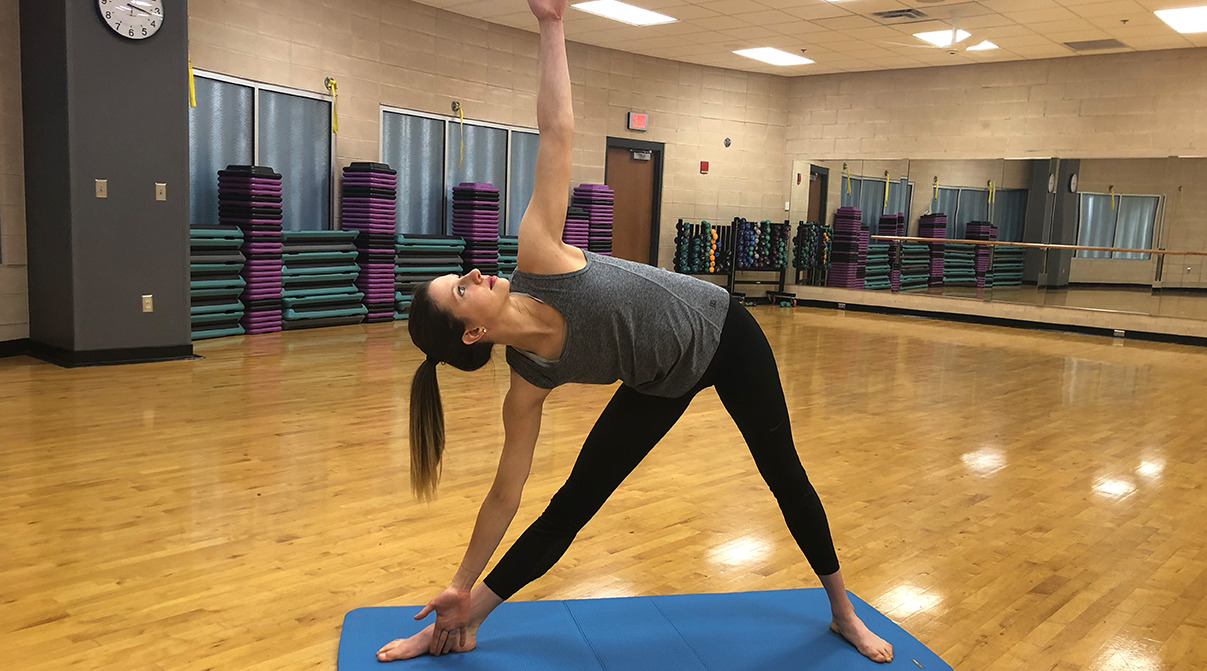 A Worry Free Workout
A focus on health + safety at the Monon Community Center
The Monon Community Center is open for fitness! Although things look a little different, we are here to support our members on their fitness journey. Beyond providing the tools needed for your workout, we are committed to your health and safety. Before you head to the facility, we want to share the changes we're making so that you can work out worry-free.
We want to make sure that we keep you in the loop about any updates. The Governor announced on Wednesday, July 15 that we'll stay in Stage 4.5 for at least two more weeks. That means our current procedures will stay in place until further notice.
Whether you're going for a swim, attending a group fitness class, or heading to the fitness center, here's a look at how we're keeping the MCC safe for members and staff: 
Enhanced Cleaning Measures
Since reopening our doors to members in May, we have continued operating with enhanced cleaning measures. We believe that this is the number one way to keep our members and our team safe. Enhanced cleaning measures include:
Daily Deep Cleaning:

Every day we close the MCC from 1 to 4 p.m. for deep cleaning. 

Distanced Equipment:

Fitness equipment is spread out around the Fitness Center, Track and Group Fitness Studios. This allows you to use equipment while maintaining physical distance from other members.

Cleaning Signage:

Fitness equipment is cleaned after each use. We have placed a small sign on each piece of equipment that indicates to members and staff if the equipment needs to be sanitized. 
Updated Group Fitness
Want to get back into your group fitness workout routine? Look no further than the Monon Community Center. We are offering an abbreviated schedule, but we still have 50+ classes each week (you can see the full schedule here). 
Larger Space:

We are hosting all of our classes in the gymnasium on the west side of the MCC.
Physical Distance:

We have marked off spaces for each group fitness participant on the floor to ensure that there is 6+ feet between each participant.
BYO Equipment:

At this time we aren't providing yoga mats or other fitness equipment. If you'd like a yoga mat (or other fitness equipment) during your workout, feel free to bring something from home!
Reservation System
Members are welcome to visit the Fitness Center anytime, but we have a reservation system in place for group fitness classes and lap swimming. Using the reservation system helps us keep wait times down since we are limiting capacity for the pool and our group fitness classes. Reserving a class or lap lane is easy and you can find all the details on our website (click here!). 
Dedicated Team
Before, during and after COVID-19 we are here for you. Our goal is to provide an exceptional experience. Our team at the MCC will be wearing masks (except for group fitness instructors + on-duty lifeguards) and we have all stepped up to help out with extra cleaning. If you have any questions about the changes we're making or if you have any feedback about our current procedures, please let us know. We are always happy to help and provide you insight!
If you want to join the Monon Community Center, we are also now open for new members! Adult monthly memberships start at just $44/month and you get unlimited access to all of our amenities. We hope to see you soon!