Your Resource for Homeschool Programs
Make learning fun – or should we say even more fun! – with programming at Carmel Clay Parks & Recreation (CCPR). CCPR works hard to meet the needs and requests of the Carmel community. After hearing from homeschool families that they wanted adjacent + additional options, we decided to dive in and see how we could help. From our talks with local homeschool families, we've begun introducing programs specifically for homeschool students and families over the last few years. This fall, we're excited to offer more homeschool programs than ever before.
Here are the top three reasons why you should consider CCPR as your homeschool resource:
Take the stress out of planning
Based on community feedback, we planned homeschool programs in a block schedule. This means fewer trips back and forth to the Monon Community Center for programs! By offering back-to-back programs you're able to make the most of your time on the days that work best for you.
Variety of options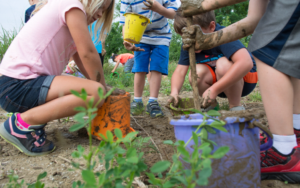 Why run around town for all of your kiddos' lessons and activities? Try a little bit of everything at the Monon Community Center. From fitness to nature to science & technology, with Carmel Clay Parks & Recreation your kiddo doesn't have to choose! The best part? You aren't sacrificing quality for convenience because our programs are led by area experts. From learning coding skills with Codelicious to exploring nature with a resident naturalist who has over 30 years of experience, your kiddo will be learning from the best!
Gateway to additional experiences
We're excited to offer homeschool-specific programs, and we also encourage you to explore all of our other offerings as well! This season we're offering over 600 programs for all ages, interests and abilities. Learn a new skill, explore a park and connect with new friends.
Beyond our programs, we also offer field trips. If you are part of a homeschool group, consider planning a field trip with CCPR! Our nature and wellness-themed field trips are led by our resident naturalist and offer a fun, immersive experience for ages 4 to 10. Field trips follow state standards and are customizable for the needs of your group. They are often used to supplement a curriculum or as an end-of-year celebration.
We thank you for your input so that we can make changes and adjustments. If you have feedback or suggestions for our homeschool programs, please email Erica Foreman at eforeman@carmelclayparks.com.
So what are you waiting for? Spread the word about this resource and get your child(ren) registered!