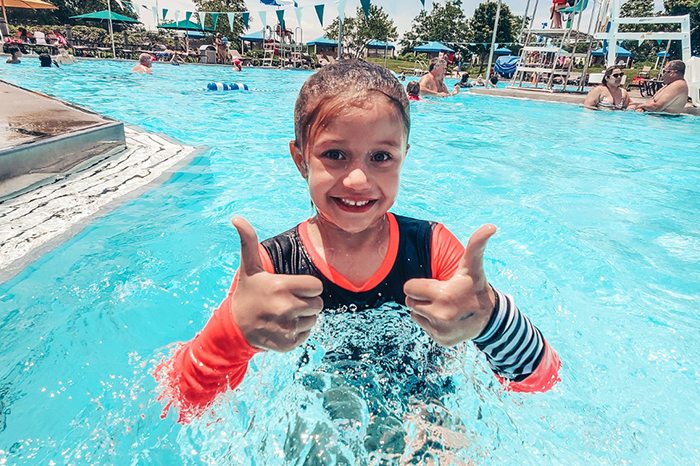 How to Save Money and Keep the Family Busy All Summer: Recreation Programs
By: Sierra Holmes
Can you believe it's nearly August? We're on the countdown for summer break to come to an end, so we have decided to take full advantage of all things summer. How do you maximize your summer break without breaking the bank? Carmel Clay Parks & Recreation (CCPR) is the perfect option! From nature hikes to the infamous The Waterpark at the Monon Community Center, there is something for every kid and kid-at-heart!
Grab a Monon Community Center Membership
I'd suggest investing in a Monon Community Center (MCC) membership! We joined in June and it has been so great learning more about what CCPR has to offer. All for $99/month for the ENTIRE family!
What's Included in the Membership?
A membership to the Monon Community Center includes access to the amazing fitness center, all indoor aquatics, The Waterpark, group fitness classes such as Yoga, Zumba, Pilates, Pound and Tabata, and more…all for no additional cost!
Getting a membership was a no-brainer, and just in time for all of the summer activities! Here are a few of our must-dos that you should add to your summer fun planning. Remember the best part: All of these activities are either included with your membership – and available with a day pass – or inexpensive. It's a win-win!
The Waterpark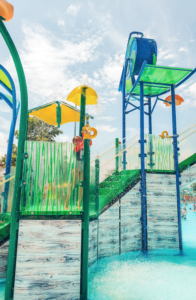 During the Summer, indoor aquatics at the MCC shut down and the outdoor waterpark opens. For me, this is the #1 perk of the membership during the summer because The Waterpark is FREE with your membership! Now, this isn't just a pool with a couple of interactive water attractions. Whether you're a water adventurer or just working on your tan, this place has it all! It features winding water rides, a lazy river you can spend the entire day in, a rock climbing wall – the AquaClimb® – for water adventurers, a FlowRider® surf experience for the daring and more!
Have smaller children?
There is a section just for the tiny tots in your life! They also have free life jackets for all ages, keeping your kids safe and having fun all day in
the sun.
Feeling Fancy?
Spring for a cabana rental and live your best waterpark life! Cabana rentals start at $49 and feature seating, lockers and a mini-fridge. This is my kind of party!
Don't have a membership?
Prices are $8 for Youths (3-15)/ Seniors (65+) and Adults are $11 (16-64). Let's do the math here: That's $38 a visit for a family of 4. Save big by grabbing a membership.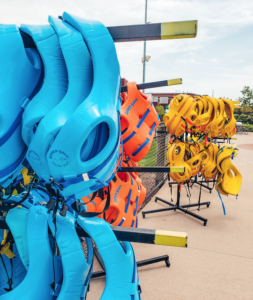 Pro Tip: Pssst…there's a late day discount! Starting at 4 p.m. Monday-Friday, admission is reduced to $5 for adults and $4 for youth and seniors! **Please note this discount does not apply to weekends or holidays, but hey…what a great way to wind down in the evening! Hurry, it only lasts a few more weeks before they head into post-season.
What to Wear: Board shorts, Tshirts with swimming suits, modest swimwear, and swim diapers
What Not to Wear: Thong bikinis, basketball shorts, lingerie as swimwear, regular diapers
Aquatic Adventures at the Monon Community Center
One of my favorite things about having a membership at the Monon Community Center is access to all of their amazing group fitness classes. There are 100+ classes available weekly for no additional charge! As I continue to recover from a broken leg at the start of the year, I wanted to find a way to exercise and strengthen my leg muscles without putting a strain on my muscles, so of course, the idea of aqua fitness came to mind. Recently, I tried out the morning water walking class that takes place in the lazy river at The Waterpark. It was a little challenging and so much fun! I was able to get my heart rate up without risking injury. I highly recommend taking advantage of the perks of aquatic fitness classes!
The Monon Community Center Nature Programs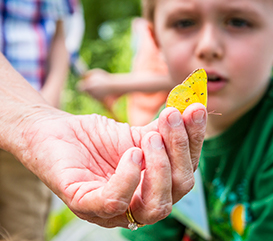 Once you've had a chance to truly experience The Waterpark, check out the nature programs offered by CCPR! We've done a few of these with our family and they are so much fun. There really is something magical about getting out and enjoying the parks! One of my favorites has been the My Park Series. CCPR's natural resources coordinator Brittany McAdams takes participants on a guided tour of one of the 13 parks and 4 greenways throughout Carmel. This series is perfect for families with teenagers (13+) and is free to attend, even without a membership! Head over to the Carmel Clay Parks & Recreation website to find the perfect park to explore!
Whew! I think that's enough to keep you busy for the rest of the summer and beyond! Head over and grab your membership today!