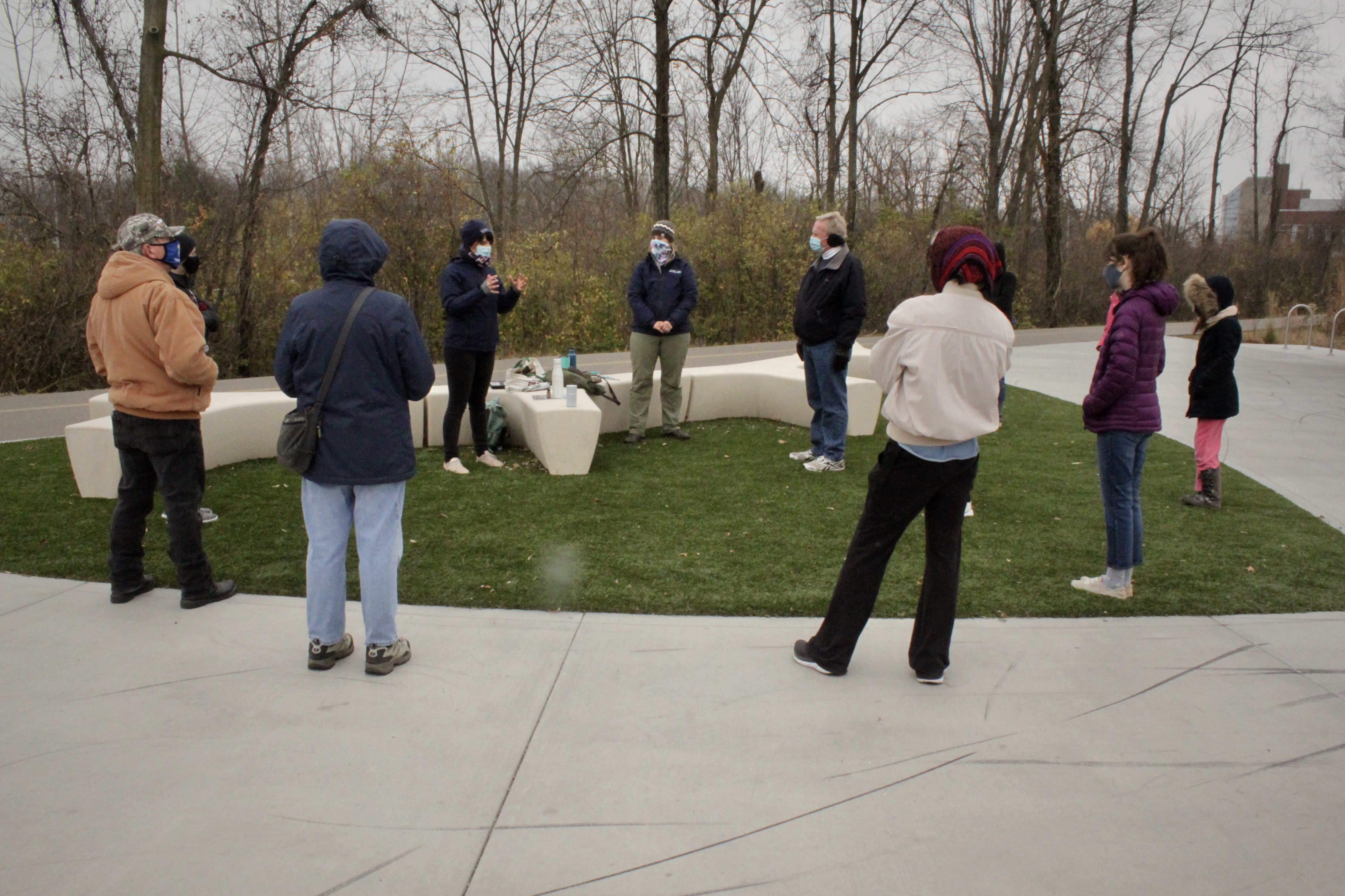 These are a few of our favorite things
Our team reflects on good times and thanks our amazing volunteers. Join us in making the good better this year! 
Snow covered trail walks in warm woolen mittens 
Waterpark playtime and Monon admittance 
Native plant prairie and yearly tree rings 
These are a few of my favorite things 
First glance of snowdrops and monarchs on milkweed 
Programs and classes that help us all succeed 
Blue Jays and cardinals flapping their wings 
These are a few of my favorite things 
(Poem based on a show tune by Hammerstein & Rodgers) 
What a year 2020 was… The world experienced a global pandemic, our country was swept up in a nationwide justice movement, and at CCPR we faced operational challenges unlike anything we've ever seen. As we slowly emerge from a year like no other, how are we to shake off the shock and distress of everything that happened and look to the future with hope and motivation? How are we to find strength to keep going, and to continue benefiting the greater good of our families, communities, and the world at large? 
A great place to turn to is the research field of positive psychology pioneered by Barbara Fredrickson (2006) and Sonia Liubomyrsky (2000). Until recently, mainstream psychology largely focused on studying negative emotions: they were easier to name and identify; study participants were able to evaluate their experiences with them more accurately; they are essential for survival; understanding them is critical for addressing serious conditions like depression or clinical psychoses. Understanding what helped us survive, however, did not help us understand what made us THRIVE. In the words of Gable and Haidt (2005). 
In the second half of the 20th century, psychology learned much about depression, racism, violence, self-esteem management, irrationality, and growing up under adversity but had much less to say about character strengths, virtues, and the conditions that lead to high levels of happiness or civic engagement. In one metaphor, psychology was said to be learning how to bring people up from negative eight to zero but not as good at understanding how to help people rise from zero to positive eight." 
Focus on the Good
Wouldn't it be nice to know how to bring ourselves up to eight? Or ten? This is where positive psychology comes in – demonstrating the tools, techniques, and mindset that help us flourish in life and in service. Interestingly, the insight gained in this field seems to be just now catching up with the wisdom shared in many ancient traditions that can be summarized by the famous quote of personal growth author Abraham Hicks: "When you focus on the good, the good gets better." In February, we are embracing the theme of focusing on the good here at CCPR by paying close attention to all our favorite things. We are so fortunate to have incredible staff, state-of-the-art facilities, certified wildlife friendly habitats, and the absolute best participants and volunteers. Just look at these stories our staff shared of their favorite CCPR moments: 
"One of my favorite moments is the first time we had a Roundabout Playback Troupe performance to a sold-out crowd. After the performance an actor's mother came up to me and said she had never seen that side of her son. She had no idea how smart and an abstract thinker he was."
– Michelle Yadon, Recreation Program Manager 
"During program time at Forest Dale, I was talking to the children and being silly which they like. I told the group that I was getting a new knee for Christmas. One of my kindergarteners looked at me and then said, 'Can I have your old one?'" 
– Valeska Simmonds, Extended School Enrichment 
"In the fall of 2019, we had a Citizen Science: Native Seed Collection event held in the prairies of Central Park. After collecting some swamp milkweed around the lagoon areas, we were heading to another area of the park to collect gray-headed coneflower. On our journey, we witnessed the circle of life. A beautiful monarch flittered through the air and landed on a vibrant purple New England Aster. Lo and behold, a praying mantis was also occupying that spot and before we knew it, the monarch was lunch. We all watched in both disbelief and awe as the praying mantis ate the entire body and left only the monarch's wings behind. I still have those monarch wings as a fond reminder of that day and the true circle of life we all witnessed."
– Joanna Scott, Natural Resources Coordinator 
Honoring our Volunteers 
Another way we focus on the good every year is honoring our volunteers. These are the passionate, dedicated people who give their time and energy to supporting our programs and stewarding our parks – bringing so much good to the community. And we are not allowing the challenges of this year to stop us!  
So, on February 12 we will be hosting a virtual "Favorite Things" themed volunteer appreciation event in which we will celebrate the contributions and accomplishments of our most active volunteers – including hourly awards and even President's Volunteer Service Awards! In lieu of the door prizes, we are sending thank you packets full of gifts from the community sponsors: Lou Malnati's Pizzeria, Laser Flash, Bibibop Asian Grill, HOTWORKX, Indiana Artisan Gift & Gallery, and many others. How fun! To register for this virtual event, click here! 
In 2021, we invite you to join us in focusing on the good. Whether it is walking the trails of your favorite park or attending one of the recreation programs at the Monon Community Center – give more of your attention to the good, and the good will get better. And if bringing more good to the community is part of your focus for 2021 – check out the volunteer opportunities at carmelclayparks.com/volunteer. Let's make the good better – together! 
References:
Fredrickson, B. L. (2006). Unpacking positive emotions: Investigating the seeds of human flourishing. The Journal of positive Psychology 1(2), 57-59. 
Gable, S.L. & Haidt, J. (2005). What (and Why) Is Positive Psychology? Review of General Psychology 9(2). 103-110. 
Lyubomirsky, S. (2000). On studying positive emotions. Prevention and Treatment 3(5), 1-5.