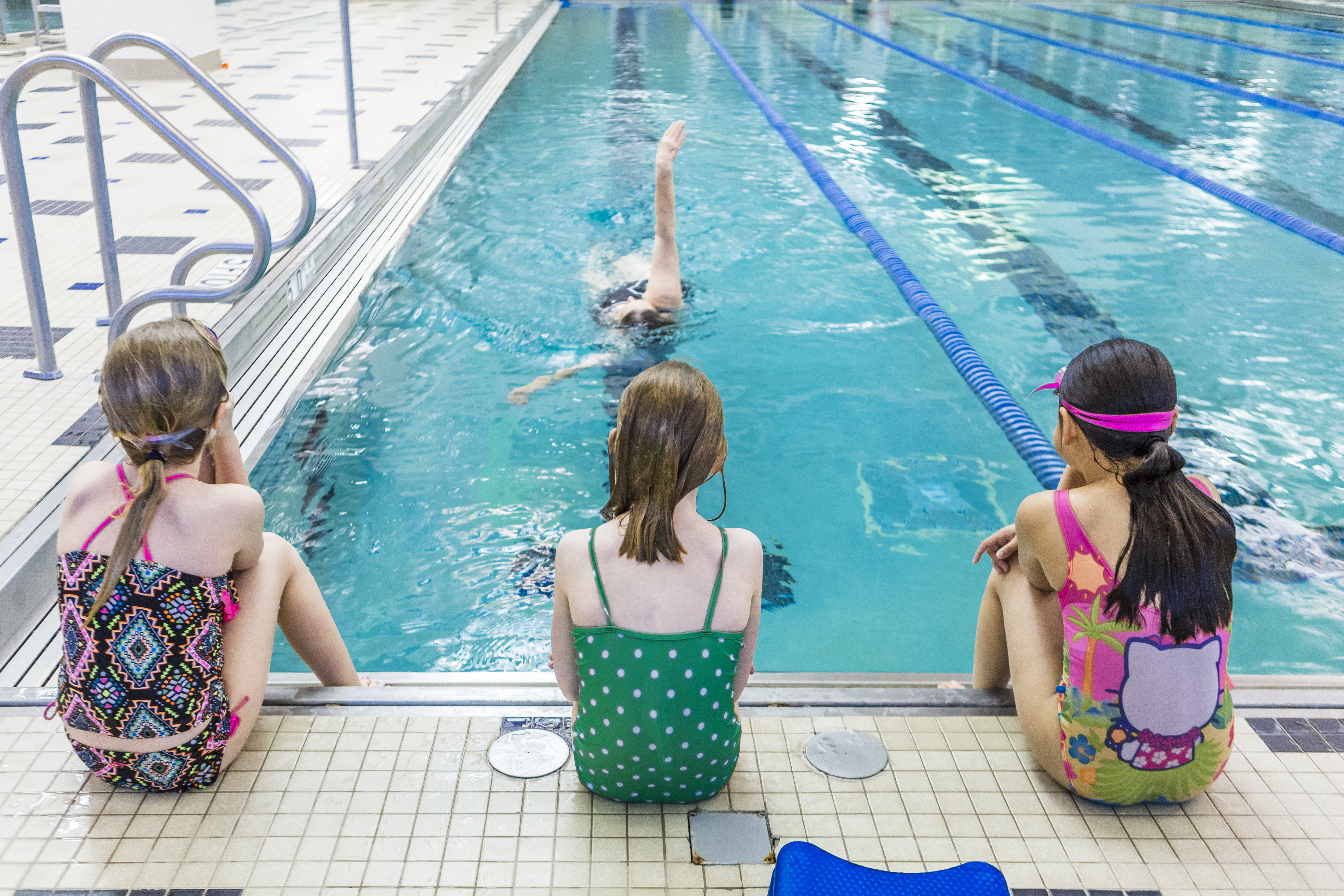 Swim lessons are back at the MCC
Feel comfortable in the water and out
Looking for a safe extracurricular activity for your kiddos? Swim lessons are back in full swing at the Monon Community Center! The goal of our swim lessons is to make our participants comfortable in the water – whether that's just learning to swim or developing a new stroke. But this year, we understand that it's not just about being comfortable in the water. It's about feeling comfortable at our facility. Today we're sharing the changes we've made to make our swim lessons safe and accessible for all participants. Let's dive in! 
Masks
Per the Governor's mandate, Carmel Clay Parks & Recreation requires all guests to wear masks when entering and exiting the Monon Community Center. For swim lessons, we ask that participants not wear masks during their lessons. However, our instructors wear masks throughout the entire lesson, both in and out of the water. Instructors will also use face shields and safety goggles during lessons when they need to be closer than six feet to participants.
 
When you enter the MCC for your swim lesson, please keep your mask on.  Participants should keep their mask on until their swim instructor approaches to start the swim lesson. We ask that family members stay in the MCC during swim lessons and keep their mask on until leaving.

Social Distancing
As an additional safety precaution, social distancing measures are in place during swim lessons. Throughout each lesson, participants are socially distant from one another. 
Swim instructors will work to keep social distancing in place during lessons through various methods, including marked places on the deck spaced six feet apart.
Enhanced Cleaning + Safety Procedures
After each program, all equipment is disinfected and frequently touched surfaces are disinfected throughout the day. Beyond that, the entire facility, including locker rooms, is deep cleaned daily and we have staff on-site cleaning throughout the day.
All CCPR staff including our swim instructors and lifeguards complete health check-ins before clocking in for work each day.
Same Award-Winning Swim Instructors
Something that has remained the same is our award-winning swim instructors! Carmel Clay Parks & Recreation is an American Red Cross Gold Level Learn to Swim Provider and a Top Training Provider – meaning CCPR has issued the most training certifications in the entire state of Indiana. This demonstrates how important it is to us to employ the best of the best on our swim instructor team. 
We use the American Red Cross method for teaching swim lessons. In addition to the training our swim instructors receive at the Monon Community Center, many of our instructors also hold Water Safety Instructor certifications from the American Red Cross, certifying that they are knowledgeable in both water safety and instruction skills. All our instructors strive to instill confidence in their students while teaching them how to have fun and be safe in aquatic environments. 
Ready to dive back into swim lessons? Find the right lesson for you and register today!