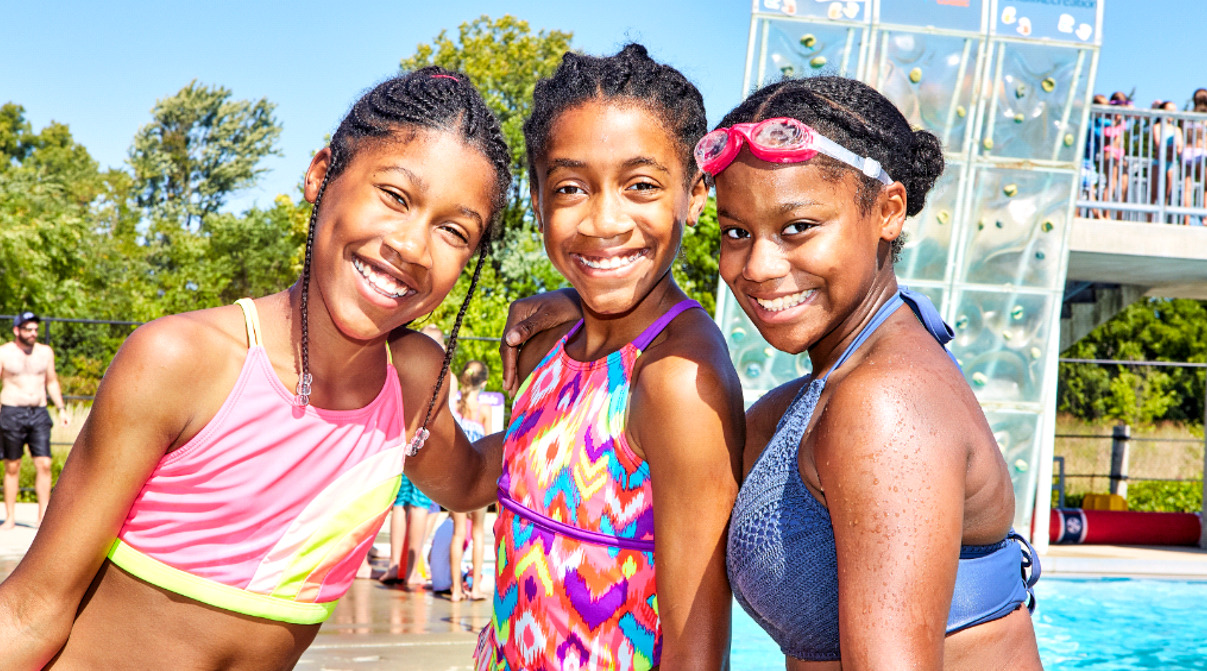 The Waterpark is open to all!
Reopening FAQ
The Waterpark
in Carmel is your destination for safe summer fun. Before you make the trip, be sure to read through our FAQ to learn more about the changes we've made this summer to keep you and our team safe.  
Q. What is Phase 1 of reopening The Waterpark?
Q. What are your hours of operation?
A. The Waterpark is open daily from 12 p.m. to 7 p.m. Members and season pass holders receive advance entry starting at 11 a.m. General admission begins at 12 p.m. daily.
Q. How much does it cost to get in?
A. Day pass admission to The Waterpark is $12 for adults (ages 16-64) and $9 for youth (ages 3-15) and seniors (ages 65+). Kiddos 2 years old and younger do not require paid admission.
Late day pricing is not available this summer.
Q. Where can I purchase a day pass, season pass or membership?
A.
Day passes are available for purchase at The Waterpark gate. Season passes and memberships can be purchased
online
, or at The Waterpark gate.
Q. What features are open?
A. While there will be some changes to The Waterpark this summer, most of the features you know and love will be available! The Activity Pool and play feature, Adventure Slides, and FlowRider® will be open. The Lazy River will remain closed this summer.
Q. Are cabanas available for rent? 
A. Cabanas will be available to rent on a first-come, first-served basis each day.
Q: Will concessions be available? 
A: No rumbling tummies at The Waterpark! Concessions will be available. We do encourage guests to pay with cards to minimize contact, but cash will be accepted. Like usual, you are welcome to bring your own food and drink; however, glass and alcohol are prohibited. Water fill stations will also be available.
Q: Are there enhanced cleaning measures this summer? 
A:
Your health + safety as well as the health + safety of our staff remains our top priority. You can find our full reopening plan, including cleaning measures by
clicking here
. 
Here are some of the steps we are taking: 
Portable hand wash stations will be available around the park. 
Dedicated staff will be focused on maintaining restrooms and trash cans. 
At the end of each day, all common contact items will be sanitized including: Slide entry and handles, handrails on Activity Pool and Kiddie Pool play features, concessions tables and seats, cabana furniture, FlowRider® boards, pool ladders, pool lift chairs, tubes, and entry gates.
Sanitizing spray and wipes will be provided at each lifeguard station. 
Half of the tables in the concession area will be removed and tables will be sanitized every hour. 
Q: What do I need to know before I arrive? 
A: A few things… 
If you are sick or experiencing flu-like symptoms or symptoms of COVID-19, please stay home. 
We encourage you to perform a temperature check at home prior to visiting the facility. 
Use proper hygiene and wash hands frequently. 
Maintain at least six feet distance from the nearest person. 
Purchase your seasonal pass online beginning June 14. 
To minimize contact, you will be issued a key fob upon your arrival. 
While cash will be accepted, to minimize contact we encourage you to pay with a card. 
You will only be able to enter The Waterpark through the main front gate. The fob will not allow you access through the Monon Community Center. 
Lawn chairs will not be available. You are welcome to bring a folding chair from home (one per person). 
Q: Do I need to wear a mask? 
We hope to see you soon at The Waterpark! If you visit, be sure to tag us in your photos @CarmelClayParks.