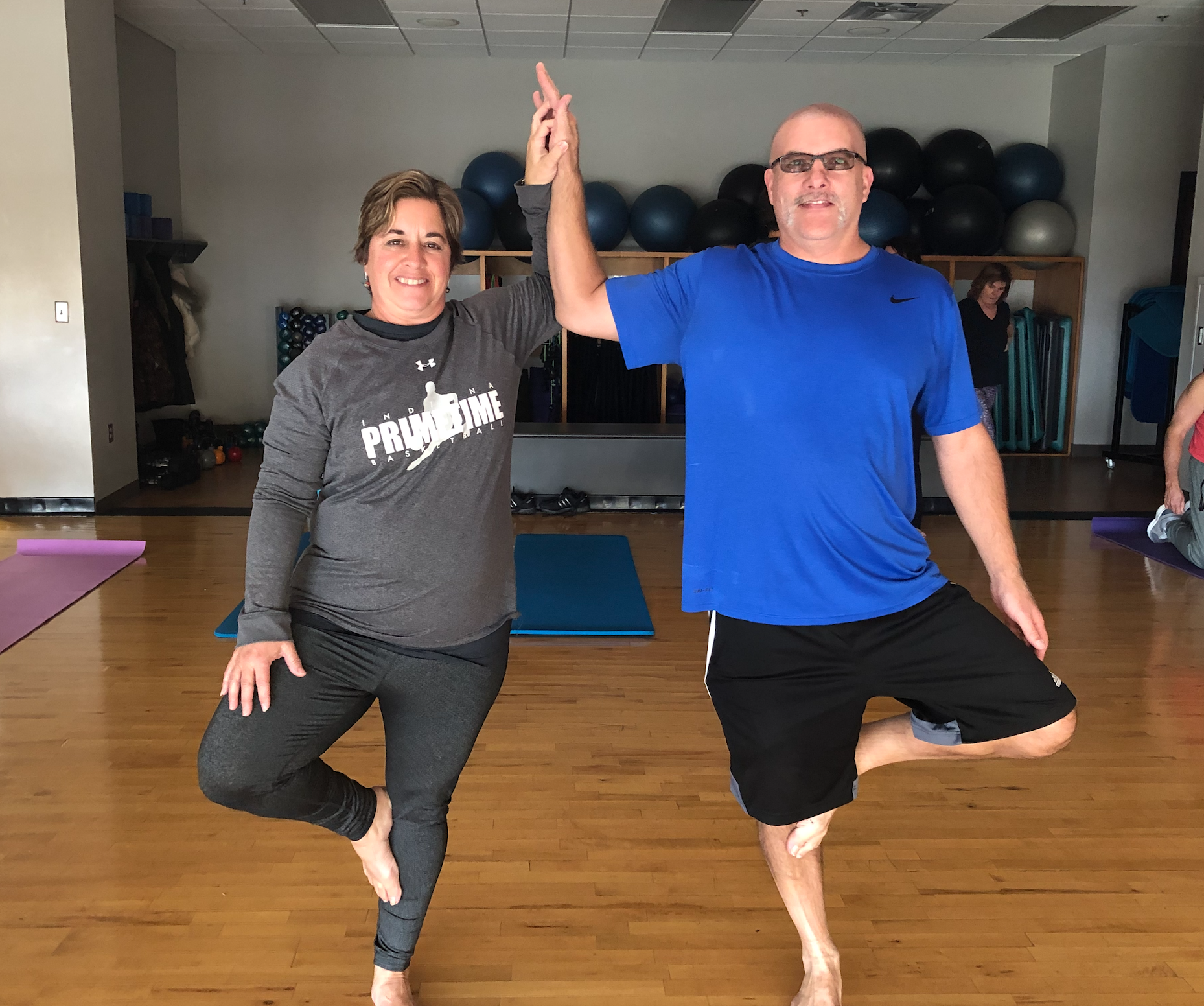 Leonora (Lee) Starr had taken yoga classes before but was looking for a yoga studio that offered classes that would fit her busy schedule. Carmel Clay Parks & Recreation's Monon Community Center (MCC) offers over 24 yoga classes weekly with six kinds of yoga at all levels from beginner to advanced — and all under one roof. For Starr it really was the perfect place to get started again, so she forgot about the private studio and headed to the MCC.
"I was really excited to get back into yoga," says Lee. "And, my husband Greg has a long history of back pain which had led to back surgery for him about two years ago. I knew that yoga could help him become more flexible through the classes and encouraged him to join me."
Greg says that the thought of joining a yoga class made him a bit hesitant to get started. His initial reaction was to point out that he "wasn't that flexible" and wasn't sure yoga was for him. "I assured him that yoga was less about how flexible you are and more about practicing at a level that works uniquely for him," says Lee.
Over time, Greg — a local firefighter — has fallen in love with yoga and the Friday noon class has become a regular "lunch date" for him and Lee. "I actually come throughout the week for other yoga classes now too," says Greg. "I encourage anyone who isn't sure if yoga is for them to give it a try. My back is feeling great and the back pain that I used to have has subsided and is almost a thing of the past."
"I encourage anyone who thinks that yoga isn't for them to give it a try. You'll be surprised how great you will feel." Greg Starr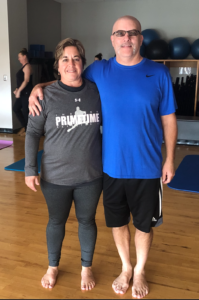 Both Lee and Greg credit the fantastic and engaged staff at the MCC. "Gretchen truly makes yoga inviting and dispels any of the intimidation first-timers might feel. It is a wonderful mind and body workout," says Lee. "I encourage you to try it and promise you'll feel better."
An article by Harvard Men's Health Watch editor (Harvard Medical School) offers yoga as one of the more effective tools for helping soothe lower back pain. The practice helps to stretch and strengthen muscles that support the back and spine, such as the paraspinal muscles that help you bend your spine, the multifidus muscles that stabilize your vertebrae, and the transverse abdominis in the abdomen, which also helps stabilize your spine. Is yoga for everyone? Not always. Talking with your doctor first about whether or not it is okay to begin a yoga program if you suffer from lower (or any) back pain is the first step. If your doctor says yoga may be a benefit to help alleviate your back pain, make sure you find the right instructor and class that works best for your needs. Proper form is especially important for people with back pain as they begin to incorporate yoga into their daily exercise program. In yoga, you should use your muscles to first create a solid foundation for movement, and then follow the proper form that slowly lengthens and stretches your body. By mindfully practicing yoga, people can safely improve their mobility and strength.