FlowRider®
Surfing in Carmel, Indiana? That's right! You don't have to travel to the California coast to get your surf on. All you have to do is grab your suit and head to The Waterpark at the Monon Community Center! We bring the waves to you with the FlowRider®️. Rushing waves will be coming 'atcha 30 mph. The FlowRider®️ is an experience you won't want to miss!
Need help? We have lifeguards available at the ride to help orient you to the board and give tips for surfing success!
Hours
Open daily from 11 a.m. – 7 p.m. during The Waterpark season (May 29 – August 9, 2021) During Post-Season (August 10 – September 6, 2021) The Waterpark is closed Monday – Friday and open Saturday + Sunday from 11 a.m. – 6 p.m.

Quicklinks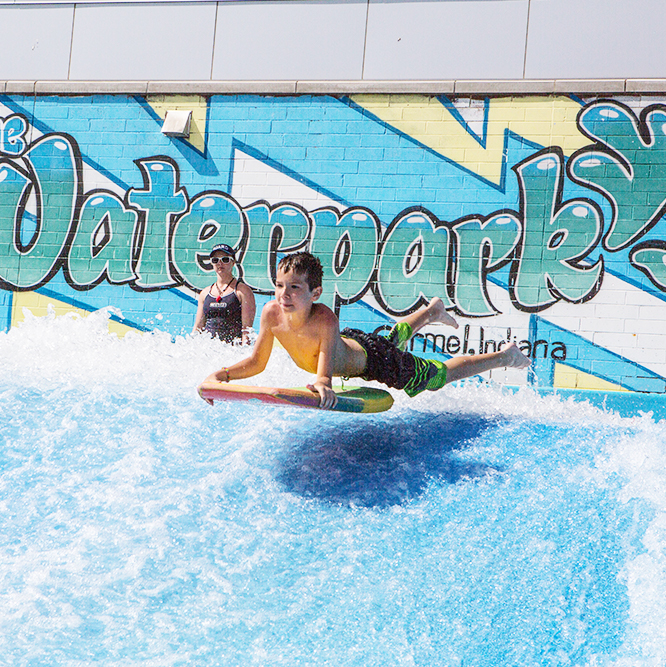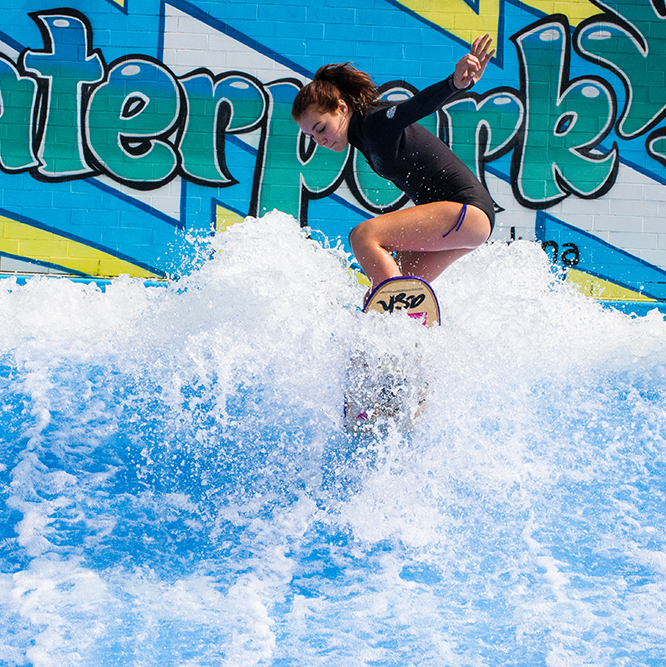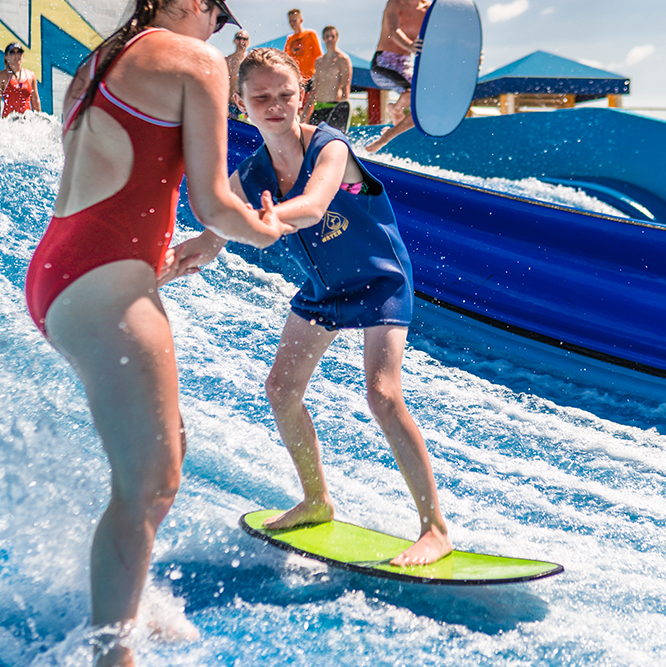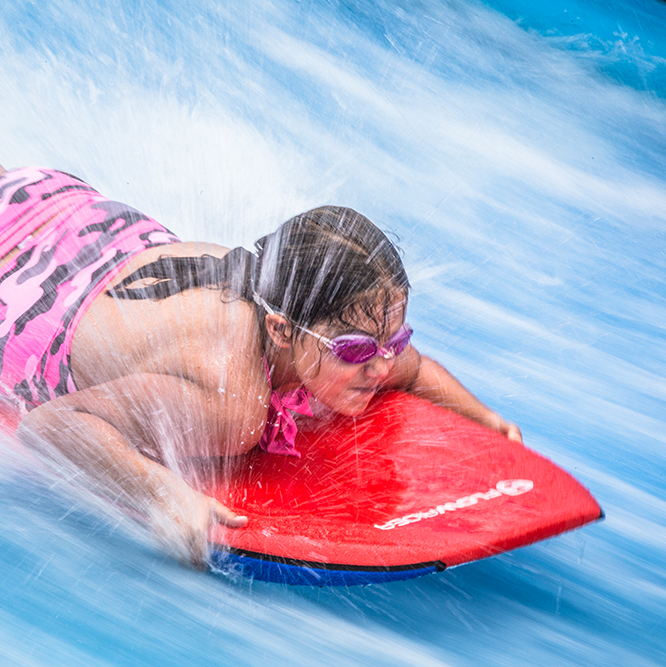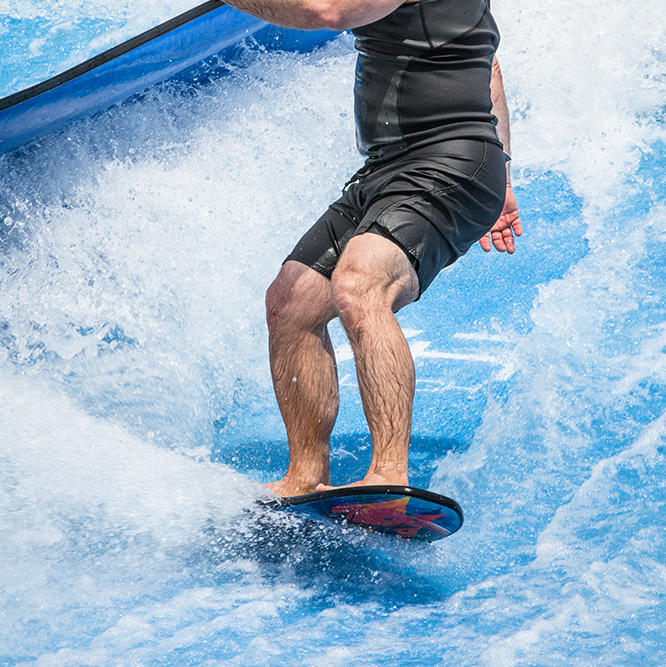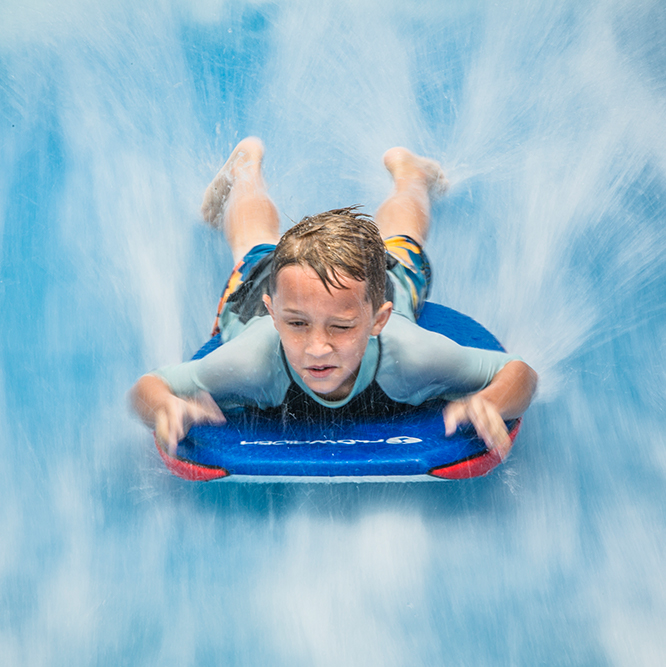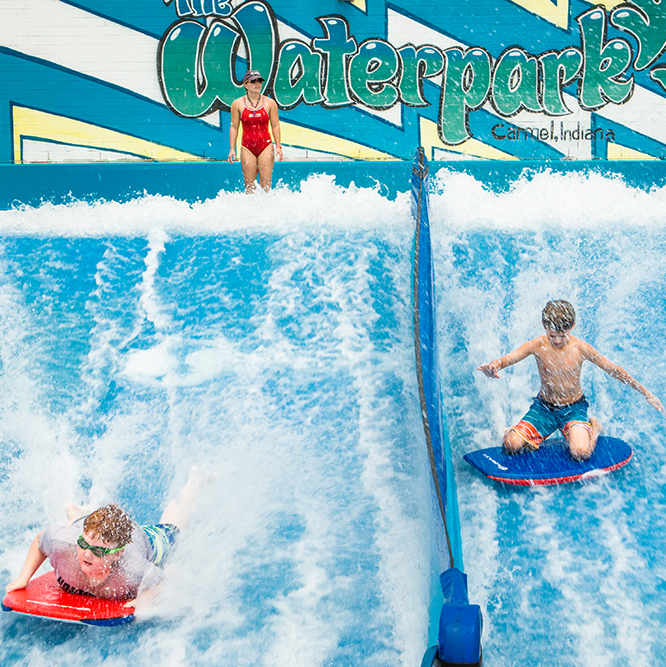 "Every year I travel over 100 miles to Carmel, Indiana just to ride the FlowRider®. It's a summer tradition that I won't pass up." Riley S.
Interested in touring the facility in person?
Come in anytime and one of our staff will take you around.
Rules
General FlowRider® Rules:
All riders must fill out a waiver prior to riding.
Riders must be 48" inches to bodyboard and 52" to flowboard (stand up).
This is a very strenuous ride due to the extremely turbulent water. Bodyboarding or Flowboarding on this sheet wave is a body-active participatory sport. As with all sports care must be taken to avoid a mishap.
Riders must be in good physical condition and free from any physical limitations to participate. Pregnant women and persons with having a history of heart, back, neck, shoulder or joint problems should not ride.
Jewelry, hats, footwear, eye glasses or loose articles of any type are not allowed on the ride as they may injure the participant or damage the ride surface.
Due to fast moving water and strenuous activity, it is recommended that your bathing suit be appropriate for this type of activity. Loose clothing or bathing suits could come off using the FlowRider®. Cover-ups are provided and suggested.
Enter ride upon receiving instruction from the lifeguard.
If you wipe out, do not hold your board. Release board immediately, cover your head, and keep limbs close to body and let the wave carry you to the top.
Single riding is only permitted. No tandem riders or multi-person riding is allowed.
CAUTION! The ride surface is very slippery. DO NOT attempt to walk on the ride surface. You may only stand to walk and exit after coming to a complete stop on the dark blue drain grating.
Once ride time is over, exit the ride immediately, by means of wipe out or steering toward the outside edge.
Bodyboarding:
Place your bodyboard onto the flow of the water slick side down. Lie down on your stomach, head facing the flow of the water, with your hips along the edge of the board. Your legs should be extended straight behind you to serve as a rudder. Your hands should grab the forward rails of the board. Keep fingers, hands and elbows on top of your board to minimize water splashed into eyes. Gently push into flow. You may ride in a kneeling position.
Flowboarding:
Holding the nose of the board, place your flowboard onto the flow of water slick side down. Place your back foot approximately at the tail of the board and position your front foot above the mid-point of the board. Place your weight primarily on your back foot. Gently push into the flow.
Avoid jumping into or entering the ride at high speed; avoid placing weight on front foot.
Steer your board into the center of the flowing water. You can control your board by gently shifting your weight. Try to keep your board pointed into the direction of the oncoming flow of water. Edge control is the key. Keep weight on your back foot!