Show Up + Get Rewards
Now there's even more to love with your Monon Community Center (MCC) membership with My Monon Rewards. My Monon Rewards is our official member rewards program that keeps you motivated, engaged, and inspired to achieve a healthier you.
Now you can:
Participate in monthly challenges
Win a new member prize
Refer friends and earn additional entries into prize drawings
And so much more!
Want to stay up-to-date on all things My Monon Rewards and membership? Join the Monon Community Center Members Facebook group!
Ways to Get Rewards
Monthly Challenges
New Member Prize
Referral Bonus
Monthly Challenges
The main way to earn prizes through My Monon Rewards is by completing monthly challenges. Each month, there will be four different challenges for members to complete. Each challenge completed equals one entry into the prize package of your choice. The number of times you can complete a challenge will vary and max entries per challenge will be noted. At the end of the month, there will be one member drawn to win each prize package. *Must be an active member when the drawing is done. By participating, you consent to sharing your name/photo on the member facebook group.
New Member Prize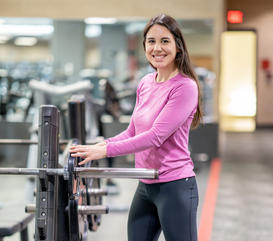 New members* who visit the Monon Community Center four times in their first month will automatically be entered into a monthly drawing for a new member prize package.
Prizes will include: personal training consultation, duffel bag, and water bottle. Total prize worth is $100.
*New members must be first time members, not returning new members who have had memberships in the past.
Referral Bonus
Refer friends and earn five extra entries into the monthly challenge prize drawings for each person who buys a membership.
One member referred = Five entries
To earn a referral bonus, the people you refer must be new members, not returning members who have had memberships in the past.
The person you are referring must provide your name when buying their membership in person. If the person you are referring is registering online, they must provide your name on their first visit.