C

onnecting Community
Virtual fitness classes connected members during COVID closure.

 
BRITTANY IGNAS
The workout lifeline
Consistency and routine vs. change and uncertainty. Should this be a tug of war or a linear lifeline? Carmel Clay Parks & Recreation's fitness supervisor Brittany Ignas says the physical closing of the Monon Community Center due to the pandemic this past March put in motion an out-of-the-box transitional response that allowed members to keep their fitness on track. That response — taking the workout classroom right into the homes of its members — embraced a plan to take the change and uncertainty now invading their normal workout lives and provide the consistency and routine so many needed. It provided a virtual lifeline to staying fit and maintaining a healthy mind, body and spirit. And, that virtual lifeline looked a lot like Brittany Ignas.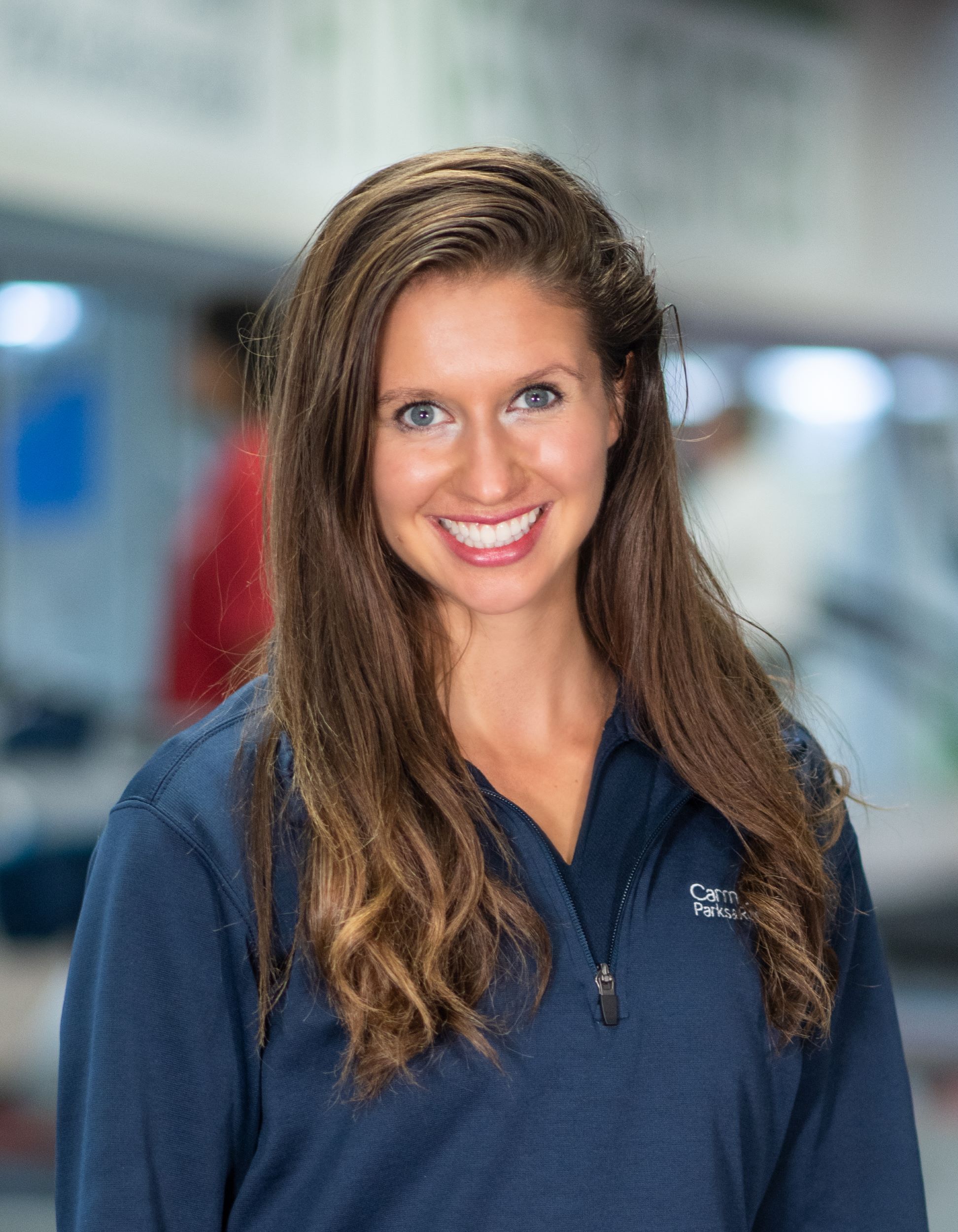 "The minute we knew we were going to close, the conversations began about options," says Ignas. "I am a trained dancer and had lived in New York City working at a small fitness studio for a while and I was seeing the virtual workouts becoming very popular on social media. We quickly put together a schedule based off of our most popular group fitness classes and launched our virtual workouts almost immediately." 
Ignas, the face of CCPR's virtual workouts, offered four to five varied-level classes every day and shares she probably completed around 300 classes over the course of the MCC shutdown. Knowing the MCC provided a sense of community and connectivity, Ignas was intent on providing a virtual lifeline so members could still feel like part of a group fitness class and continue their workout routine. 
"We have so many people who tell us their workout class is more than just a physical experience," Ignas shares. "They say they come for the workout but get so much more out of the community experience. So, it was a priority for us to find a way to strengthen that community feel even from afar. I set up my own camera and off we went." 
This past summer, the MCC re-opened to members with a commitment to new and improved processes including wearing masks when entering and exiting the facility, preregistering for class spots, an above-and beyond approach to social distancing during group fitness classes and at workout stations, and keeping equipment clean and safe in all workout areas. Over 450 members have returned to their consistent workout routines but there are many who have chosen to remain a part of the still-offered virtual classes. 
"Being 'together' no matter what that means during this new normal really shows our dedication to strengthening that community feel the MCC is known for," says Ignas. "As we head into the winter months, staying connected with options to stay healthy and active with fitness routines tailored to each individual's needs will be an impactful benefit." 
LYNN RODIBAUGH
Staying virtually motivated
Like all of us, Lynn Rodibaugh's day-to-day routine changed this past March. Beyond being a wife and mother, she became an in-home teacher for one of her sons and a 24/7 support system for her entire family. She knew taking care of herself and sticking to her workout routine was going to be difficult but crucial for her physical and mental health. When the MCC offered virtual group fitness classes she was all in. 
"We've been members at the MCC for years and it just feels like home to us," says Rodibaugh. "I am a big fan of any classes promoting cardio and strength. I knew that with the whole family at home, I was going to need to find the time to make working out a priority with all the changes. At first, I wasn't sure what that kind of workout routine was going to look like." 
Rodibaugh says once the MCC closed, it wasn't always easy finding time to work out with her son's virtual school schedule, but she was intent on staying connected to her usual routine and found time four or five times a week to catch a virtual class. She credits MCC fitness supervisor Brittany Ignas and her ability to connect during the workouts with keeping her coming back for more.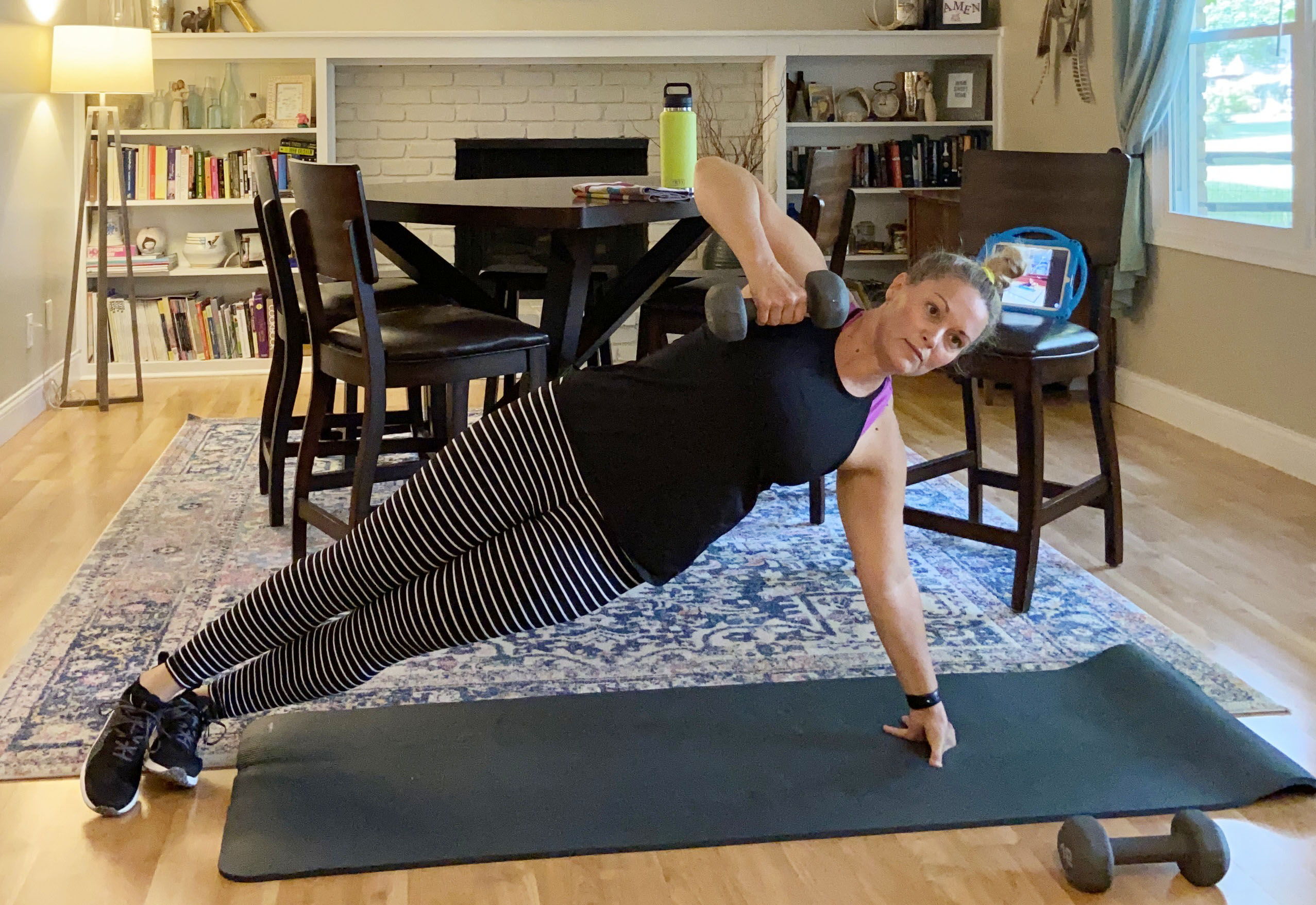 "The virtual classes were a lifesaver for me," Rodibaugh says. "I've always worked out even when I was working and traveling quite a bit. And, now that I am home with the kids, the childcare option at the MCC has really made my life easier and allowed me to venture into more class options. My kids love going to the MCC and seeing all of their friends as much as I do. The family membership is invaluable to us and we enjoyed the pool so much this past summer. It was a place we really felt safe and that they had all the right safety precautions in place. I'm very grateful for that option to get us all out of the house and outdoors." 
Now that the MCC has re-opened, Rodibaugh has returned to some semblance of normalcy for her workout routine at the facility but feels relieved that there are still virtual options as well. She says she's never felt safer taking a class at the MCC and loves the addition of online class registration. 
"Everyone is at a different place in their life and questioning what is safe for them personally," says Rodibaugh. "As long as I have options I feel as though I can take a holistic view to my health and adapt as I need to. The virtual class options have made me accountable and kept me motivated just the same as going in person and has been so beneficial to my schedule and life. We don't know what is around the corner so being able to feel confident that the MCC community will find a way for us all to stay connected is a real benefit to members. They've put a way to maintain my health and wellbeing first and foremost." 
TERRI AND TOM SMITH
A virtual team
Terri and Tom Smith aren't usually "sit at home" folks. Their usual routine included almost daily workouts at the MCC, walks with their doggie, working jobs even in retirement, and volunteering in the community. In March, much of their usual activity was put on hold or transformed into something new. But, don't picture either one of them slowing down much or changing their personal commitment to staying healthy, fit and active.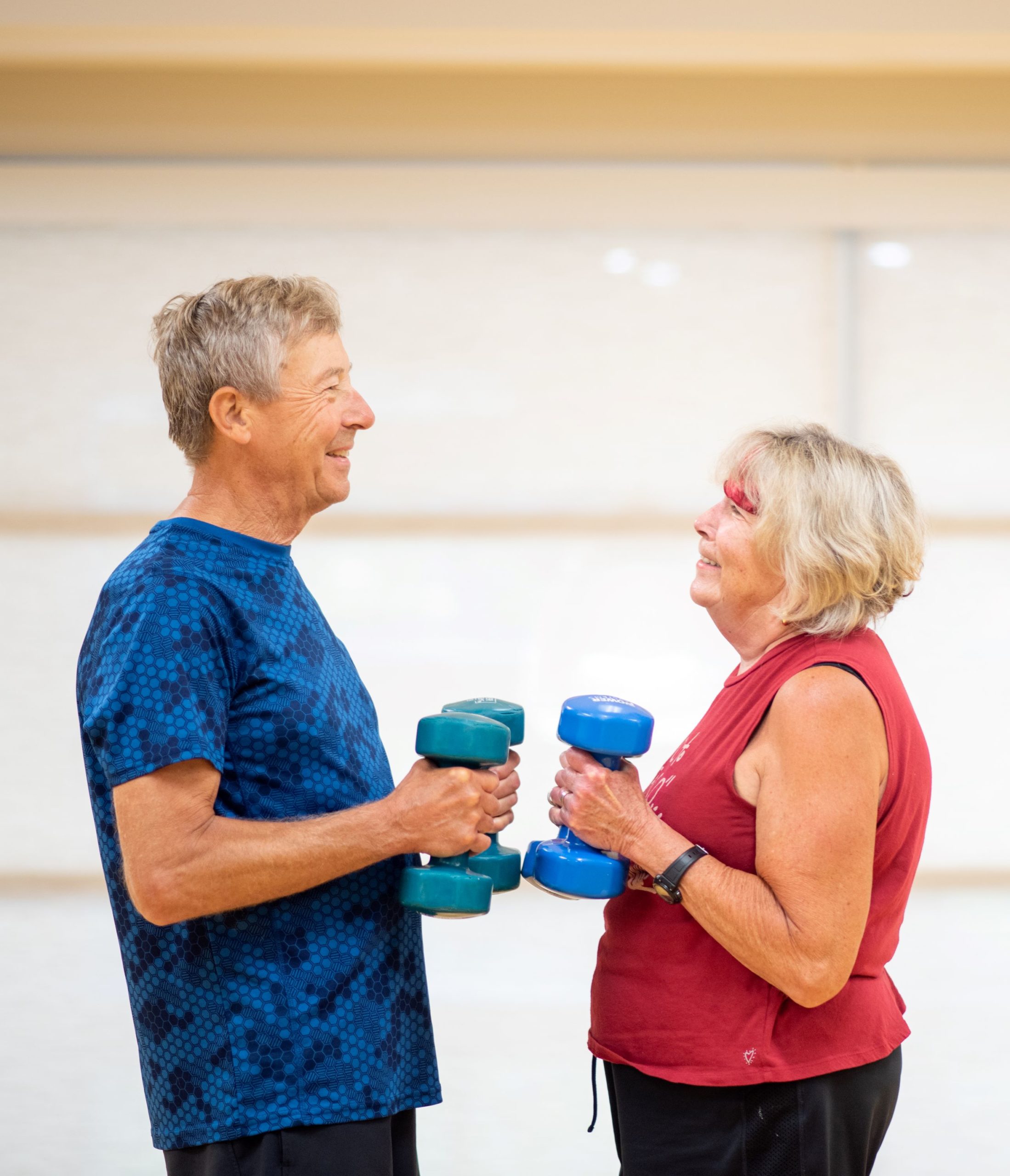 After retirement five years ago, Terri and Tom became MCC members at the senior rate. Prior to COVID and the MCC shutdown, the pair had been working out at the MCC between three and five times per week. They share that beyond their usual physical workouts, the MCC is a community where they make and see friends which goes a long way toward keeping them socially and mentally healthy as well. 
"Before COVID we were at the MCC several days a week," shares Terri. "Tom likes to use the workout equipment, elliptical, sometimes we take a spin class, and I am usually in a group fitness class. Strictly Strength is one of my favorites and concentrates on cardio strength which is important to me. I was a race/walker and Tom was a marathon runner at one point in our lives and we like to keep moving. When we learned that the fitness classes were going to be online during the shutdown, I knew it was going to be the lifeline we needed." 
In early spring, Tom and Terri were walking their neighborhood, painting bedrooms, laying down mulch, and starting and finishing home projects to keep moving and busy as we all moved into "hunker down" mode. They both plugged into the online group fitness classes and continued their workout schedules taking as many classes as they could. 

Once the MCC re-opened, Terri and Tom were back to their regular schedules taking classes and using the workout equipment several times a week. They share that it felt wonderful to see friends and re-establish that sense of community.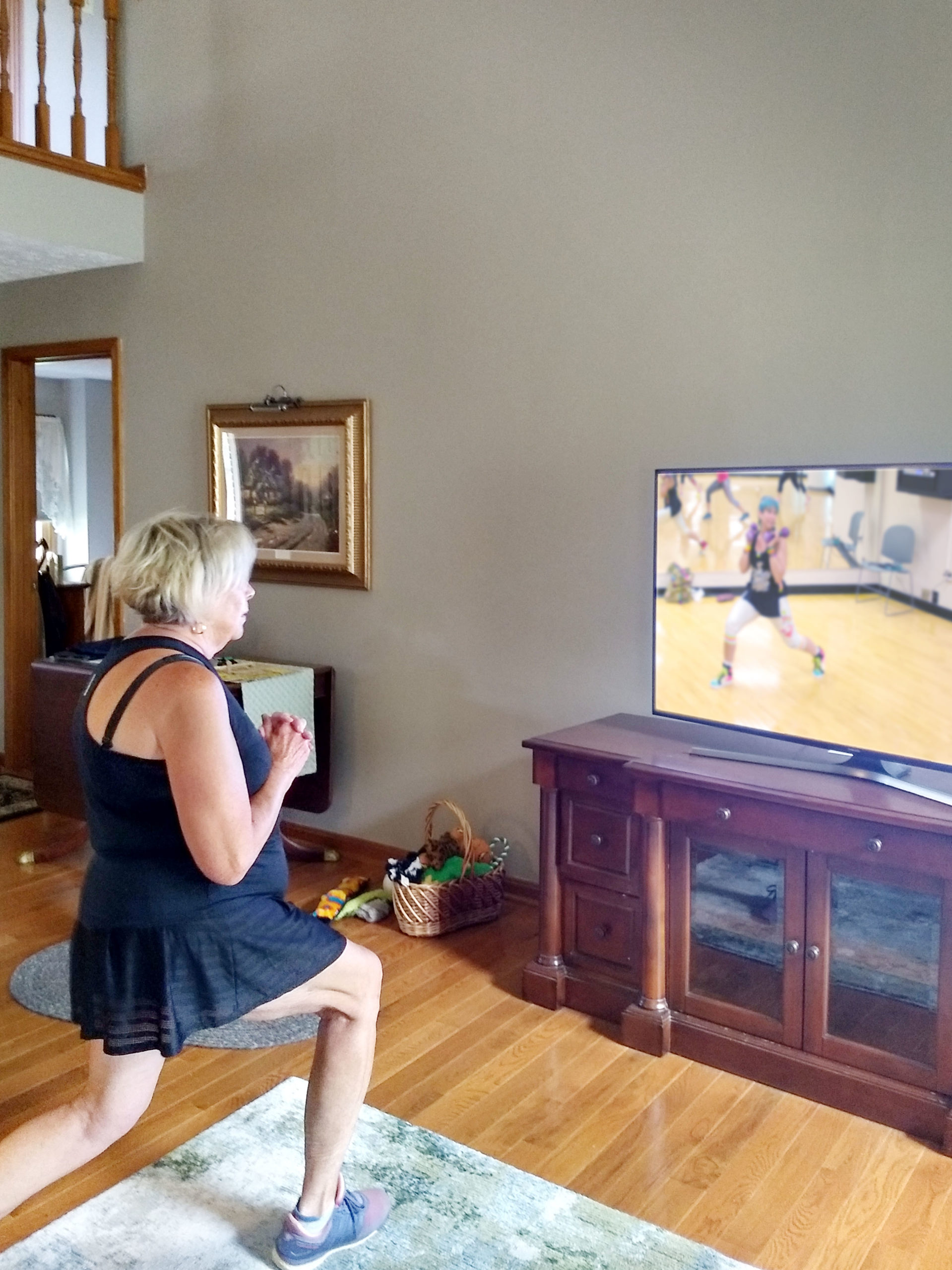 "We tell our neighbors all the time that they should try the MCC," says Terri. "They have done a phenomenal job going above and beyond making people feel protected and safe. The classes are in an open, high-ceilinged space with more than the six-foot socially distanced requirement. Everyone wears masks coming and going to class. We feel it has never been safer." 
Like most of us, the Smiths like their routine and agree that uncertainty in our day-to-day lives may be something we all have to adapt to in our new normal. But Terri and Tom are proof that being flexible and committed to staying healthy whether in person or virtually is possible. One thing that is for certain — you'll see them active and engaged. 
COMMUNITY FIRST
The MCC looks to the future
We hear it every day. The MCC is more than a physical space created for folks to work out, walk, swim or take a multitude of classes. It is a place where mind, body and spirit are supported, where friendships are found, and where a sense of community is thriving. In March, when the world changed our normal daily routines, Carmel Clay Parks & Recreation was committed to keeping that sense of community alive — even from a distance.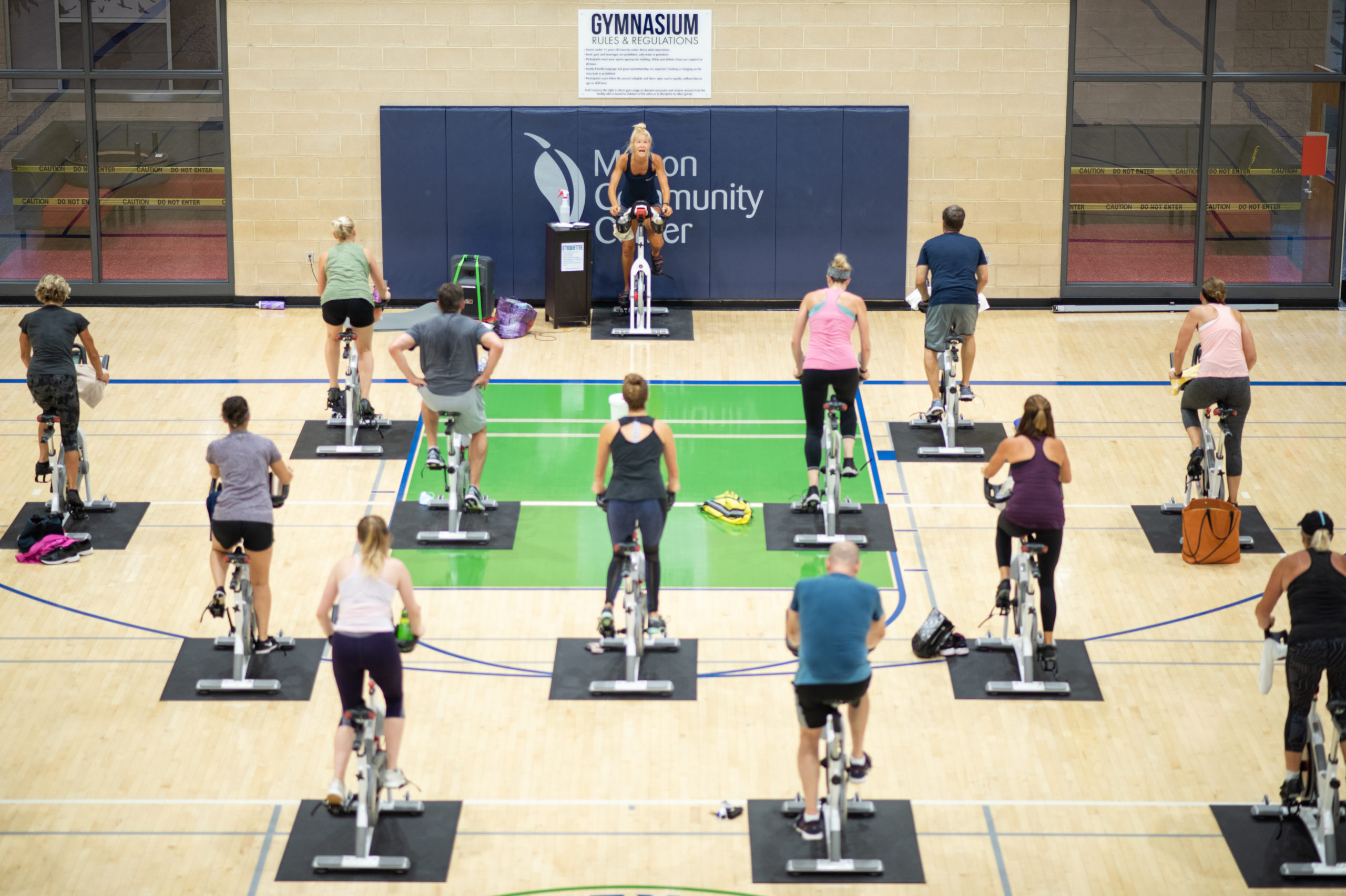 Currently, the MCC has returned to in-person workouts and classes. For now, the virtual classroom workout options are on pause. The safety of our members is our priority and above-and-beyond safety protocols are in place throughout the MCC. The ability to adapt quickly and remain nimble in planning and responses, even during a pandemic, has allowed us to continue to provide the best quality amenities for members and to keep them informed on updates along the way.  
"We feel very safe returning to classes at the MCC," shared both Terri and Tom. "We were grateful for the opportunity and option to continue working out virtually, but we are also grateful to be able to safely return to in-person classes and see our favorite instructors and friends."  
The future, as we've all learned, can follow an uncertain path. One thing that is for certain — Carmel Clay Parks & Recreation is committed to member safety while keeping community thriving and supported. 
Written By: Sheryl Rodgers
Sheryl focuses on branding and marketing engagement. She's a storyteller, editorial and media consultant, and brand builder. This story was written in partnership with Pickett & Associates.