Volunteering is a Way to Connect with Nature and Future Generations
For University High School senior Grace Rozembajgier, a day of service in collaboration with Carmel Clay Parks & Recreation (CCPR) was more than just a volunteer experience. It was a chance to give back and learn at the same time.
That experience, growth through knowledge, found its way into her May commencement address within a long list of things her "hands" had accomplished over her years in high school. "Our hands served our community by removing hundreds of vines of invasive honeysuckle one morning in October," shared Rozembajgier.
While the day of volunteer service included work, it also created awareness that the juxtaposition of the high school's land and the park's land allowed for opportunities to develop a larger swath of habitat — truly learning through doing.
The Growth of CCPR's Volunteer Program
At one time, CCPR's volunteer base was focused on the support of event-based programming but a shift toward a hands-on, educational experience for volunteers like Grace is beginning to lay the foundation for a new type of volunteer experience. An experience that is interactive, initiative driven, and strives to beautify the park system, makes a bigger impact on nature now and in the future, and grows and strengthens CCPR's partnership role in the community.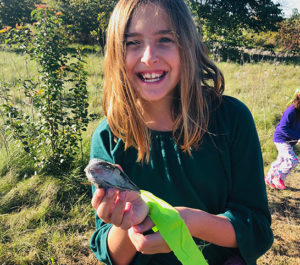 More than hiking trails, playgrounds and splash pads, parks today are focused on sustainability, land management, green initiatives, and generational experiences. All driving forces behind a new focus on volunteers as crucial partners as CCPR goes about managing more than 530 acres of land. Of that total acreage, 70 percent is natural habitats. While you may not be walking every inch of the park system, as a volunteer, you have the opportunity to explore and connect with these natural habitats every step you take — and CCPR does need your help.
With the help of volunteer partners, neighbors and neighborhoods, businesses, and many others, an empowered and educated group of community park stewards are helping CCPR maintain and beautify the land.
You'll hear Carmel Clay Parks & Recreation talk about their volunteer program and the types of individuals who fit the bill, park stewards, advocates, adopters and mentors, quite regularly.
Growing a Volunteer Community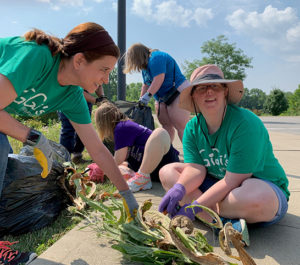 Park stewards are an essential part of keeping CCPR's parks beautiful for years to come. As a park steward, you will engage in opportunities to protect the natural areas in our parks. Signing up for a park stewardship opportunity through volunteering, interpretation, adopting a park or education will help you understand and give back to the natural resources that form the foundation of our parks.
"We want the community to see and understand how and why we manage the land the way that we do to create a valuable asset to our community and to individuals in their daily excursions and experiences," says director of parks and natural resources Michael Allen. "Our volunteer program is now a part of the natural resources division and has a new program coordinator focused on training and education for volunteers."
New volunteer coordinator Joanna Woodruff comes to CCPR with extensive experience with the Central Indiana Land Trust. She has hands-on working knowledge of nature and how important it is to educate and then deploy volunteers as extra support for maintaining nature's balance. Woodruff is looking forward to the face-to-face interaction with volunteers, upping the engagement factor and putting in place a volunteer system that will create advocates to spread the word community-wide.
"Education is key to understanding that our actions in nature have a ripple effect, and we shouldn't be operating or making decisions in silos," shares Woodruff. "We want to put management techniques into place that are collaborative to ensure we have sustainable land assets in the future. That is where volunteers can make all the difference in our success."
And, our success is community success. You may get your hands a little dirty but that is all part of the opportunity to gain some real, experiential learning and help our volunteer numbers soar. We can do it — together.
Engage with Carmel Clay Parks & Recreation by volunteering! Whatever your interests are, you can be matched up with a volunteer effort mutually beneficial for you and the park. Learn more by visiting carmelclayparks.com/volunteer.