Carmel, Ind. (Nov. 22, 2021) – Carmel Clay Parks & Recreation (CCPR) received the Clark Ketchum Conservation Award at the annual Indiana Park and Recreation Association (IPRA) conference. The award recognizes a park and recreation agency that has achieved excellence in conservation stewardship. CCPR received the award for its work to preserve habitat for imperiled pollinators through a partnership with Pollinator Partnership's Project Wingspan.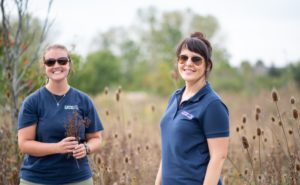 "We are humbled to receive this honor on behalf of our dedicated community members, our conservation counterpart Pollinator Partnership and, most importantly, the monarch butterflies and rusty patched bumblebees of the Midwest," shared Lana Ramer, CCPR's Volunteer Coordinator. "Bringing passionate people together allows us to create a greater impact on the world around us."
CCPR was selected as a satellite partner for the Project Wingspan initiative due to the park system's robust native habitat. Pollinator Partnership's mission is to promote the health of pollinators through conservation, education, and research, which aligns with CCPR's core values of making an impact and planning for the future.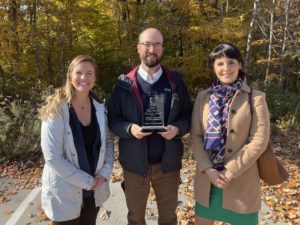 CCPR used this project as an opportunity to make nature education more accessible and highlight the importance of pollinators in everyday life. CCPR engaged the community by partnering with local organizations to host seed collection and sorting events. CCPR partnered with internal programs, Citizen Science volunteers, schools, retirement homes, and organizations that serve individuals with disabilities.
With the help of 38 volunteers, CCPR collected and sorted 1.5 pounds of uncleaned seed in 2019 and 2020 through 14 collection events. The sorted seeds were then redistributed by Pollinator Partnership to areas in the Midwest needing habitat restoration. 
"This was a special project for CCPR. It not only benefits our parks, but it also affects many areas around the Midwest, making it a regional effort. This is only the beginning," stated Ramer.