Carmel, Ind. (Nov. 12, 2021) – On November 9, 2021, Carmel Clay Parks & Recreation (CCPR) closed on a land donation totaling approximately 63 acres from Falcon Nest II, LLC. The property, which is located in northeast Carmel near 146th Street and River Road, was donated in honor of Thomas Marcuccilli (pronounced Mark-ă-sell-ē), one of the original founders of STAR Financial Bank. 
Thomas Marcuccilli was a native Hoosier who contributed greatly to the Indiana economy and is remembered for his patience, generosity and positive influence in the state. Nearly 80 years ago, along with his business partner, he established STAR Financial Bank and saw great success. The Indiana community bank has since grown to $2.7 billion in assets and provides banking, mortgage, investing and wealth management services to Hoosiers across the state.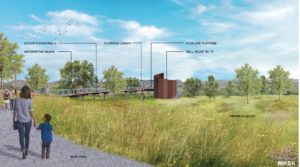 While the planning and development of the new park will take time and concerted community efforts the name is already decided: Thomas Marcuccilli Nature Park. Its addition fulfills several goals and recommendations outlined in CCPR's 2020-2024 Comprehensive Parks and Recreation Master Plan, which includes enhancing park and recreation opportunities within the community by expanding trails and environmental education near the White River. 
CCPR's first step in developing any parkland is creating a park master plan. This document outlines all future development of the park and typically takes between nine and 12 months to finalize. During this time, CCPR will host community meetings to identify public needs and discuss park concepts. Additional information about this process will be forthcoming.