Carmel, Ind. (Sept. 5, 2022) – Carmel Clay Parks & Recreation (CCPR) invites the community to attend its annual Volunteer Open House event on Saturday, Sept. 10 from 11 a.m.-1 p.m. at the Monon Community Center, 1235 Central Park Dr. East. 
 Attendees will have the opportunity to meet staff, learn about volunteer programs, explore the types of equipment used in projects, and see how CCPR volunteers are recognized and rewarded for their hard work.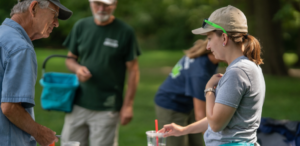 "We love the Volunteer Open House event because it's an intimate, interactive way for interested community members to explore all that our volunteer programs have to offer," said Caitlin May, CCPR volunteer coordinator. "We have so many wonderful ways to get involved. There's something for everyone!" 
 The Volunteer Open House is free to attend. Community members can stop by anytime between 11 a.m.-1 p.m. the day of the event. Attendees who register for upcoming volunteer events will be entered to win fun giveaway items. 
 If you have questions, contact Cailtin May at cmay@carmelclayparks.com.