Carmel Clay Parks & Recreation Unveils New Founders Park Interpretive Signage
Signage Funded by Rain on Main Program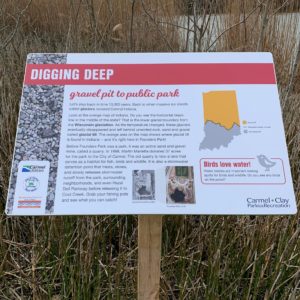 Carmel, Ind. (April 7, 2020) – Carmel Clay Parks & Recreation unveiled new educational signage in Founders Park. The signage offers an interactive park experience for guests to learn about the history, ecology and geography of the park.
Funding for the new Founders Park signage was raised by the Rain on Main program, in partnership with Carmel Utilities, City of Carmel Storm Water Department, and Hamilton County Soil & Water Conservation District.
 
All money raised by the annual Rain on Main program is gifted to CCPR to purchase water education signage for its parks. This furthers Rain on Main's mission to increase awareness of water quality and conservation in Carmel.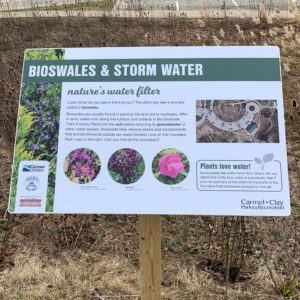 Local artists transform 65-gallon urn style rain barrels into one of a kind pieces of art. The barrels are displayed in the Arts and Design District along Main Street and the public is invited to vote for their favorite in a People's Choice contest on Facebook. In addition to the People's Choice competition, there is a judged art competition component. The barrels are evaluated by a panel of experts for cash prizes. Rain on Main culminates with the end of the online auction and display of all the barrels at the Carmel Farmers Market the second Saturday of August. 
"Rain on Main is an extremely successful event that grows in popularity each year" said Sue Maki, Environmental Initiatives & Education Manager with Carmel Utilities. "It is the result of the effective collaboration of the different organizing entities marrying water education with art. We are all happy, but not surprised, with the success of Rain on Main. It is fantastic to see the water education signage component come to fruition."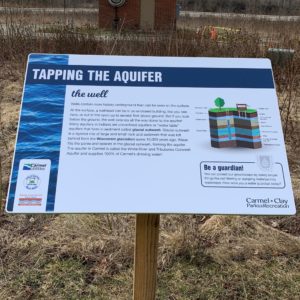 Be sure to stop by Founders Park to check out the new educational signage and learn more about Carmel Clay Parks & Recreation's conservation efforts.
Please continue to practice social distancing when utilizing CCPR parks and trails.
About Carmel Clay Parks & Recreation
Carmel Clay Parks & Recreation (CCPR) holds the Gold Medal Award for Excellence in Park and Recreation Management by the American Academy for Park and Recreation Administration (AAPRA) in partnership with the National Recreation and Park Association (NRPA) for parks serving populations of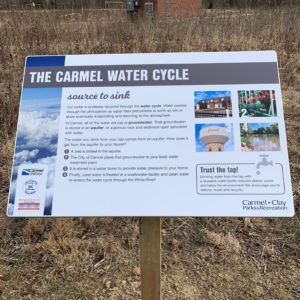 75,001 to 150,000. As an accredited agency, the department serves the recreation, fitness and nature needs of the community, manages and develops existing spaces and resources and creates a sustainable future for parks and recreation programs through a financially viable and environmentally conscious parks system. CCPR manages and maintains more than 500 park acres and numerous recreation facilities, including the Monon Community Center and The Waterpark. In addition, CCPR has partnered with Carmel Clay Schools to establish Extended School Enrichment (ESE), a before and after-school care program for K-6 students located at all eleven Carmel elementary schools. The Summer Camp Series is a component of ESE that offers 12 different summer camps accommodating children ages 5-15. For more information, visit carmelclayparks.com.