A Journey to Transformation
When you sit across from Jumanah Alsaffar you can't help but be drawn in by her beaming smile, her glowing face, and endless enthusiasm for life in general.
What you don't realize until a bit later in the conversation is that it really isn't her outward appearance that makes Alsaffar so engaging, it's the beauty and drive from within that makes her so special. She literally "leans in" when sharing her story—and you can't help but "lean in" too.
She admits, over the past few years, she hasn't felt as comfortable in her own skin as she does today. "I moved to Carmel with my family in 2012. I was eight months pregnant with my son Idris and had no family nearby and no time to make friends before giving birth," shares Alsaffar. "That was tough and a little bit isolating."
When she arrived at the hospital to give birth and was weighed so that the appropriate dose of medicine for her epidural could be given, there was no mistaking the number on the scale — it hovered around 300. "I was shocked," Alsaffar admits. "I had been very ill during my pregnancy and lost quite a bit of weight in the beginning. But, as I felt better, I gained back the weight I had lost and then some. It was really a jolt to see the actual number on the scale."
With no family nearby and a husband who traveled quite a bit, Alsaffar found herself homebound in a new city with a newborn and learning the ropes of motherhood on her own. Not long after the move and birth, Alsaffar was faced with profound life changes and found herself raising two children, searching for a new job to support her growing family, and most importantly finding herself.
At a Crossroads
"After the move and birth, I just went on auto-pilot: Work, take care of the kids, eat, and sleep," remembers Alsaffar. "I don't think I ever took any time for myself and my mind and body were paying the price." She was at a crossroads and needed some soul searching and most certainly a life change.
In spring 2017, she made a purposeful effort to take care of herself first. By committing to a healthier lifestyle, she was determined to be a "better everything" including mother, partner and employee. "It is hard for women to say they are going to put themselves first. It sounds so self-serving. As mothers, we just don't do that. But, for me, it was absolutely life-changing."
Alsaffar and her family began to make Carmel their true home and she made the Monon Community Center (MCC) her personal support system as well. She began with a PiYo® class and noticed a gradual weight loss and the increased mobility that allowed her to do things she hadn't done in years. She added in other exercise classes and a cardio workout to her routine. At about that same time, she had noticed a friendly face in the MCC workout area and began to ask personal trainer Steve Koebcke a few questions. He was kind and helpful and she shared with him that she was at a plateau and couldn't seem to lose any more weight.
Adding a Fitness Support System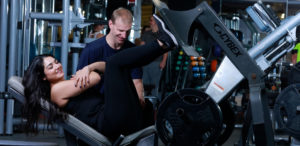 Soon Koebcke began working one-on-one with Alsaffar and she shared that adding a personal trainer to her routine got her weight loss moving again. "Steve showed me how important it was to benchmark where I was at the beginning of my journey by doing a body composite measurement. He is very specific about the measurements which can be scary as you see the reality in numbers. But it is also so rewarding to see how far you've come when you measure again."
"By training with Steve, I was able to set realistic personal goals and I realized there isn't a magic pill. It is hard work—but it is so rewarding. Steve had said to me that 'If you want this, then you have to put in the work.' I'm nearing my goal weight after a year of commitment to this healthier lifestyle and exercise plan. Working out is something that is non-negotiable in my life. It is happening."
Wonder Woman Emerges
Alsaffar's life is back on track with a new job, a supportive life partner and she's stronger than ever. She shared her hope that other moms, or anyone for that matter, know that they can do this too. There is always a way to keep yourself healthy and to make yourself a priority. She credits the Monon Community Center and KidZone with helping her carve out the time to work out, and she finds comfort in knowing that the kids are safely nearby. "The MCC has become a home away from home for the whole family. We are here all the time and by setting a healthy example for my kids—they will incorporate exercise, swimming, hiking, and all the features of this facility into their lives as well. The support system here has been key to my transformation."
You may find Alsaffar next to you working out at the MCC, taking a class, or enjoying one of the many trails throughout Carmel Clay Parks & Recreation's many park settings. If you recognize Alsaffar, say hello and "lean in" to let her share her personal journey with you. You'll be inspired. She's active most days running, taking classes or working with Kobecke—in motion, constantly moving.
"I feel like Wonder Woman," laughs Alsaffar. "I feel so centered and healthy and strong. There really isn't anything that I'm not ready to conquer."