BIG Dreams Become Reality
Adaptive programs enhance skills, foster independence.
When Michelle Yadon joined Carmel Clay Parks & Recreation (CCPR) five years ago as its inclusion supervisor, she did so with the intent to bring transformation to the community. "I wanted our adaptive participants to achieve their wildest dreams through setting small, obtainable goals and working toward larger goals."
The result: An adaptive program that has grown substantially to include a diverse offering of activities and programs and was recognized with the Excellence in Inclusion Award from the National Recreation and Park Association. The program's success has spilled beyond its participants, making a sizable impact on families of those with intellectual and physical disabilities as well as the staff who regularly interacts with them.
"It's really been beautiful to witness so much transformation in our staff," says Yadon. "From our lifeguards signing to those who need to communicate through sign or the front-desk staff using person-first language—the whole organization is not just following standards, they are embracing the concept that everyone should receive equal access on an equal playing field."
Direct Impact
The inclusivity of the program is invaluable to parents like Mary Delaney. After her 23-year-old daughter Meghan finished high school, she became both anxious and depressed. "It was a very scary time," recounts Delaney. "It's so difficult for those with disabilities to maintain or create friendships once high school ends. After her diagnosis, we worked hard and fast to find social opportunities." Meghan will compete in her fourth Adaptive 5K program this spring and enjoys events like the weekly Fantastic Fridays, where her peers can hang out, do recreational activities and have dinner.
"I cannot even begin to say how much it has meant. She has been able to connect with people like her—which she didn't even have during her school years," says Delaney. "Meghan has developed great friendships, and she has a place to go. She looks forward to it."
Transformational Programs
According to Yadon, Delaney's experience is not a unique one. Feedback from family, caregivers and participants provides affirmation of inclusivity that builds independence and self-esteem.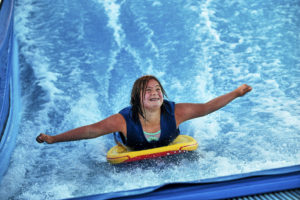 Yadon sites examples like the Adaptive FlowRider® program that fosters skills on Indiana's only simulated surf machine. "Our participants have competed in the national FLOWTour Competition and have a FlowRider® Showcase each year. But we don't see it as inspiring that they are doing it; it's the fact that they are able to participate, accomplish really hard tricks and learn new skills," she says.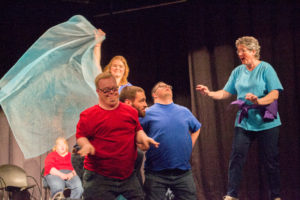 Yadon's own interests in drama spawned The Roundabout Theatre Troupe in 2015 that has evolved into multiple productions including a Barrier-Free Theater performance. "With drama therapy, people are able to try on roles they want to discover and shed those roles they don't want," explains Yadon. "I've witnessed so much transformation of abstract thinking, connection with others, self-awareness and communication. I have parents say to me, 'I had no idea my child could do that.'"
This year's Barrier-Free Theater performance is scheduled during Disability Awareness Month on March 23 and 24 at the Monon Community Center. Tickets are on sale at carmelclayparks.com.