How life experiences inspire Kelvin Solares to "Include All" in the Carmel Community
Kelvin Solares has an undeniable warmth about him. You leave a conversation with him feeling not only heard but listened to. This is one of many traits that made him a fantastic fit as Carmel Clay Parks & Recreation's (CCPR) inclusion supervisor. But Solares wasn't just perfect for the position, CCPR was perfect for Solares. He was searching for an opportunity to make an impact in the lives of others, and he found it here. You might just say it was meant to be.
The root of his passion
Solares has always had a passion for making others feel seen and heard. The root of that passion is personal.
At age 5, Kelvin's youngest brother Keny was diagnosed with nonverbal autism—meaning he could not talk or carry a conversation. The diagnosis left Keny, for most of his childhood, trapped within the confines of his own mind with no means to communicate his needs or feelings with his family.
"When we first received the diagnosis, we had not heard of autism. The fear of the unknown was difficult," Solares shared. "It wasn't until many years later that Keny would find ways to advocate for himself."
At age 15, Keny began communicating by typing with the assistance of a certified facilitator using a tablet or computer.
"The first thing he told us was how heartbreaking it was to have a mouth that could not let out what his mind was so clearly saying," Solares said. "It is very emotional to think about even now."
With the support of Kelvin and the rest of the Solares family, Keny has gone on to accomplish amazing things.
"One of Keny's greatest achievements is requesting to be placed in general high school courses. He is now on track to graduate with a Core 40 diploma," Solares beamed. "I'm so proud of him for growing through what he's faced in life. He's my inspiration in everything I do."
Growing up to give back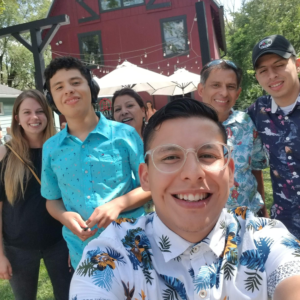 Solares recognizes that his family's situation is not unique. A long-awaited diagnosis, finding and financing support, and caregiving are all challenges for families of individuals with cognitive and developmental disabilities. It wasn't long after his brother's diagnosis that he decided he wanted—needed—to do something. For Kelvin, that looked like a career path supporting individuals with disabilities and their families, celebrating diversity and inclusion and helping create an equitable future for all.
"During undergrad, I gravitated toward working with this population," Solares shared. "I found it very rewarding to help people with disabilities set and achieve their goals. Before I knew it, I was volunteering outside of coursework to help people with disabilities enhance their wellness and progress their physical health."
Solares studied kinesiology at Indiana University-Purdue University Indianapolis (IUPUI) and is a certified personal trainer. "I've always had an interest in working with individuals with disabilities because of my brother," Solares said. "But it wasn't until some of my college experiences working one-on-one with people with disabilities that I solidified my passion and went on to pursue a career in this area."
The open position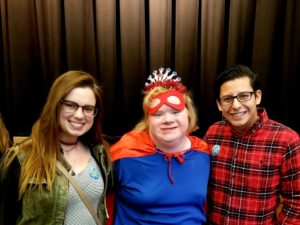 Most recently, Solares worked at Noble, an organization focused on expanding opportunities and enhancing the quality of life for people with disabilities and their families. Many of the people he supported participated in and spoke highly of Adaptive Programs at the Monon Community Center (MCC). When he came across the inclusion supervisor position it seemed like a perfect fit.
"I first heard about the MCC through my clients," Solares shared. "I was impressed with the wide selection of adaptive programs. Even before interviewing with the company, I had already heard and experienced firsthand the good that was being done for people with disabilities in our community."
Including all in Carmel
Since joining the CCPR team, Solares has already implemented some great inclusion initiatives. Most notably, he proposed the UserWay website accessibility widget, which allows site visitors to utilize visual aids and translation tools. This feature makes CCPR's website more accessible for a host of individuals.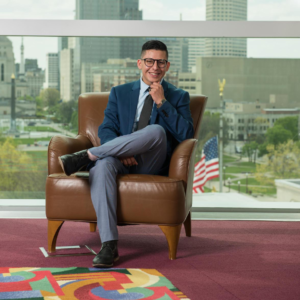 Outside of CCPR, Solares has served on several leadership programs for emerging leaders, including Indiana Latino Institute – Latino Leadership Circle and Edge l Work Mentoring Program. He also formed the Diversity & Inclusion Council at Noble Inc. and served as council co-chair.
Solares has hit the ground running and he's ready to continue forging the path toward inclusion and equity. Solares has big goals for his time with Carmel Clay Parks & Recreation. When asked what those goals look like, he shared he hopes to increase diversity efforts at CCPR beyond the adaptive programs and help improve community cultural competence.
"I want to create a culture where everyone feels welcome and appreciated," Solares said.
Learn more about CCPR Adaptive Programs here.
Written By: Emma Laux
Emma is the Marketing Coordinator for Carmel Clay Parks & Recreation. She's a storyteller and lover of words. Emma has written the creative for numerous marketing publications and campaigns.