Now that he's retired, the place you'll often find Ed Shaughnessy is in Flowing Well Park, perched along the banks of Cool Creek. He'll have a fishing pole in hand, and an extra in his Jeep®. While he wouldn't call himself an expert, he loves to share the basics of fishing.
Shaughnessy has completed the DNR Go FishIN Crew Captain class — a fishing education program — and keeps extra fishing gear on hand. Oftentimes park visitors will spot Shaughnessy fishing and ask if he can teach them some basics. He's always happy to help.
"For a long time, I thought Flowing Well Park was the well and the parking lot and that's it. My dad, who lived on Indy's east side, would drive to Carmel to get water from the well" says Shaughnessy. "I didn't know there was a trail back through the park, let alone a creek for fishing until a few years ago when I found it listed as a park feature on the CCPR website. Now that I live in walking distance, there are some days I'm there fishing for hours."
Flowing Well Park is frequented by those who enjoy fishing, gathering water from the well, walking the trails and stomping in the creek. Last year alone the park had more than 200,000 visitors. The love for this local treasure has remained strong.
The History of Flowing Well Park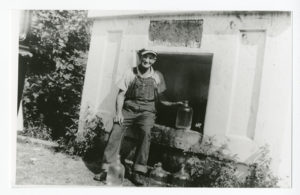 Before Flowing Well Park was a park — and before it was even part of Carmel — it was a piece of land along Cool Creek in Mattsville, Ind. In 1904 the well was accidentally discovered by drillers on the hunt for natural gas. As you may have guessed, it wasn't natural gas they found, it was an artesian well.
For years following its discovery the well was just a pipe sticking out of the ground on the land of Charles L. Williamson. In 1926 Williamson donated the well for public use and a concrete structure was built around the well.
Fast forward nearly 70 years to 1991 and the well and surrounding land were donated to then-newly established Carmel Clay Parks & Recreation. Three years later in 1994, Flowing Well Park opened as CCPR's first public park. 
Thanks to the Land & Water Conservation Fund (LWCF), Carmel Clay Parks & Recreation received a $75,000 matching grant and in total invested upwards of $150,000 into the park. This money went toward trails, bridges, signage, and property acquisition. One of the most important aspects of the grant is that the land will always be protected as a recreational and natural resource for the community.
The Future of Flowing Well Park
With funding from the Clay Township Impact Program, this year, the park will undergo further transformation and will remain accessible for generations of creek stompers, water gatherers and explorers to come.

"We are not only improving existing recreational opportunities, but we are expanding access to trails. To me, beyond being good stewards of quality habitat, the next most important thing is providing the community access to understand the value."
Upgrades to Flowing Well Park include Cool Creek bank restabilization, restrooms, parking lot expansion, and updated interpretive signage and trails. The design process for Flowing Well Park's updates. began in 2019.
CCPR is working closely with Schmidt Associates to design and engineer the updates. In November 2019 CCPR held community input meetings to share slated updates and receive feedback from residents about their wants, needs and priorities. The investments made in the midnineties are largely how the park has remained, and the upgrades will ensure the park remains an asset to the local community, wildlife and habitat for years to come.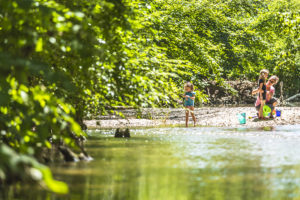 "The park offers the feeling of being out in a state park, but it's right here in the middle of Carmel," Allen says. "Once you're here, you can forget that 116th street is just to the south of you."
Shaughnessy is looking forward to the changes coming to the park this year. He has plans to bring his kids and his grandkids to Flowing Well Park to fish — making it four generations of Shaughnessys who have enjoyed the park.
But it's not just the fish — sunfish, creek chub, large and smallmouth bass — that keep Shaughnessy coming back to the park nearly every day. He said his favorite story is one that repeats itself time and again — it's the people he meets and the memories he's made. It's seeing the smile on a kid's face when they catch their first fish, regulars filling their water jugs at the well, or a family out exploring. Thanks to Reimagining Parks, these memories will continue to be made for years to come.
The park is currently closed to ensure public safety as CCPR begins implementing updates. The park is projected to reopen in late 2020 or early 2021. Stay up to date by visiting carmelclayparks.com/reimagining-parks.
Interactive Fun
150
Virginia Bluebells at Flowing Well Park
Written By: Jylian Riches
Jylian is the Marketing Content Coordinator for Carmel Clay Parks & Recreation. She oversees the Department's social media and has written the creative for numerous marketing publications and campaigns.