Reimagining River Heritage Park
Championing a Park for All
It's becoming more difficult to think of a time when accessibility wasn't a prominent topic of discussion and concern – in buildings, schools, and even parks. For Karen Russo, she remembers that time clearly because inaccessibility was a glaring reality for her family.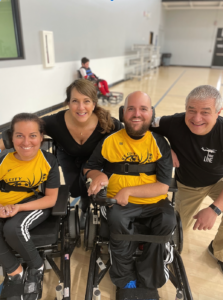 "We moved to Carmel in 1999. Our children, who were 9 and 10 at the time, both used power wheelchairs due to their muscular dystrophy diagnoses," shared Russo. "We were oftentimes disappointed by the lack of inclusive design in much of the world around us."
In the early 2000s, accessible playgrounds were few and far between. Universal Design, which is now a guiding force for all Carmel Clay Parks & Recreation (CCPR) projects, was a concept not yet fully embraced in planning and designing processes. 
"When we realized there weren't any accessible playgrounds in the area, we approached CCPR in 2001 with the idea of building a playground for all," shared Russo. "They accepted the challenge, and not long after, chose River Heritage Park to build the park system's first accessible playground." 
Thanks to the Russo family's advocacy, the once first-of-its-kind park would go on to define the department's mission to be an inclusive, innovative steward for the community. 
About the Property
River Heritage Park, located at 11813 River Road, was acquired through a lease agreement with the City of Indianapolis in 1997. It remains as one of the few park properties not directly owned by the Carmel/Clay Board of Parks and Recreation. The 40-acre park is now leased through Citizens Energy Group, and much of it has been largely untouched since its opening.
Experiencing Play and Nature as You Are
River Heritage Park received a major overhaul as part of CCPR's Reimagining Parks initiative with funding from the Clay Township Impact Program. Updates to the park focus on inclusion and providing access to the community's most significant natural resource: the White River.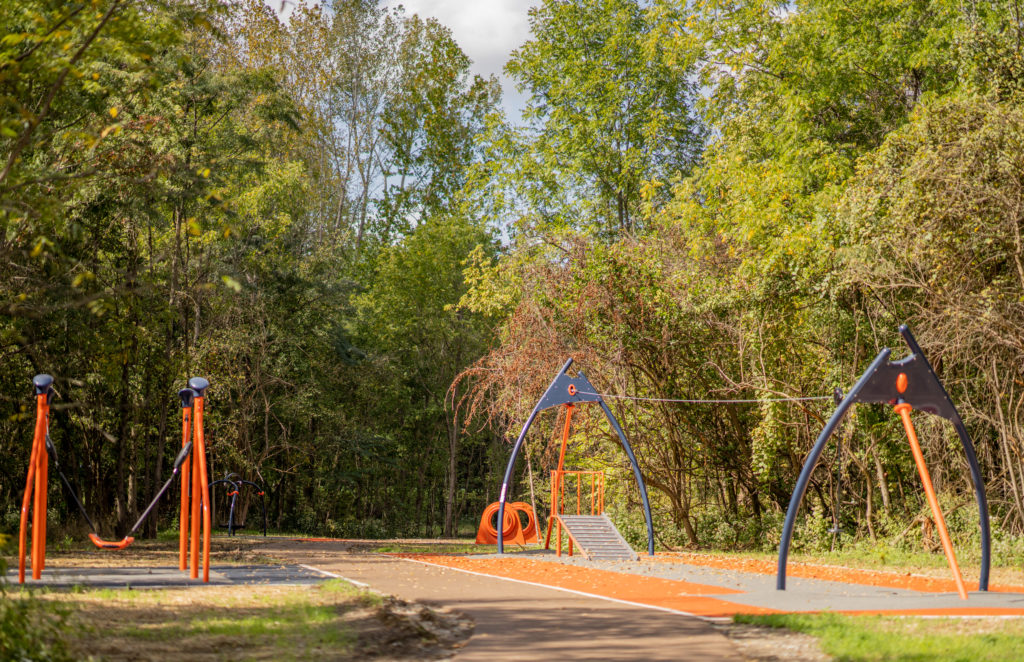 "Almost every park we have now has accessible playground features," shared CCPR director Michael Klitzing. "But with River Heritage, we wanted to honor the Russo family's original vision by pushing the envelope of inclusion even further." 
New Inclusive Playground Experience
The park's new playground has two main sections: the front pod, which is located at the entrance of the park, and the back trail, which winds through the wooded areas extending toward the White River.
Both sections feature play pieces that are wheelchair accessible, including a swing and merry-go-round. Play experiences along the back trail provide options for parkgoers with varying levels of mobility and body strength. The public can look forward to zip lines, climbing structures, and more.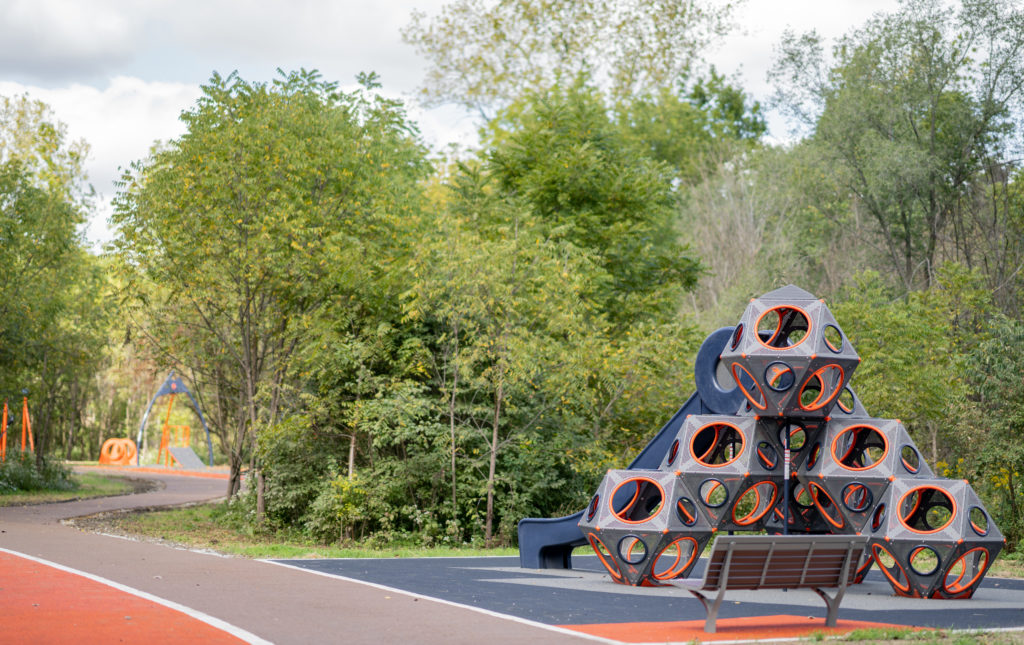 Wheelchair Accessible Nature Trail
A looping .75-mile immersive nature trail invites parkgoers on an adventure through the forest and along the White River. The unique trail has a hard, rubberized surface that is wheelchair friendly.
This surfacing was chosen specifically to give a different, more natural feel as opposed to asphalt. To add to the overall immersive nature theme, the rubber was crafted in rich earth tones and is permeable to easily allow stormwater to filter through the surface. 
"We've created a nature trail to our community's most significant natural resource – the White River," said Michael Klitzing CCPR director. "Whether you are walking, in a wheelchair, or pushing a stroller, it is a place all members of the public can go to explore, engage and enjoy."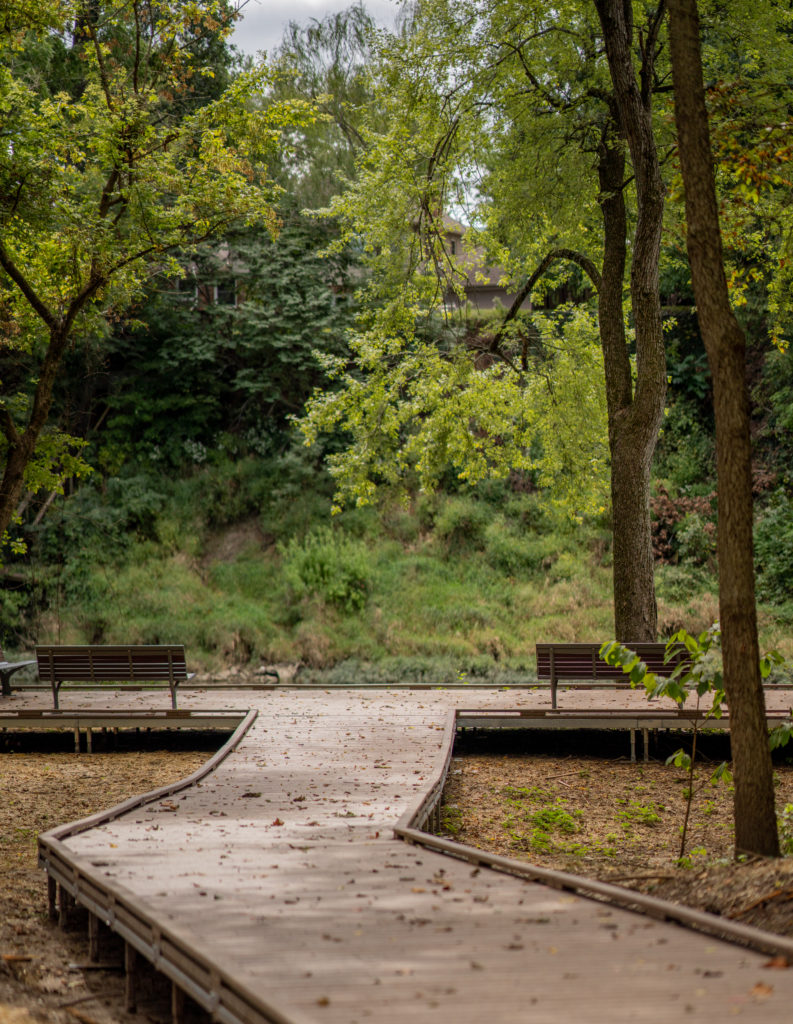 White River Overlooks
Along the backside of the park, there are two new overlooks that offer tranquil viewing of the White River.
The structures, which are fixed several feet from the water's edge, are wheelchair friendly and feature foot railings for safety and unobstructed viewing for parkgoers who may be in a wheelchair. 
A More Inclusive Community
A lot has changed since the Russo family moved to Carmel. 
"I think great strides have taken place in the last 22 years," shared Russo. "Parents of children with disabilities certainly have more opportunities." 
Reimagined River Heritage Park is certainly no exception. 
"We cannot take any credit for River Heritage. We simply shared a need and the parks department stepped up," said Russo. "I see the effort in almost everything they do now." 
The park is currently closed to the public, with plans to reopen fall 2022. Stay tuned to https://www.carmelclayparks.com/reimagining-parks/ for the most up-to-date information about this and other Reimagining Parks projects. 
Written By: Emma Laux

Emma is the Marketing Coordinator for Carmel Clay Parks & Recreation. She's a storyteller and lover of words. Emma has written the creative for numerous marketing publications and campaigns.