Michael Sharkey reaches over to hold his wife Jess's hand, nods his head, smiles and lets her know he is there to support her as they share their story. His kindness and encouragement are palpable. Beyond the basic life skills Michael has learned himself through unique adaptive programming at the Monon Community Center (MCC), he's also developed an understanding of the importance and value of a community that provides a safe and supportive environment to thrive and gain confidence. The path to independence for both Michael and Jess has not always been easy to navigate, but it is one that led them to something we all want to feel — included.
Michael's journey started over 10 years ago when he attended Teen Night Out at the MCC. The program creates an inclusive social environment for teens with disabilities to share dinner, swim, play basketball, hang out in the gym, develop friendships and so much more.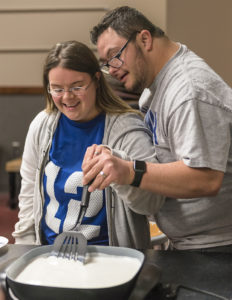 The MCC soon became a "home away from home" for Michael and many others who participate in adaptive programs geared toward individuals with disabilities. Adaptive programming is founded on the belief that everyone — from toddlers to adults — should be able to participate in leisure opportunities that allow for performance at a high level. CCPR offers a wide range of program types including swim lessons, yoga, and strength training to culinary, current events, and creative art classes all which comprise one of the largest adaptive programs available in the state.
"Jess and I took a cooking class and that really helped us become more independent in the kitchen and we take a cycling class together every week," Michael says. "I'm here at the MCC frequently, sometimes for multiple days in a week. Once I started walking on the track and working out with my friend Dan, I realized that I was pretty strong, and I liked staying in shape. I've even run a 5K. It felt so great to cross the finish line!" 
CCPR provided tools that assisted Michael in setting and attaining goals like running a 5K or working a job. But Michael is one of many who have been positively impacted by CCPR's adaptive programs. By assessing community needs and developing curriculum around these needs, CCPR has built a growing adaptive community and along the way fostered an organization-wide culture of inclusion. Michelle Yadon, Monon Community Center Recreation Services Manager, shares this is a big part of what makes adaptive programming at the MCC so successful. "Michael and Jess both have jobs. Jess works at the MCC KidZone and Michael works in the hotel industry. They are married, stay physically active, know what keeps them healthy, and continue to develop friends and relationships and add new experiences to their life-skill set. Just like all of us, they set goals for themselves and work hard to make those dreams and goals become reality. CCPR helps provide that safe and supportive learning community to help them become all they can."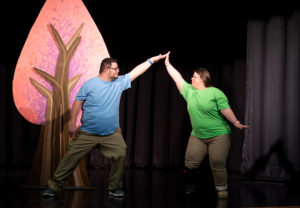 This past spring, Michael played the lead role in CCPR's Barrier-Free Theatre performance. This annual play — created by the actors around a topic of their choice — is another opportunity for Michael, Jess and other individuals with and without disabilities to be creative and express themselves. Attended by family, friends and open to the public, the performance showcases that the actors are much more than their diagnosis and they are capable of everything from memorizing lines and decorating sets to working together as a team to bring joy to others.
"Beyond his mentorship role in the play, Michael has played a huge role in working with me on what type of programming is wanted and needed within the Carmel community," says Yadon. "He's really emerged as a leader at the MCC and often comes to me with class suggestions or things he is interested in that translates to a more global application of what classes will be helpful to all individuals in our adaptive programming. He's someone I rely on when considering what we should offer and what will help our participants thrive."
Prior to getting married, Michael approached Yadon on how he could learn to be a good partner and support system for his soon-to-be bride Jess. "I wanted to be a caring and good husband and Michelle helped teach me some life lessons. I knew it wasn't going to be like learning a work skill but more of how I could just be considerate of someone else's needs and feelings and how we would work together as a husband and wife."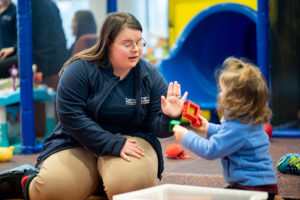 Jess agrees that the MCC has been a community where she has learned and grown through participation in programs, membership and eventually her job as an attendant in KidZone — the childcare facility located inside the MCC for members. She enjoys nothing more than engaging with the kids.
CCPR provides abounding opportunities for Michael and Jess and for so many others in the community. Opportunities to become contributing and working citizens, to stay healthy and strong, to learn to cook, sing, dance and become socially aware and independent. Opportunities to be included in the day-to-day world around them and to contribute value to their community. 
"I'm so glad I took that first step over 10 years ago and came to Teen Night Out at the MCC," Michael shares. "I've learned so much and it has changed my life."
Finally, Michael takes his hand off Jess's and continues to smile at her with an "I'm here for you" look in his eye. For Michael and Jess, this path to independence and happiness is just the beginning. 
CCPR is always looking to expand their focus on inclusion and adaptive offerings. If you have ideas or feedback, please let us know by visiting carmelclayparks.com/inclusion.
Written By: Sheryl Rodgers
Sheryl focuses on branding and marketing engagement. She's a storyteller, editorial and media consultant, and brand builder. This story was written in partnership with Pickett & Associates.