Carmel, Ind. (Nov. 1, 2021) – Michael Klitzing, Director of Carmel Clay Parks & Recreation, has been elected to the Board of Directors for the American Academy for Park and Recreation Administration. In 2017 Klitzing was inducted as a Fellow into AAPRA and will now serve on the 11-member board.
 
Founded in 1980, the Academy is limited to 125 active Fellows including practitioners, urban directors, and educators. The Academy's focus is to inspire and strive to advance public park and recreation administration through the support and guidance of the top educators and practitioners around the United States.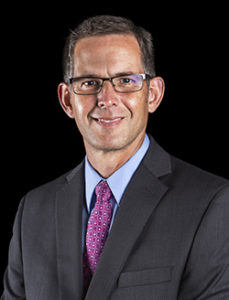 "It's an honor to be nominated by my peers to serve on the Academy's board of directors," Klitzing said. "I look forward to working with this team of esteemed park and recreation leaders to continue the Academy's commitment to research, professional development, and use of best practices across the profession."
CCPR has witnessed an impressive transformation since Klitzing joined the team in 2004. Under Klitzing's leadership, CCPR has become recognized as one of the best and most innovative park and recreation systems throughout the nation, receiving the National Gold Medal for Excellence in Park and Recreation Management in 2014 and 2020, the highest honor for a municipal park and recreation system. CCPR is nationally accredited, employs over 500 people, and serves over 17 million visitors annually. CCPR has also received national, regional, and state awards for the design of its parks and facilities, outstanding programs, excellence in providing services to people with disabilities, and commitment to environmental stewardship.
 
Klitzing is an active member of the National Recreation and Park Association and served as the Conference Program Committee Chair and Local Host Committee Co-Chair for the association's 2018 conference hosted in Indianapolis. That same year, Klitzing received the National Distinguished Professional Award. This award is presented to an individual who has made outstanding contributions to the parks and recreation field through leadership, research, advocacy, community outreach and program development. Klitzing has also served as a Commissioner on the Commission for Accreditation of Park and Recreation Agencies, which is responsible for establishing national standards and best practices for park and recreation systems and accrediting local, state, and military agencies. Klitzing is a former member of the Brownsburg Parks Board (2009-2016), serving five years as President, and is a current member of the Lake Lemon Conservancy District Board. Klitzing has previously been recognized as the Recreation Alumnus of the Year by Southern Illinois University-Carbondale. Klitzing is a frequent speaker at state and national conferences and presented at the Smart Cities & Sport Summit in Montreal, sponsored by the World Union of Olympic Cities.
 
For more information about the American Academy for Park and Recreation Administration, please visit aapra.org/.