CCPR Inclusion Supervisor Receives Prestigious North American Drama Therapy Association Performance Award
Carmel, Ind. (November 8, 2019) – Today Carmel Clay Parks & Recreation (CCPR) inclusion supervisor Michelle Yadon received the North American Drama Therapy Association (NADTA) 2019 Performance Award at NADTA's 40th Annual Conference in Philadelphia, Pennsylvania. The NADTA Performance Award recognizes exemplary use of live or recorded performance to facilitate individual or collective awareness and transformation. Yadon was nominated for the award by her peers in the drama therapy community and confirmed by the NADTA board of directors.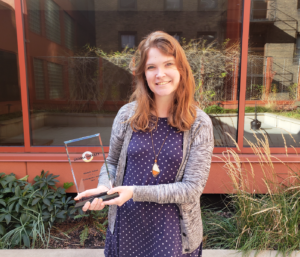 Yadon is a Registered Drama Therapist, Certified Recreational Therapist, and Certified Parks and Recreation Professional. This award recognizes the robust drama therapy program she has built at CCPR. In 2016 she launched The Roundabout Playback Troupe, the nation's first inclusive playback troupe. She then introduced Shakespeare in the Park in 2017 and her take on Barrier-Free Theatre – as developed by Sally Bailey – in 2018. Through drama therapy and performance, she provides a safe space for participants to explore their identity as well as societal ideals.
"I'm incredibly honored and humbled to receive this award. My passion for drama therapy and inclusion is three-fold: supporting and empowering people to achieve their goals, supporting families in being inclusive, and supporting communities to break through stereotypes and accept all people," Yadon said. "Through drama therapy programming with Carmel Clay Parks & Recreation including The Roundabout Playback Troupe, Shakespeare in the Park and Barrier-Free Theatre, I've led a process that confronts societal stigma and systemic issues and challenges our participants to understand themselves and the world around them. I'm thankful that I work for an organization that aligns so well with my ideals and allows me a platform to do the work I am so passionate about." 
For more information about CCPR's adaptive programming, visit carmelclayparks.com.
For more information about NADTA, visit nadta.org.
About Carmel Clay Parks & Recreation
Carmel Clay Parks & Recreation (CCPR) holds the Gold Medal Award for Excellence in Park and Recreation Management by the American Academy for Park and Recreation Administration (AAPRA) in partnership with the National Recreation and Park Association (NRPA) for parks serving populations of 75,001 to 150,000. As an accredited agency, the department serves the recreation, fitness and nature needs of the community, manages and develops existing spaces and resources and creates a sustainable future for parks and recreation programs through a financially viable and environmentally conscious parks system. CCPR manages and maintains more than 500 park acres and numerous recreation facilities, including the Monon Community Center and The Waterpark. In addition, CCPR has partnered with Carmel Clay Schools to establish Extended School Enrichment (ESE), a before and after-school care program for K-6 students located at all eleven Carmel elementary schools. The Summer Camp Series is a component of ESE that offers 12 different summer camps accommodating children ages 5-15. For more information, visit carmelclayparks.com.