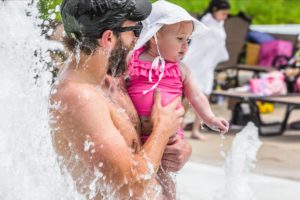 Carmel, Ind. (May 25, 2022) –– The Waterpark in Carmel, located at 1195 Central Park Dr. W, Carmel, IN 46032, will open on Saturday, May 28 at 11 a.m. Splash into summer with fun for all ages and abilities on the FlowRider ®, AquaClimb ®, kiddie pool, lazy river, and adventure slides.
The Waterpark will open daily from 11 a.m. to 7 p.m. from May 28 to August 7. Guests may purchase day passes in person at The Waterpark. Day passes are $15 for adults (ages 16-64) and $12 for youth and seniors (ages 3-15; ages 65+). Season passes are available in-person or online at carmelclayparks.com.
Want to enhance your experience at The Waterpark? Check out our 14 cabanas featuring a refreshed look with new furniture! Reserve your cabana online at carmelclayparks.com using your laptop, computer, or tablet. Additional information about cabana rentals can be found at carmelclayparks.com/cabana-faq. 
OTHER IMPORTANT MENTIONS
The Waterpark will operate at regular capacity without any COVID-related capacity restrictions.  
Lawn chairs will be available. As always, guests are welcome to bring their own seating. 
The public is encouraged to join The Waterpark Updates Facebook group to stay informed on the latest news and updates. This group will share information on closures, capacity numbers, events, and more. Join here. 
All amenities will open this summer; however, lifeguard staffing could impact amenity availability. Carmel Clay Parks & Recreation values safety and strives to provide exceptional experiences. Lifeguard staffing numbers will be monitored closely to ensure a safe and enjoyable visit.
For more information about The Waterpark please visit carmelclayparks.com/the-waterpark.
If you or your team would like to run a story about The Waterpark this summer, would like to visit and capture photos or videos, or would like us to send photos or videos, please reach out to Jylian Riches at jriches@carmelclayparks.com.