Join us on May 5 at 6 p.m.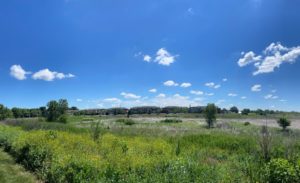 Carmel, Ind. (April 29, 2022) – Carmel Clay Parks & Recreation (CCPR) invites the community to participate in the first Thomas Marcuccilli Nature Park public open house on Thursday, May 5 from 6-8 p.m. The meeting will be held at Harvest Church, 14550 River Road, Carmel, IN 46033. The meeting can also be attended virtually. Individuals interested in participating virtually can register here.
To develop the Thomas Marcuccilli Nature Park master plan, CCPR and consultants from MKSK will gather input through public open houses and focus groups. The master plan will help guide the ultimate design of the park over the next several years. 
Thomas Marcuccilli Nature Park, located in northeast Carmel near 146th Street and River Road, was donated in 2021 and is comprised of approximately 63 acres of land. Additional public open houses, park visits, and online options will be offered throughout the master plan process. Stay tuned to CCPR's social media for more information.