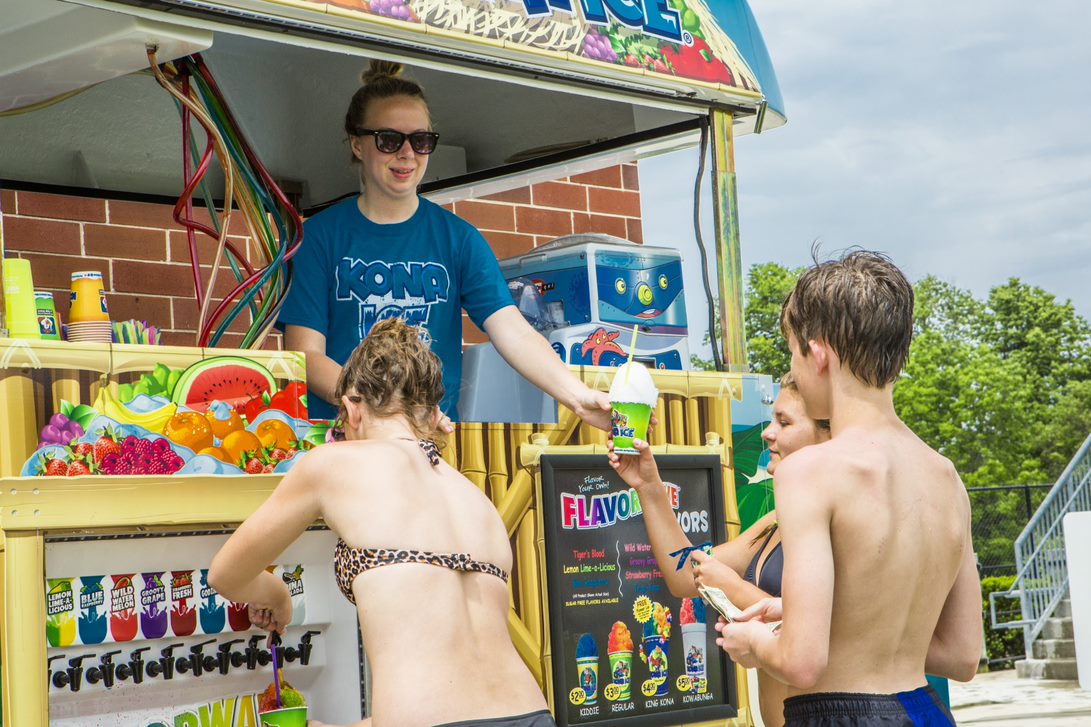 No rumbling tummies here!
Everything you need to know about food & beverage sales and policies at The Waterpark
 There's nothing quite as delicious as an ice-cold Pepsi or a chocolatey, swirled ice cream cone on a summer day at The Waterpark. After splishing and splashing all day long, you'll need some yummy fuel to keep you going. The Waterpark concessions offer a variety of snacks, drinks, and treats to satisfy your whole group (yes, even something for our vegetarian friends). Want to bring your own food and drinks? You can do that too! We're sharing everything you need to know about concessions at The Waterpark and policies on bringing your own food and drinks. 
Treat Yourself to Concessions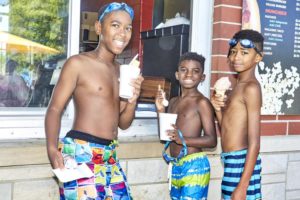 Whether you're craving a small treat, or you've worked up an appetite that only a three-course meal could satisfy, we've got you covered. We offer a variety of reasonably priced items (everything's under $5/each!), including hot favorites, munchies, cold treats, and beverages.  
A fan favorite? Ice cream! Last year we sold over 16,000  ice cream cones! 
 
Hot Favorites

All beef hotdog
Bratwurst
Hamburger
Veggie Burger
More!

Cold Treats

Soft Serve Ice Cream
Ice Cream Novelty
Ice Cream Sandwich
Root Beer Float
More!

Munchies

Nachos
Walking Taco
Popcorn
Soft Pretzel
More!

Beverages

Pepsi Products
Bottled Water
Cup of Water/Ice
Kona Ice (own concession cart)
More!
To view our full menu and pricing, click here. Concession items can be purchased with cash or credit. 
Ice, Ice, Kona
A Waterpark tradition – Kona Ice! Each year at The Waterpark you can find the colorful, tropical Kona Ice truck parked near the front entrance.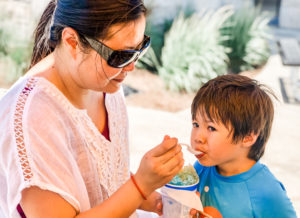 Enjoy a refreshing cup of Kona's premium shaved ice with one (or more!) of their many different flavor options. The possibilities are endless. Kona Ice is the perfect cool treat on a warm day! 
Outside Food & Beverage Policy
Want to BYOP (bring your own picnic)? Pack a cooler full of ice-cold drinks? We allow both! Guests can bring outside food and drinks with them into The Waterpark; however, there are a few things you should plan to leave at home.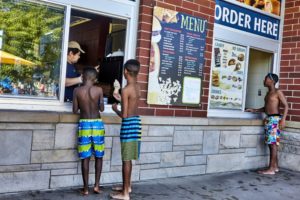 No glass bottles, jars, containers, etc.

 

No Alcohol

 

No grills, crockpots, plug-in food warmers, etc.
Make your next trip to The Waterpark a delicious one! With concessions, Kona Ice, and our outside food and drink policy, you'll never go hungry.