Extended School Enrichment,
a Before and After School Program
Extended School Enrichment (ESE) is founded on the belief that every student is capable of success. We are committed to setting high expectations and assuring the development of a strong foundation in basic life skills. The program offers quality before and after school care to all children enrolled in K-6 within Carmel Clay Schools. 
Each of the 11 elementary school sites will have the same core components of ESE, with each school customized to serve the best interests of the students and parents/guardians. Our site supervisors and kid counselors act as mentors to students while teaching fundamental skills. We cannot wait for your child(ren) to attend our program this year!
View 2019-2020 Parent/Guardian Guide
Before School Care
7:00-7:15AM Parent/guardian sign-in and socialization
7:15-7:45AM Enrichment Clubs
7:45-8:00AM Breakfast
8:00-8:05AM Student sign-out and transition to school day
After School Care
2:35-2:45PM Student Sign-In
2:45-3:15PM Group A – Snack/Group B – Recess
3:15-3:45PM Group B – Snack/Group A – Recess
3:45-4:30PM Academic Assistance
4:30-5:30PM Enrichment Clubs
5:30-6:00PM Daily Wrap-Up
Sign Up to Receive Our Monthly News & Views eNewsletter
Kids at home? Explore these educational resources!
While they aren't with your kiddos before and after school, our ESE team is still working hard for our families. Here are some resources they recommend to stay entertained and enriched while at home:
Benefits of ESE
Our before and after-school program prioritizes a safe environment for every student, thus providing parents/guardians a high level of confidence in our team. We also recognize that our program's success is driven by student voice and choice; therefore, we place a very high level of importance on listening to student input and acting upon student ideas.
Safe Environment
Convenient
Fun
Competitive Rates
ESE Registration Information
Registration for the 2019-20 school year is ongoing throughout the current school year.
The registration fee is $40 per registered child per school year.
Type
Before-School
After-School
Before & After-School
Monthly
$139
$236
$299
Drop-In (1 visit)
$12
$18
N/A
5-visit Pass (before or after-school)
$80*
20-visit Pass (before or after-school)
$300*
*Each participant will have his/her own pass.
"Our daughter's transition from one school to another has been seamless because of the ESE team. It is great to know that she is learning, making new friends, having fun, and all that is happening in a safe environment."Abdallah S.
ESE School Sites
Click on the schools below to explore our variety of offerings at each unique location!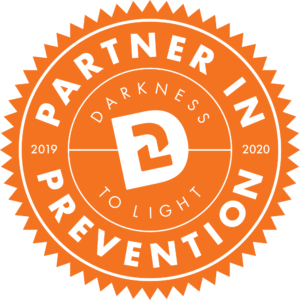 Continued Services Through "Partner in Prevention"
We have achieved "Partner in Prevention" status again this year, a designation awarded by the nonprofit Darkness to Light. This title is given to organizations which take extra steps to protect the children they serve. "Partner in Prevention" was created as a national standard to help parents and caregivers recognize organizations that take child protection seriously by implementing policy and training staff to prevent child sexual abuse. 
One in 10 children will be sexually abused before the age of 18. We earned the "Partner in Prevention" designation by providing Stewards of Children training to over 90% of its management, staff, and volunteers. This evidence-informed program is scientifically proven to help participants prevent and respond to child sexual abuse. 
Darkness to Light is an international organization that leads the movement to end child sexual abuse by educating and empowering adults in education, youth-serving organizations, and communities to protect children.