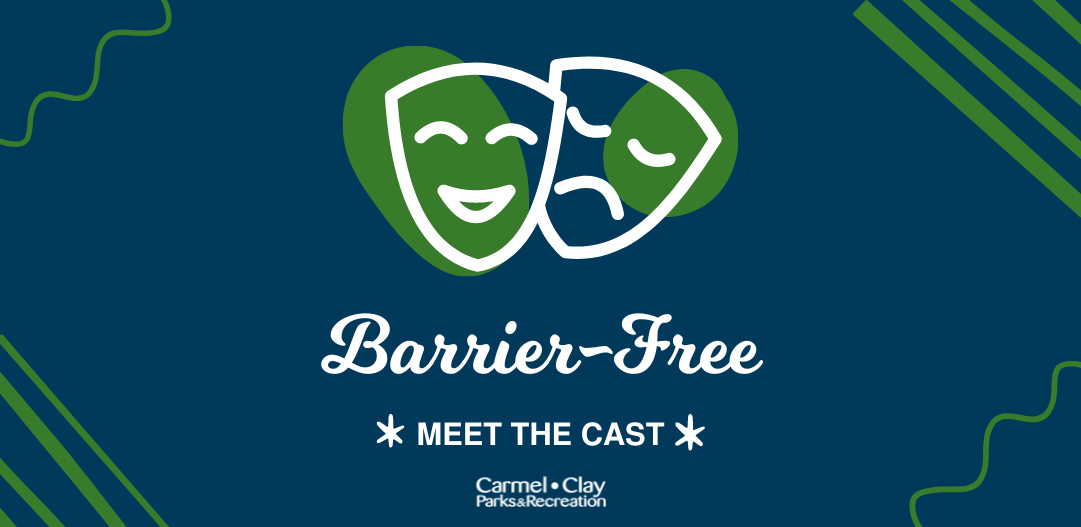 Find Your True Love: The cast & creating their characters
Meet the talented cast behind the 2023 Barrier-Free production, Find Your True Love, and learn more about what inspired each of them to create their characters.
After months and months of practice, this all-star crew is ready to take the big stage. Before the curtains rise, get to know the cast below. Then it's lights, camera, action!
Performances:

   – March 18 at 6 p.m. ASL interpreter provided.

   – March 19 at 2 p.m.       
Tickets are available online through March 16. Tickets are also available for purchase at the door on both performance dates.
Cast:
Steven Bates (Mitch)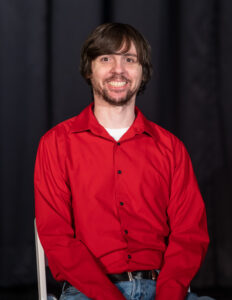 Steven is thrilled to be returning to Barrier-Free for his second production. Prior to BFT, Steven has participated in the SOAR Program in Bloomington, where he's performed in the Holiday Performers Show for six years. This year, Steven created the character of Mitch, who opposes his son's wedding to Charlotte. This is inspired by the character Darth Sidious from the Star Wars prequel trilogy. Steven enjoys acting and being a part of the Barrier-Free ensemble. He sends his thanks to the show's directors Sarah and Deborah, and to Kelvin and Jody.
Morgan Beck (Officer Barbie)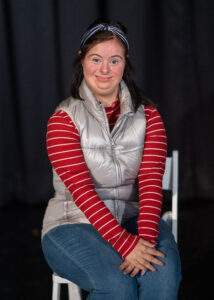 Morgan is excited (and a little nervous too) to be performing in her first-ever play! Morgan dreamt up the role of Officer Barbie, who is a lot of fun to play – she makes people laugh and has a fun chase scene! Morgan has enjoyed her first year with Barrier-Free Theatre because she loves talking with the cast and director Sarah. Special thanks to her friends and fellow cast members, Michael and Kelly.
Maddie Cardamone (Sam)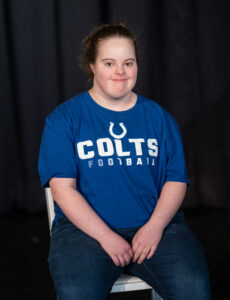 Maddie is excited to be making her debut in this year's Barrier-Free performance! She created the role of Sam, a groomsman in the wedding and brother to Frank and Antonio. Maddie enjoys acting as Sam and hanging out with the girls. She also loves doing theatre and making friends. She would like to thank Morgan, who has been so kind to her. And thanks to her friends and parents who came to see the show!
Caroline Dunklau (Belinda)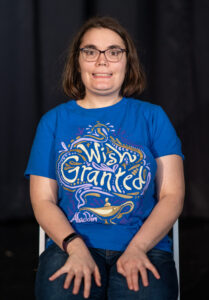 Caroline is back for her third year with Barrier-Free. She made her debut in our virtual performance, so this is only her second show on stage. This year Caroline created the character Belinda, who loves animals (especially horses). She is also best friend and maid of honor to Charlotte. Caroline prides herself on being a good friend and being kind to animals… just like Belinda! Caroline would like to thank everyone at Barrier-Free for making this year so much fun. She loves being with friends at rehearsal each week!
Lucy Hammann (Savannah) 
Lucy is thrilled to be making her Barrier-Free Theatre debut this year as Savannah in Find Your True Love. Being on stage has always been a dream of hers, and she loves being a part of the cast, who have become like a family to her. She created the character Savannah because she too wants to find true love someday. Special thanks to her family for being there and supporting her as she follows her dreams.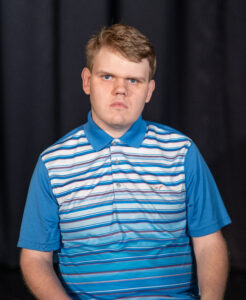 Henry Heimansohn (Emmett)
Henry makes his Barrier-Free debut this year as Emmett in Find Your True Love! Previously he has appeared in school plays such as The Jungle Book and in school choir performances. Henry describes Emmett as a good friend to the groom, Frank. He's also a "good looking guy"! His favorite film is Revenge of the Sith and his favorite thing about our play is the light saber duel he has with his fellow groomsmen. Henry would like to thank his fellow cast members for being in the show with him, as well as the show's directors. "This has been a great time!"
Kelly Kaser (Genevieve)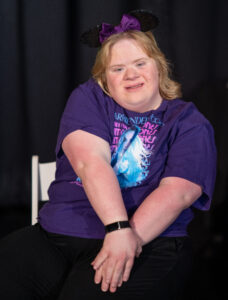 This is Kelly's fifth season with Barrier-Free Theatre. Her previous acting credits include Shakespeare in the Park, Playback, school plays, drama class and choir. This year Kelly plays Genevieve, the twin sister of bride-to-be Charlotte. The sisters have a deep connection that plays an important part in the story. Kelly loves being on stage and working with the cast and directors. Special thanks go to her family and friends, as well as all the BFT staff and volunteers!
Will Leinemann (Victor)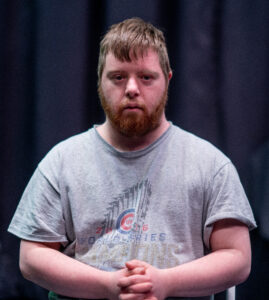 Will is making his acting debut in this year's Barrier-Free production, Find Your True Love. Will was inspired by his favorite actor Steve Martin to create the comedic character of Victor, the wedding emcee. Will has enjoyed spending time with his castmates this year, and his favorite character in the show is Charlotte. Big thanks go out to Will's Mom, his niece Jenna, and cousin Devon. "Enjoy the show!"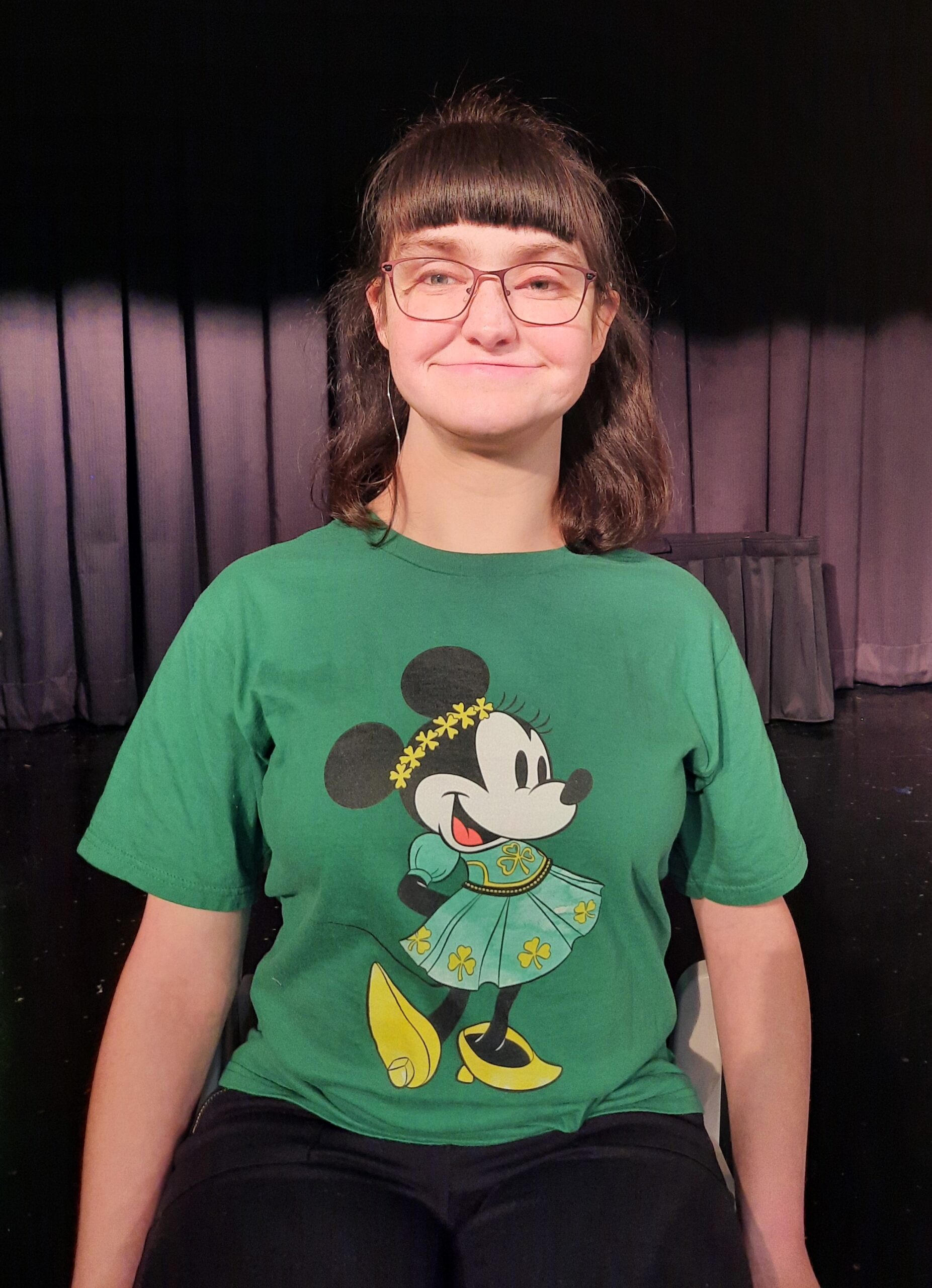 Abby Love (Cassidy)  
Abby is delighted to be back for her fifth Barrier-Free production! This year Abby plays Cassidy, a longtime friend to Charlotte who is serving as one of her bridesmaids. Abby created this role in order to portray someone who is a good and supportive friend, just like she is in real life. Abby has past theatre experience through her high school choir and theatre class. She has had lots of fun in this year's production and would like to give her thanks to her Mom, Dad, and sister Maggie.
Michael McCarley (Frank)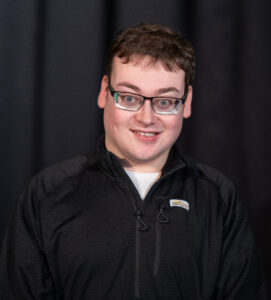 Michael is excited to be making his BFT debut this year! Though it was overwhelming at first, Michael found the cast and crew at Barrier Free to be very welcoming and supportive. He has acted in the past in high school and with the Artist Studio. Michael created the role of Frank, the groom. Michael loves playing this fun, kind, and spirited character. Michael said this production is perfect for him because he wanted to start a new chapter in his life. He's excited to show the world who he is. Michael sends love and thanks to his Mom, Sister, Aunt Sandie, assistants Hunter and Haley, and directors Sarah and Deborah. Love and thanks to his dad, Kevin, who passed away in January of 2022.
John Noal (DJ Chris)
John is thrilled to be back for his second Barrier-Free show! He enjoys doing plays and acting out what he creates with the cast. This year, John is playing DJ Chris, who keeps the fun going at the wedding reception. He also likes that this play is a love story and that he gets to throw a party for the happy couple. "I would like to thank our directors, Deborah and Sarah, and everyone in Barrier-Free Theatre!"
Evan Ollier (Father Franklin)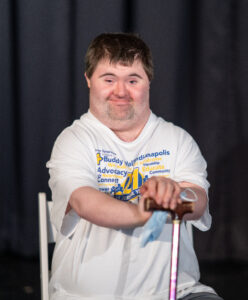 A veteran of the Barrier Free stage, this is Evan's fifth production. He has been acting since his high school drama class. This year, Evan plays the priest. He wanted to create this character to show support to the married couple. He has enjoyed acting in this year's show and working alongside his girlfriend, Lily. "I would like to thank the cast and directors for supporting me, and of course my parents, too!"
Madeline Paxton (Patty)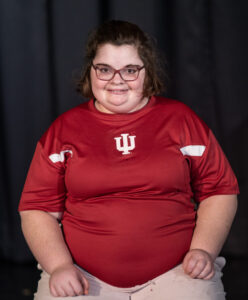 This is Madeline's first ever stage experience, and she is so excited to be playing Patty, the caterer. Madeline has a lot in common with Patty, because she too loves to bake (especially cake) and cook as well (pasta is a favorite of hers). She has enjoyed her time in Barrier-Free this year and has had lots of fun with her fellow castmates. Madeline would like to thank her parents for their love and support, and the audience for attending the show.
Dan Peeler (Officer Seth)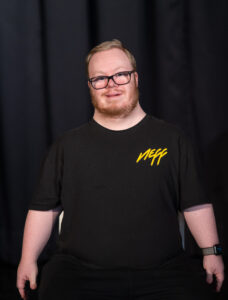 A seasoned actor in school and Monon Community Center productions, this year marks Dan's fourth Barrier-Free production. Dan created Officer Seth so that he could portray a good guy who catches the bad guys and makes an arrest. Dan loves being a member of the Barrier-Free cast because he gets to be on stage doing what he loves- acting! Dan sends his thanks to Chad for being evil with him in a past BFT production, cast member friends Kelly and Michael, and director Deborah.
Courtney Reynolds (Janeane)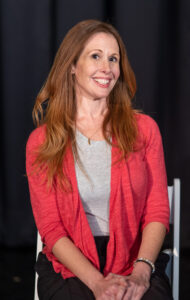 Courtney is thrilled to contribute to this amazing production! She has also participated in past productions such as Shakespeare in the Park and Playback. Courtney is a licensed Occupational Therapist who has been acting since the age of 15. Prior to earning her Master's in OT, Courtney trained at the American Academy of Dramatic Arts. Courtney has also appeared in local productions with Belfry Theater, Mud Creek, and Grace Church. She is thrilled for the opportunity to combine her love of theater with her passion for encouraging people of all abilities to shine!
Tomas Silva (Tim)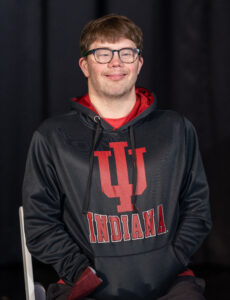 Tomas is excited to be back at BFT for a second year in Find Your True Love! He has crafted the role of Tim this year, who he describes as "cool and vicious" with "sweet hacking skills." Tim is this year's bad guy, a role which Tomas has found interesting to play. Tomas would like to give a big thanks to his family, cast, audience, and directors Sarah and Deborah. "Enjoy the show!"
Lily Thompson (Antonio)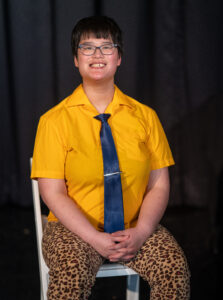 Lily has been involved in theater for many years as an actor and director in her Christmas shows, and is celebrating her fourth Barrier-Free production this year! Lily took inspiration for her character's name from composer Antonio Vivaldi and illustrator Maurice Sendak. Lily enjoys playing male roles in Barrier-Free, and created Antonio to be a supportive older brother to Frank and Sam. As the best man in the wedding, he takes good care of others. Lily sends her thanks to her Mom for videotaping her Barrier-Free performance, and to Antonio Vivaldi for inspiring her.
Grace Vittorio (Charlotte/Guest Director)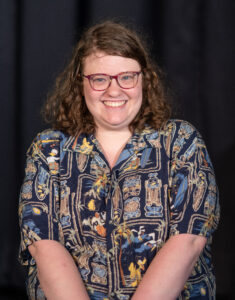 Find Your True Love marks Grace's fifth year as an actress in Barrier-Free Theatre, as well as her directing debut! Outside of BFT, Grace has participated in Shakespeare in the Park and Playback. She is looking for opportunities to get involved in other community theatre productions as well. Grace created the character of Charlotte because she believes that love is the most important thing in the world and hopes to find love herself one day. Grace thanks her family, castmates, and friends for supporting her. She would also like to dedicate her performance to her late Aunt Ginger, who is remembered for her spirit and positive attitude.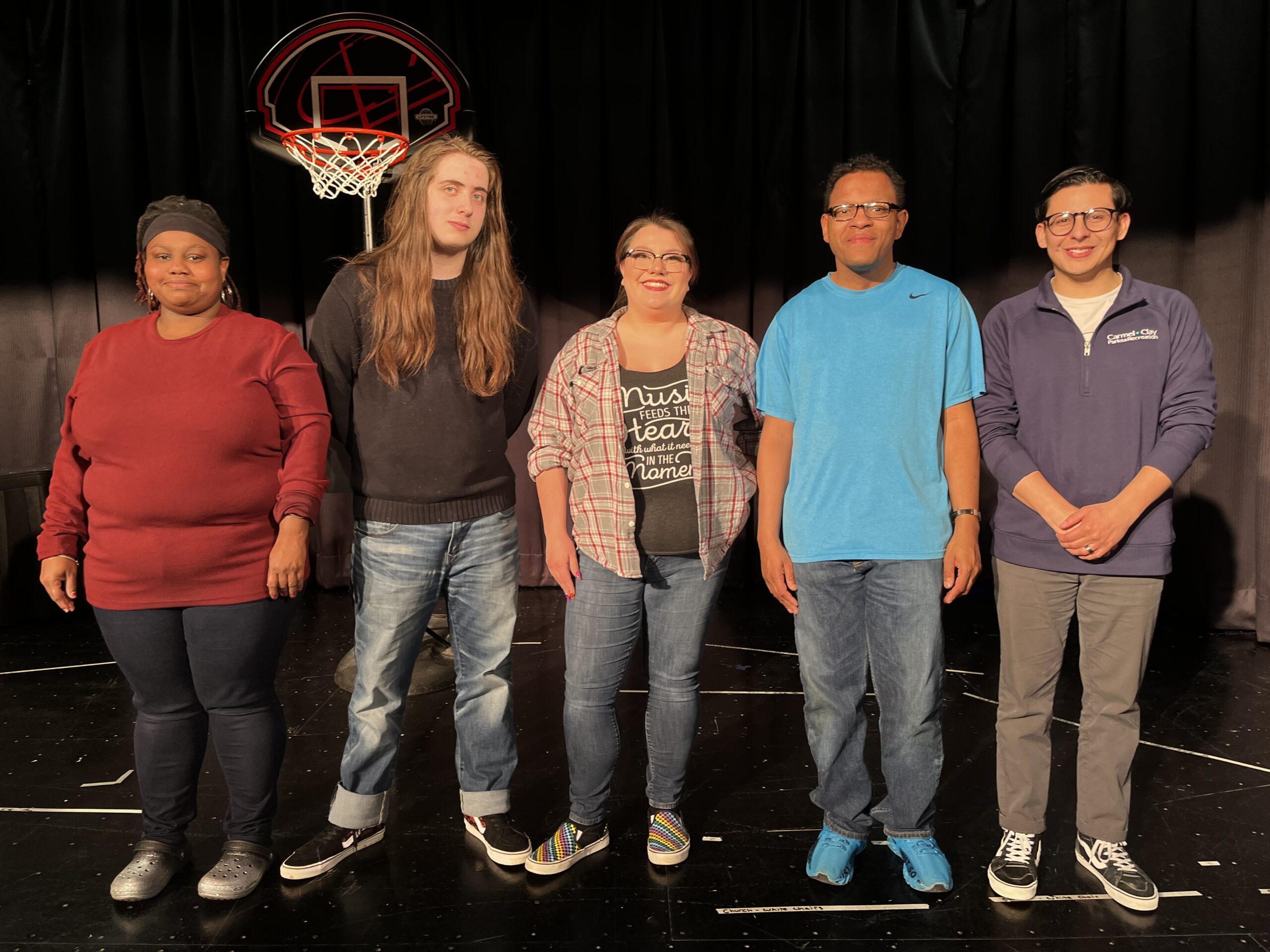 2023 Barrier-Free Theatre Crew
From left to right, Amber Sykes, Quin Strzynski, Jade Alia, Bryan Pame and Kelvin Solares.