Superwoman Amanda Luper focuses on an active lifestyle, strength and how it directly inspires her family
Turns out — superwomen look remarkably just like you and me. They do, however, come with a hefty dose of persistence and an unwavering commitment beyond just a work-life balance. They've got dedication to a work-life-health-family model.  And, not necessarily always in that order.
When the alarm clock goes off at 4:30 a.m. superwoman Amanda Luper starts her day with a visit to the Monon Community Center (MCC) for a workout routine that keeps her strong, centered, and an engaged, busy and healthy wife, mother and occupational therapist.
"My husband works for the City of Carmel and receives an MCC membership as part of his benefits package," shares Luper. "We live two minutes from the MCC so it was just a perfect place for me to begin to get back in shape after having two kids. I wanted to regain some of my pre-pregnancy strength and get back into the routine of working out. I don't focus on weight — that isn't ever a priority for me — but feeling strong, healthy and centered is."
A Workout Tailormade
In the beginning Luper would run on the treadmill and attend cycling classes. She realized adding a weightlifting element would enhance and challenge her workout routine but she wasn't sure where to start. She reached out to the MCC to get a recommendation and was soon meeting personal trainer Shannon Strzynski to create and implement a tailormade weightlifting routine.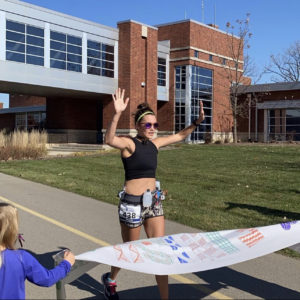 "Shannon and I are a match made in heaven," Luper says. "She was a runner and lifter too and put together a plan that would help me train for my first virtual marathon which I ran November 2020. I was working out five days a week at 5 a.m. and you know – I wasn't alone. I call them the MCC 5 a.m. crew and they are a dedicated group that I really look forward to seeing. It really is like a community there and that feels great."
Luper starts her day with an early morning workout and quickly moves home to get kids ready for school and daycare, pack up for the day, and then drive to work in Muncie as an occupational therapist. She's helped establish an ICU trauma therapy team and is a certified Brain Injury Specialist. You might say she never gets off the treadmill of life!
"Amanda and I are on similar strength and wellness journeys," shares Strzynski. "And I think many other women are on very similar journeys as well. The opportunity to help Amanda reach her goals is wonderful."
Strength = Mental Health Boost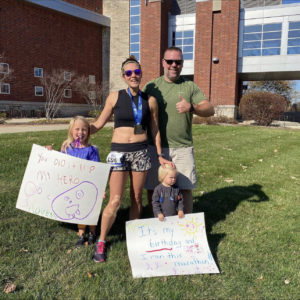 Spend just a few minutes with Luper and you realize she is a woman dedicated to her family. She understands that for her busy family to function day-to-day she has to take care of herself first. That can look different to each of us. For Luper, that means carving out the time to run, hike, bike, lift weights or about any other physical activity.
"Success is very personal," Strzynski explains. "Each person I work with has a unique path and goals. Amanda enjoys the process of integrating many things into her workout which is great as we build upon her workout process to reach what ultimately is success personal to her."
Luper's determination and commitment to success is beyond just the physical.
"I'm a past collegiate track and field athlete and lifted some then as well," says Luper. "Exercise is a mental health booster and is so good for the mind-body-spirit connection. Add in the strength training and you just feel like you are ready to take on the world. When I feel strong and healthy, I know it shows my two daughters just how important exercise and a healthy lifestyle can be."
Luper and her husband Mike act as a support system for one another, always holding the other accountable. She encourages him with his own personal health goals and says Mike can often be found working out at the MCC as well.
Family Focused Healthy Lifestyle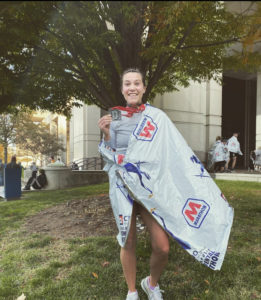 "We've recently added in a vegetarian based eating lifestyle to our workout and physical exercise routines," Luper shares. "It really is all about a healthy lifestyle balance. The MCC is my home for keeping the physical strengthening side of my life in motion and we try every day to make healthy choices here at home too."
Luper says she originally chose the MCC as a place to work out because of the family and community feel. When she's at the MCC she says there is no judgment about how she looks, her weight or how good she is at any one thing.
"I loved that 'we're all here working to get better' vibe and it made me feel comfortable," says Luper. "It isn't about how I look but more so about how I feel. I'm training for the Monumental Marathon's half-marathon option and I am excited for the challenge. I'm ready to go."
It's so true. Superwomen come in all shapes, colors, sizes and with different goals. Amanda Luper is just one of the many among us but she has certainly earned her cape.
Learn more about Monon Community Center memberships here.
Written By: Sheryl Rodgers
Sheryl focuses on branding and marketing engagement. She's a storyteller, editorial and media consultant, and brand builder. This story was written in partnership with Pickett & Associates.