Enjoying the Career-Advancement Ride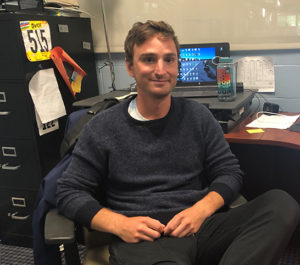 When asked to describe himself as a child, Sean Robert laughs and says, "trouble," without a second thought. He's sitting in his office chair, leaned back and entirely relaxed. "I was trouble, but I always knew I wanted to help people." Growing up, Robert told everyone who asked he wanted to be a children's book illustrator. He always had a passion for art, especially drawing. But a close second was being outdoors. Not sure how to turn that into a career, he turned it into his hobbies. You're likely to find him outside skateboarding, hiking, playing with his dog, or driving his bicycle taxi in downtown Indianapolis.
Robert Joins the MCC Team
Robert has had a tie to the Monon Community Center (MCC) since before it opened. During pre-construction of the MCC, there were public focus groups held at Carmel Clay Schools to discuss the amenities the community wanted built. When Robert heard the callout for a meeting about a possible skate park, he knew he had to attend. Robert has been an avid skateboarder since junior high, even giving up other sports to spend more time skateboarding. He was an advocate for the skate park at the MCC and his participation in the focus group led to what is now the very popular skate park at the MCC.
After participating in the focus group, he knew a little bit about the facility and his mom knew they were hiring. His first job with CCPR was as a lifeguard at the MCC in 2008, shortly after the facility opened. If he's being honest, he didn't want the job. It was one of those "my-mom-told-me-I-had-to-so-I-did" situations. He never would have pictured himself back then where he is today, recreation services assistant manager for aquatics and operations.
Robert first came on board as a lifeguard, moved up to pool manager, The Waterpark tech and then The Waterpark supervisor. He continued to demonstrate his value to the team and was rewarded for it. But it wasn't always easy. Robert recalls nearly being fired once in his first few years for missing lifeguarding shifts. A nod to those rebellious teenage years when he described himself as trouble. The MCC became a home away from home for Robert — both during working hours with his aquatics team and after work at the skatepark.
Rooting for Robert's Success
The people around him were continually rooting for his success personally and professionally, and it made all the difference. He began to believe in himself too and got the, "I can do this," spirit.
The MCC, particularly the aquatics team, has become like family to Robert. They've been friends, colleagues and mentors. "I've had a few mentors during my time here, all of my bosses have helped me in so many different ways," says Robert. "They gave me responsibility and freedom to learn and fail. CCPR isn't afraid to fail and then fix. They've rounded me out to be better."
When the FlowRider® opened at The Waterpark in 2012, Robert was tasked with creating programming for the new surf simulator — the only one to this day in Indiana. He dove headfirst, literally, into something he knew nothing about. It was a lot of responsibility, but he was ready for it and proved himself yet again. Since then he's played a large part in the continuing growth of adventure aquatics. The Waterpark now offers a variety of programs including FlowRider® lessons, Open Flow, Log Rolling and AquaClimb® lessons.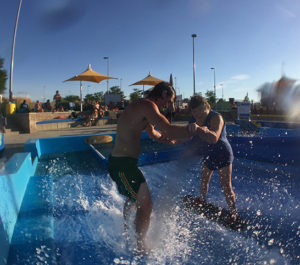 The Waterpark also hosts adaptive FlowRider® programs designed for individuals with disabilities. "One of the coolest things that we offer that I'm involved in is Adaptive Open Flow," says Robert. "I've learned so much about myself through working with our inclusion programs. It's not just growth for the participants, it's growth for me."
The Waterpark hosts FlowRider® competitions and FLOW tours. With the dedication and drive of team members like Robert, CCPR launched the very first adaptive division to the national competition circuit.
For Robert it all comes full circle. He's always known he wanted to help people, from a young age that was his passion. While it might not be the first thing listed under his job title responsibilities, he still gets to pursue that passion every day, and he has the stories to share. And now he's in the position to mentor his own staff and help them succeed.
"The best part of my job is interacting with people and helping young people grow like my mentors have helped me," says Robert.