Skatepark
The state-of-the-art skatepark at the Monon Community Center, located between the east and west building,  has rails, ¼ pipes, and even a bowl to grind on, do kick-flips or ollies.  
Please be courteous and respectful while skating in the park. Take turns and go with the flow of the park. Read through the park rules below to ensure a safe experience for everyone.
The skatepark is open to the public and does not require a  Monon Community Center membership.
Hours
The skatepark is open from sunrise to sunset except for approved activities.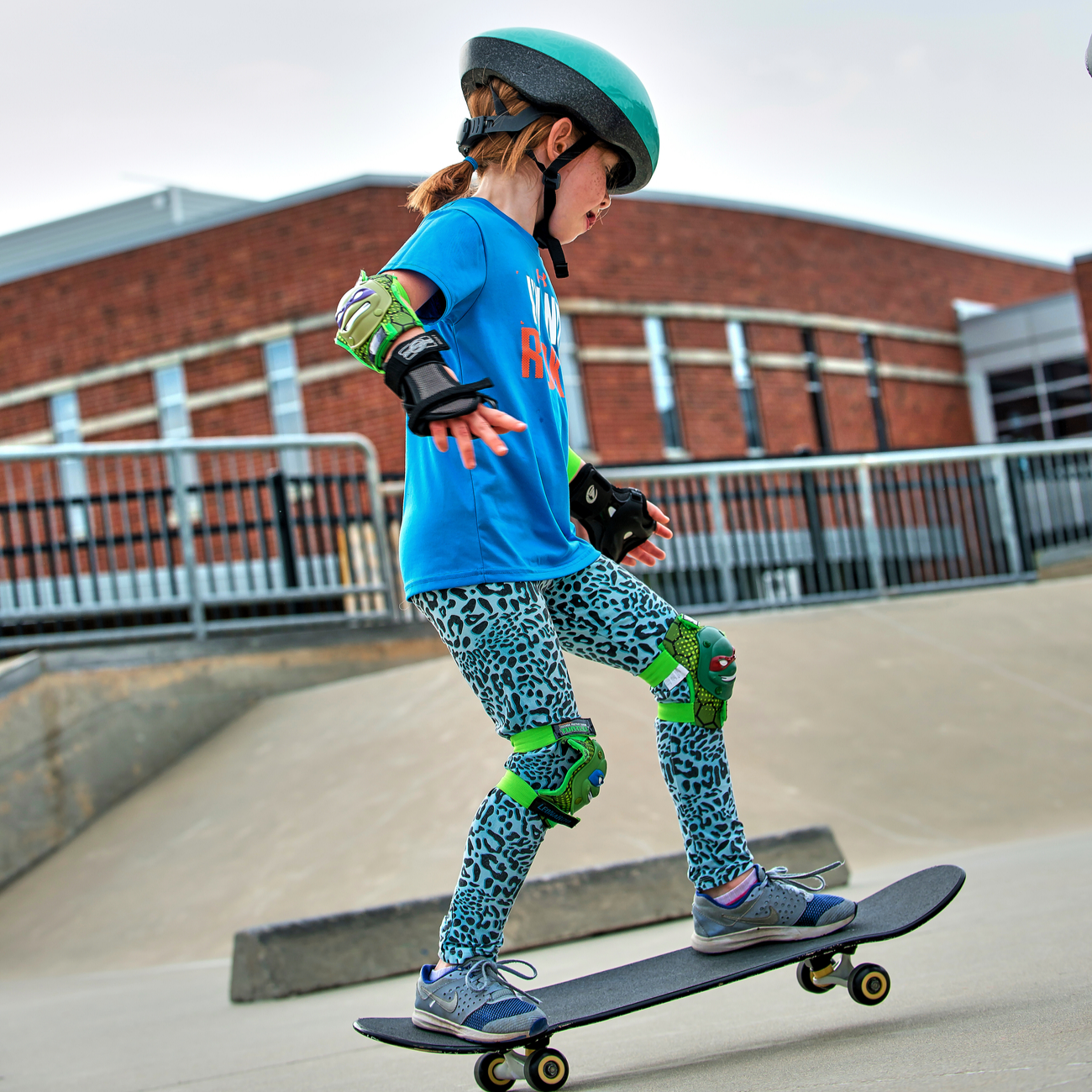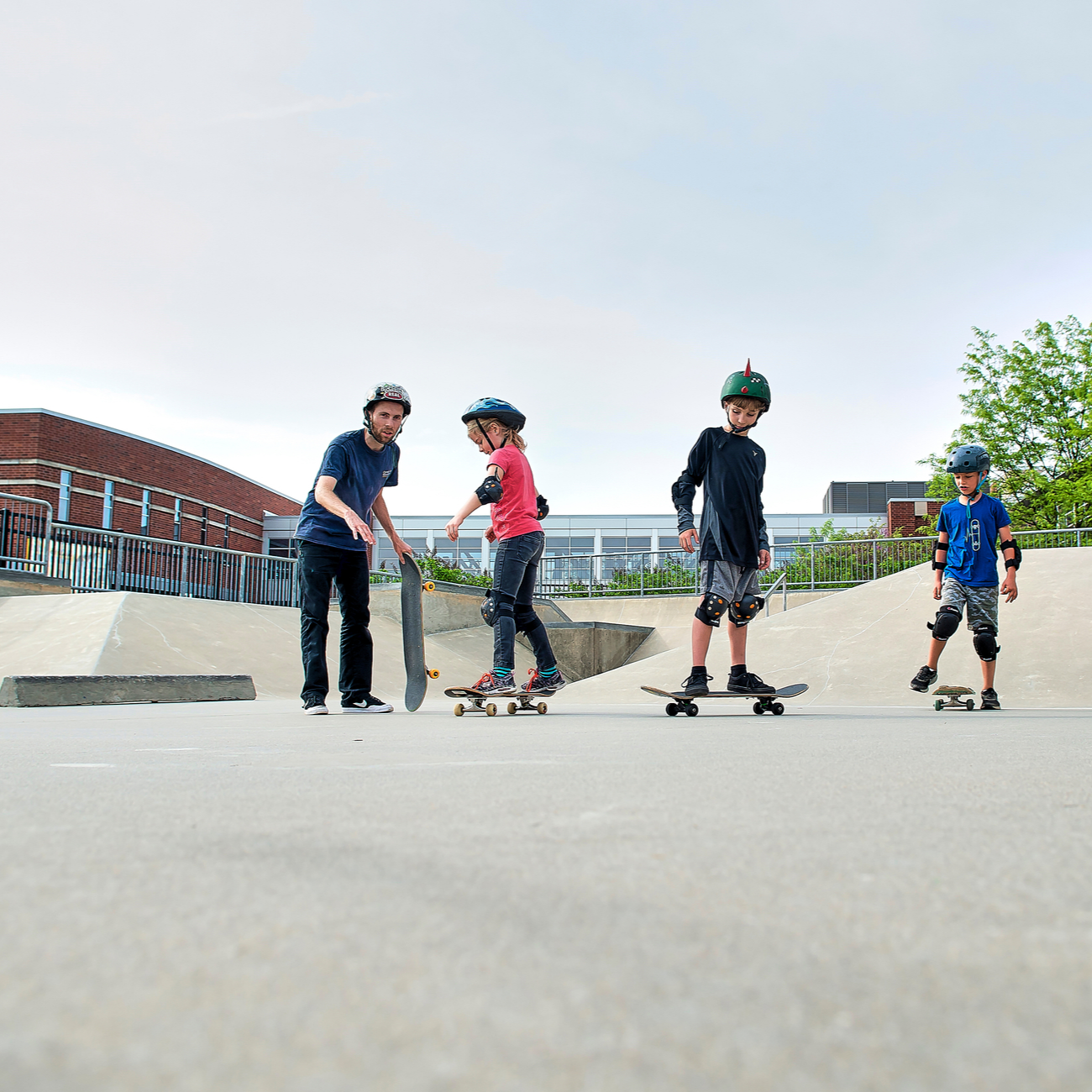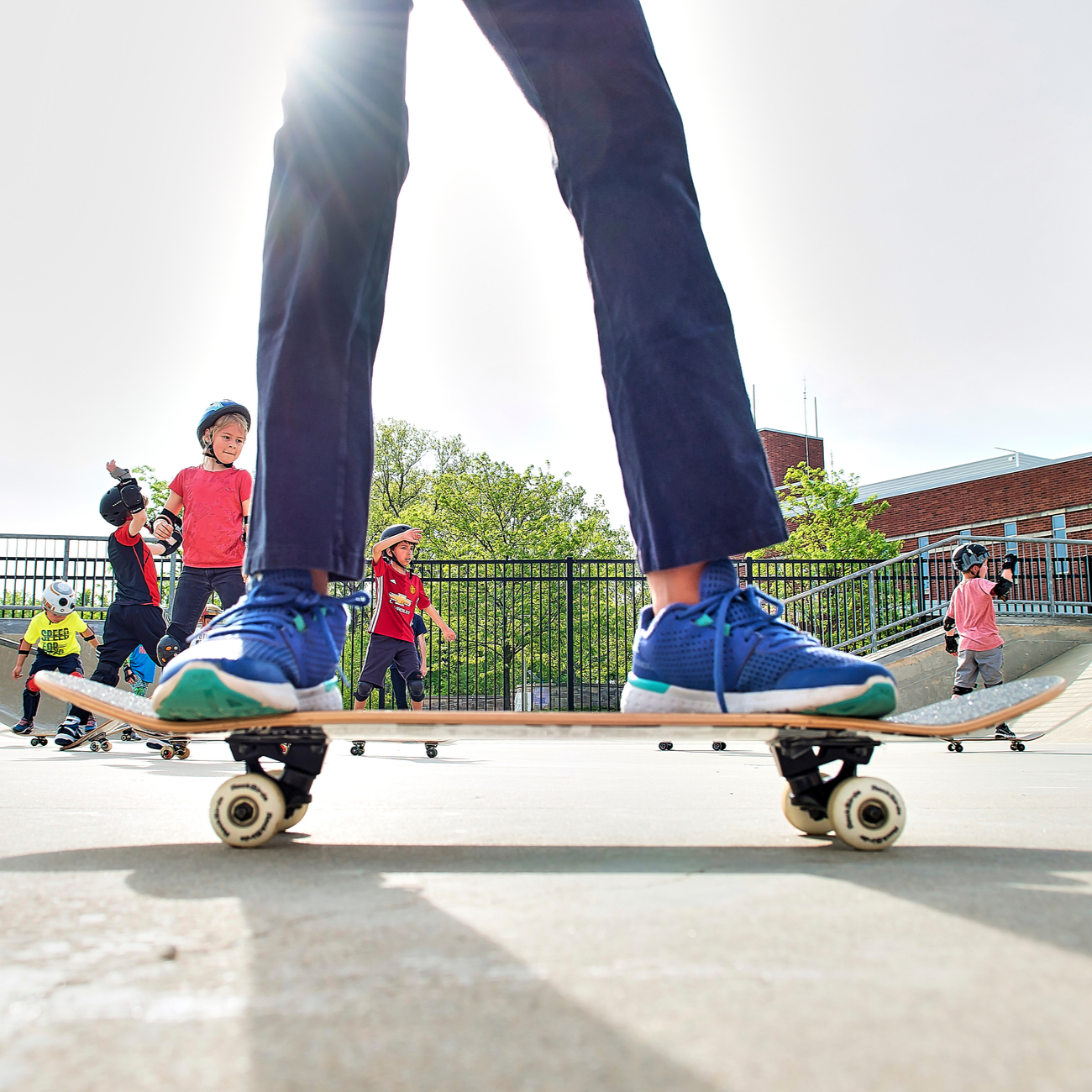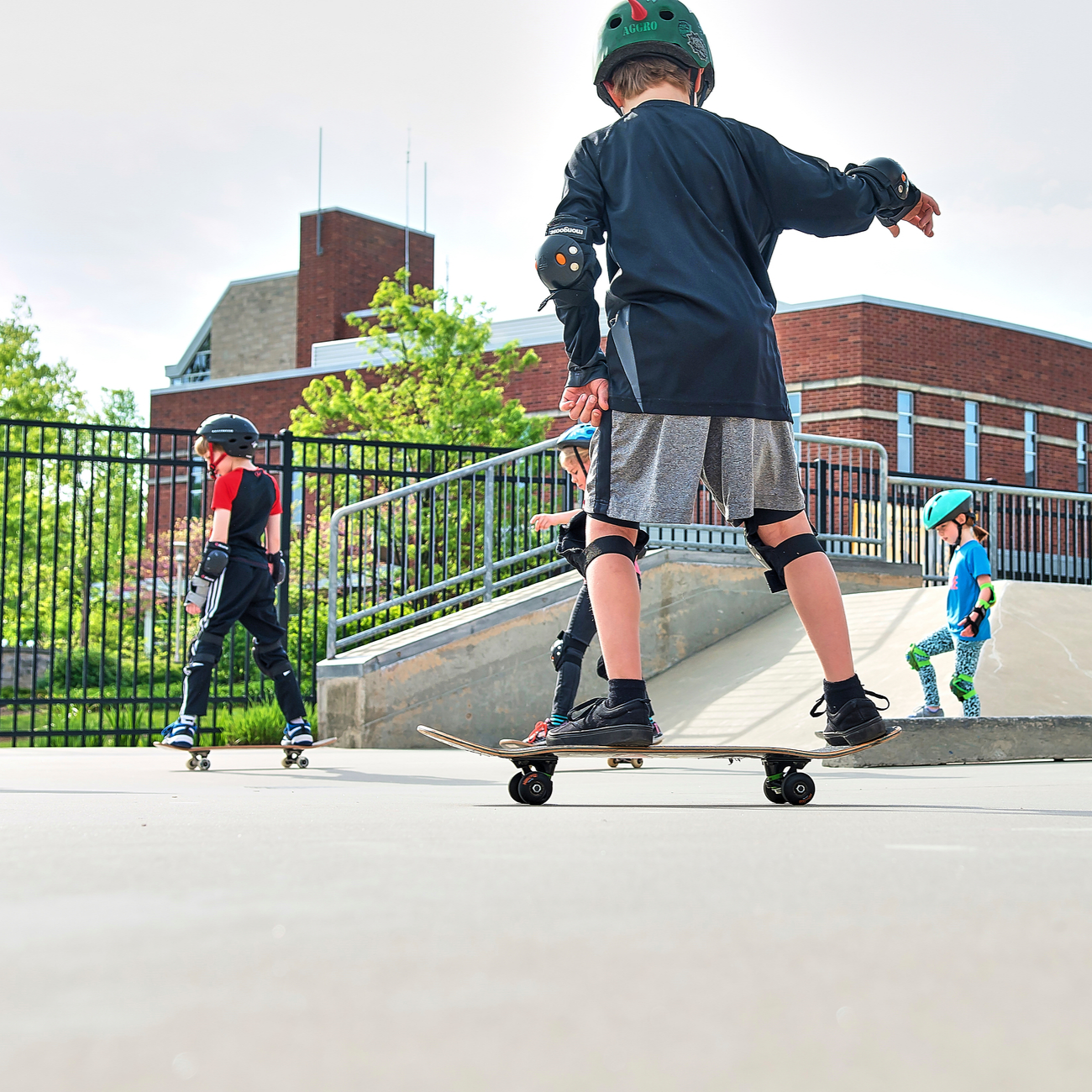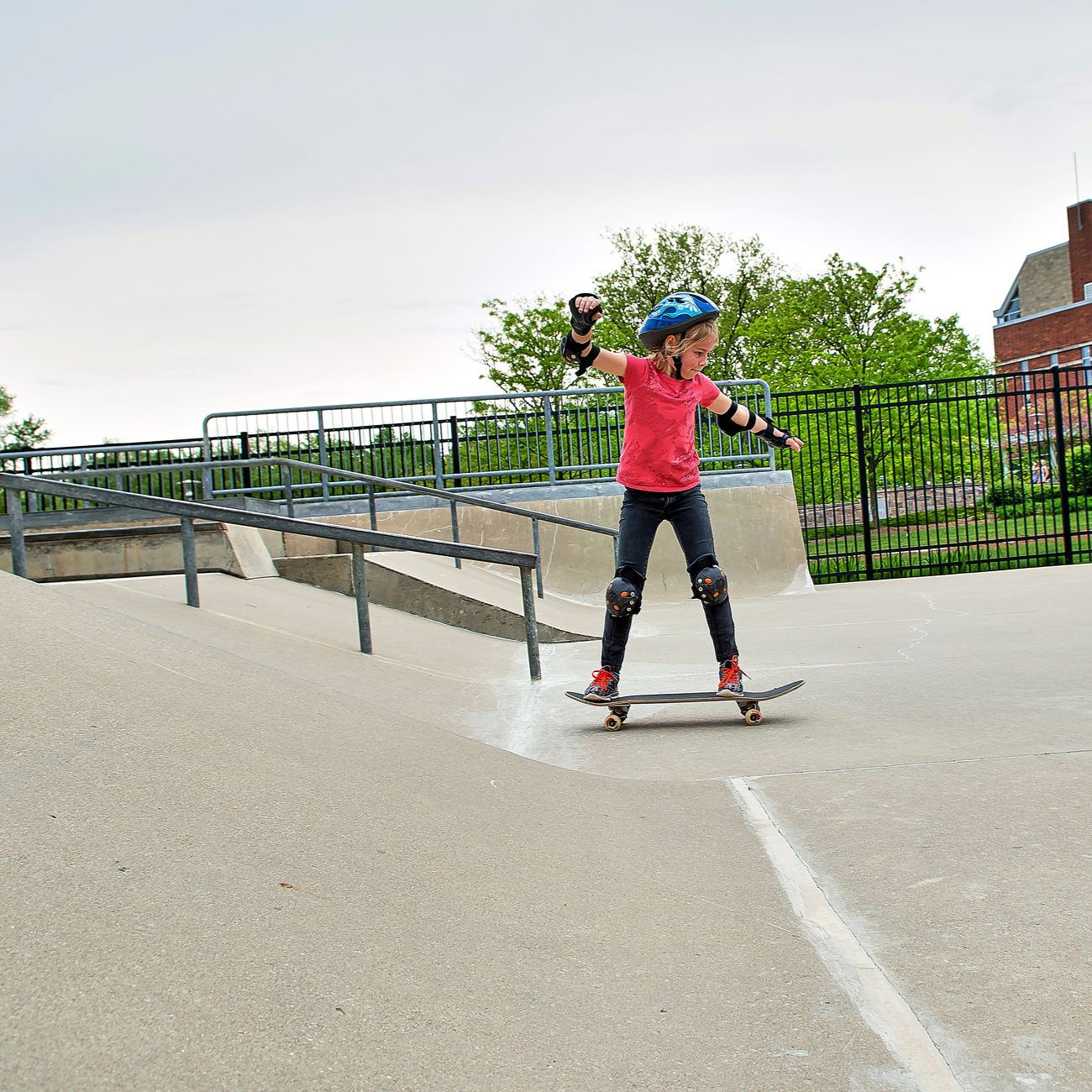 John was a phenomenal skateboarding instructor! Victoria (Mother of Skateboarding Program Participant)
Skateboarding programs run May-September.
Rules
For the safety and enjoyment of everyone, please follow these rules and courtesies.
1. USE OF THIS SKATEPARK IS RESTRICTED TO PERSONS USING SKATEPARK EQUIPMENT 
• Protective equipment should be used at all times
• Skate to the level of your ability
• Bicycles are prohibited inside the skatepark
2. INSPECT SKATING SURFACE BEFORE SKATING
• Remove any trash or debris that may prevent a smooth, safe ride
• Skate on dry, clear, and undamaged surfaces only
• Report damage to Carmel Clay Parks & Recreation
3. ADDITIONAL RAMPS, JUMPS, OR OBSTACLES ARE PROHIBITED IN THE SKATEPARK
• Modifications to skating surfaces or features are prohibited
• Restrict skating to features specifically designed for the purpose
4. HELP KEEP YOUR SKATEPARK SAFE
• Keep food and drinks off the skating surface
• Glass inside the skatepark is prohibited
• Place all litter in appropriate trash containers
• Adult supervision recommended for children using the skatepark
• Pets are prohibited inside the skatepark
• Report inappropriate conduct to Carmel Police
5. HELP KEEP YOUR SKATE PARK FUN
• Be respectful to other users, spectators, and authorities
• Avoid use of profanity, roughhousing, or loud music
• Organized events, soliciting on park property, or use of the
skatepark for profit is prohibited without a permit
6. THIS SKATEPARK IS A TOBACCO, ALCOHOL, AND DRUG-FREE ZONE
7. SKATEPARK OPEN SUNRISE TO SUNSET EXCEPT FOR APPROVED ACTIVITIES
8. BICYCLES ARE PROHIBITED INSIDE THE SKATE PARK.
WARNING: EXTREME SPORT AREA
Use of this skatepark may result in death, paralysis, brain damage,
concussion, broken bones, or other serious injury. This is an
unsupervised facility. Any use is at your own risk. Carmel Clay
Parks & Recreation does not assume any responsibility for injuries
Carmel Clay Parks & Recreation reserves the right to close or restrict the
use of the skate park for any circumstances deemed necessary, restrict
entry, and/or ask persons to leave the skate park if any rules are not
followed or inappropriate behavior is observed
Report inappropriate conduct to Carmel Police: 317.571.2580
Report maintenance concerns to Carmel Clay Parks & Recreation: 317.573.4040