Mitch Vanderhagen's presence can fill a room, and not just because he's over 6 feet tall. His bright smile and his passion for life are contagious. He's a recognizable face around the Monon Community Center. You never know where you might find him — at the pool, in a group fitness class, on the pickleball court or in the fitness center. Vanderhagen found community right when he needed it most.
Living the Life
Since he was a kid, Vanderhagen has been active. From high school varsity sports and intramural sports at Butler University to a rigorous fitness regimen today, healthy habits are an integral part of Vanderhagen's lifestyle.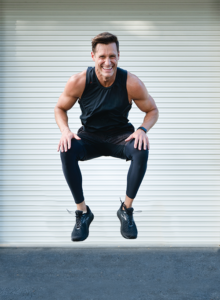 The discipline and team-mentality Vanderhagen developed from years participating in sports is reflected in his work. After college he followed in his father's footsteps and pursued a career in finance. A few jobs and relocations later he realized he wanted to forge his own path. A job in software sales moved Vanderhagen to Chicago, where he lived his dream of "making it" in the windy city. But something just didn't feel right. He had been having trouble sleeping, was having digestive issues, and felt low on energy. After nearly a year of doctors' visits and assessments, he was diagnosed with Hodgkin lymphoma.
The news was hard to swallow. In Chicago Vanderhagen lived on his own, without a car, and miles from his core support group — his family. But even though his family was in another state, they were there for him. They drove up for chemotherapy appointments, visited often to help cook and clean, and his sister even buzzed his head when he started losing his hair. The illness left him physically and emotionally drained.
Having to Hit Reset 
When he entered remission a few years ago he moved back to Indianapolis to be closer to family and the city he'd called home during his college years. Vanderhagen decided to set intentions for his post-illness fitness journey.
"When I hit reset on my fitness, I was coming out of my illness," says Vanderhagen. "After six months of chemotherapy, my cardiovascular shape was horrendous. I just really wanted to come back and exceed who I was before. I needed a place with a variety of amenities and a fitness community to call home and the Monon Community Center helped me get there."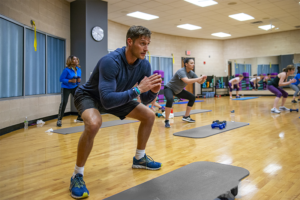 Growth through Community 
Right away Vanderhagen plugged himself into group fitness classes — and now a year later he's confident he's tried every class at least once. "As an early riser, I'm able to start my mornings off right," Vanderhagen says. "I'm fortunate to have great instructors to push me because I always want to be better."
He's a regular in the boot camp class with Tammy Roberts and the strength classes with Michelle Longley. Vanderhagen shares he's an overall better person because of them. "They are strong women," he says. "They'll push you outside your comfort zone and I find a lot of growth in discomfort. They're very good at encouraging you at the right times."
Tammy Roberts says she enjoys having Vanderhagen in her boot camp class because he always comes in with a positive attitude. "Mitch is one of a kind. He always encourages everyone in class to do more," Roberts says. "It's not unusual to see him quietly encouraging someone who might be struggling to keep up. I've actually seen him slow down his own workout in order to help someone else."
Continuing to Get Stronger
Though the journey has been long and it hasn't been easy, Vanderhagen shares that through it all he's grown stronger mentally and physically, and truly feels he's found his team at the MCC. He's come to value his health, and the community that's helped him get there. He's learned the power of surrounding himself with people who build him up, and found joy in encouraging those around him.

Written By: Emma Laux
Emma was Carmel Clay Parks & Recreation's 2019-2020 Marketing Intern. During her internship, she completed a few research projects, proposed and pitched campaign ideas, all with a focus around inclusion. She graduated from Butler University in May 2020, and is currently looking for a role in the marketing field.