Preparing for the Trip of a Lifetime
Sea lions, reef sharks, blue-footed boobies and sea turtles—oh my!
If you are wondering where in the world you can travel to see all of these fascinating species in one place, 73-year-old Jack Brummett can tell you: The Galapagos Islands.
In late November 2018, after the turkey had been eaten and the Thanksgiving dishes cleaned and put away, Brummett pulled out his suitcase to pack for the trip of a lifetime including visiting natural world wonders Machu Picchu and the Galapagos Islands. He would travel with his wife, his brother and sister-in-law during the almost six-week, bucket-list journey that would take his group snorkeling on nine different days in the Galapagos.
"Knowing that this trip was going to be something very special, I wanted to set a goal to be as prepared a swimmer and snorkeler as I could be," shares Brummett. "I wanted to feel confident and strong swimming in this beautiful yet unfamiliar place in unfamiliar water. I knew I'd feel more relaxed if I was confident in my swimming skills."
It had been years since Brummett had been swimming and had remembered being an average swimmer. He thought he was a good swimmer, but maybe not good enough for this trip. Soon, he was asking around and found himself signing up for individual swim lessons at the Monon Community Center's (MCC) indoor pool. Brummett shares that he knew right away after meeting his instructor, Hannah Yackey, that this was a fantastic place to come and train and the atmosphere seemed perfect to meet his goals.
"Hannah was incredibly patient. I never really thought I had the right stroke technique and Hannah was able to evaluate my swimming stroke and then provide a workout plan and instruction that would help improve my stroke so that I could become more comfortable swimming longer distances. I began to swim the length of the pool feeling stronger in the water and not exhausted and that was a great feeling," says Brummett.
After a few lessons, Brummett was feeling more confident in the water. Next, Hannah would help him implement the snorkeling gear so that Brummett was also confident being in the water for a snorkeling swim, accustom to the equipment and aware of what to expect once he got to the Galapagos.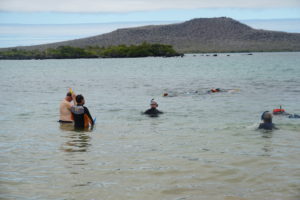 "One of the phenomenal islands we snorkeled and swam sported over 400 species of fish and other marine wildlife to see and experience. I knew I wanted to have the stamina to not miss any of the wonders that this trip had to offer," Brummett says.
"I am so glad that I came for the individualized lessons that were tailored to help me reach my goals. I can absolutely say that if I hadn't prepared myself with the endurance water training that I would have missed out on some incredible sea life."
Brummett shares that he has grown to really enjoy the entire MCC facility—both the community and family atmosphere. "It really is night and day from when I started the training to what I was able to take with me into the water for the trip—both my swimming journey and my recent trip were absolutely transformational."