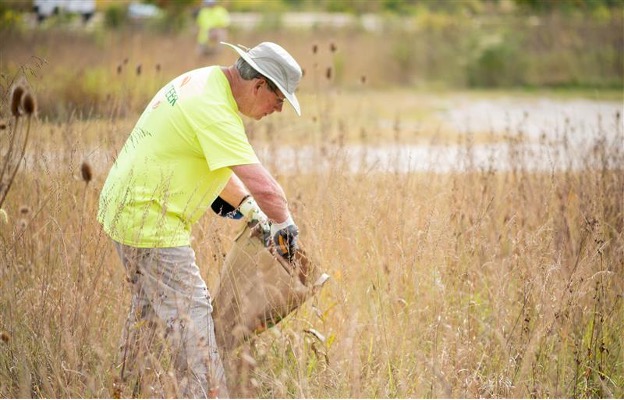 Citizen Science Q&A
What is Citizen Science and Why is it Important?

 
We are celebrating Citizen Science Week! This might be exciting for you, or you might be thinking, "What in the world is Citizen Science and why should I celebrate it?" Either way, we've got something for you, and we feel you'll learn a bit too. Today we're sharing a little bit about what Citizen Science is, why it's important and favorite memories from some of our citizen science volunteers.
Q: What is Citizen Science?
A: Citizen Science is the collection of scientific data by non-professional scientists (in our case, the general public), often for the greater good of a community.  
We have volunteer opportunities for citizen scientists to monitor birds, native species, invasive species and more!  
Q: Why is it important?
A: The data collected by citizen scientists serves a purpose for a specific entity. In our case, data collected on the natural resources in our parks helps us better preserve them in the future for all citizens of Carmel to enjoy. 
Q: How can you celebrate Citizen Science Week?
A: We offer several opportunities throughout the year for individuals to be a citizen scientist for a day. We also offer opportunities to help us in long-term monitoring through five different natural resource programs (Bird Monitoring, Native Plant Monitoring, Invasive Plant Monitoring, Stream Quality Monitoring and Bluebird Monitoring). These programs are designed for individuals who are interested in giving their time and effort to a specific program. These volunteers visit the parks regularly, track their data on their own and then submit their data to us at set time intervals. 
We are continually looking to grow and develop our Citizen Science Programs. If there is a specific area of study that you enjoy and you think could be beneficial to Carmel Clay Parks & Recreation, we'd love to hear about it (you can reach us at volunteer@carmelclayparks.com)!  
Q: What are some favorite memories from
citizen scientists 
volunteers?
A: Our Citizen Scientist volunteers get to experience nature up close all while giving back! 
Patty Steffen has been a citizen scientist bird monitor since spring 2019.  She shared, "I've been a part-time birder for awhile and was excited about trying bird monitoring. I bird at Central Park and it has a great variety of birds and habitat. It is fun locating and identifying the birds through each season – seeing which birds stay year-round, which are only migrating through, and which birds might be just visiting for one or two seasons." 
Charlie Murray has been a citizen scientist volunteer for about two years. He shared, "I like the feeling of being able to give back as a  way to show my appreciation for being able to enjoy the beautiful parks and trails in Carmel." 
Q: What are some ways I can be a citizen scientist at home?
A: Learn to identify trees and plants on your own. You can download apps like Seek by iNaturalist or eBird to record and share your data observations right from your own backyard.  
It's a great way to practice at home and then bring your knowledge out in the field with us as you volunteer! 
Help us make a difference in our parks! If you are interested in becoming a citizen scientist, please check out our park stewardship webpage to learn more!