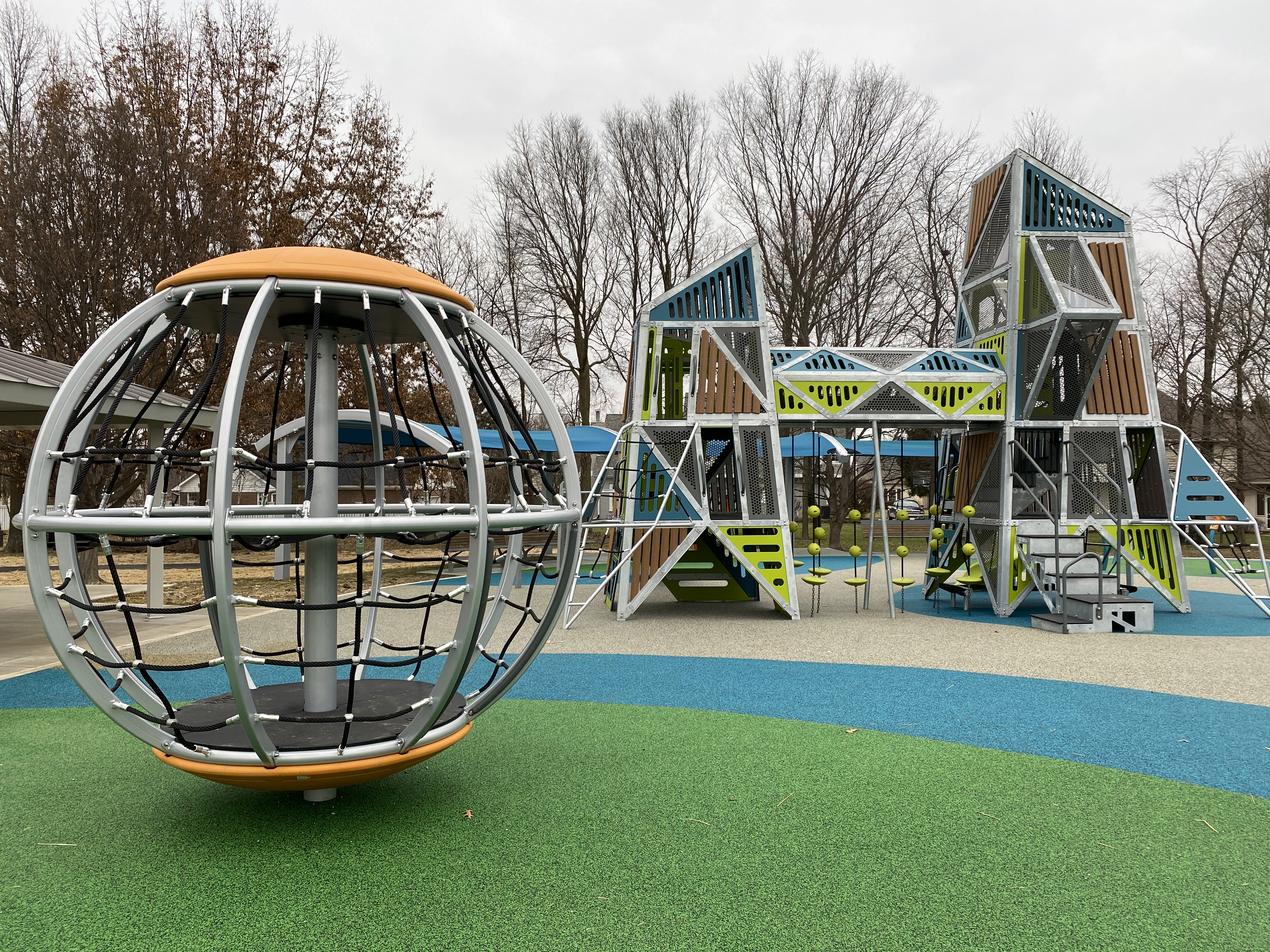 Explore the Newly Reimagined Carey Grove Park 
Here are the top 5 things you won't want to miss! 
Carey Grove Park is located at 14001 N. Carey Road.
Drumroll please … we are incredibly excited to share that Carey Grove Park is open! Just in time for a few visits before the cold weather really sets in. We have completely reimagined this neighborhood park with a lot of exciting new features to explore. On your next trip to the park, you won't want to miss a thing.  
1. Freshly paved trails + parking lot.  
Ok, ok. Maybe this feature isn't the most fun, but it won't take you long to notice this update. As soon as you pull into the park you'll see that we've expanded and completely updated the parking lot to make it more user-friendly. We've also resurfaced trails, so it's the perfect spot for a stroll! 
2. Brand new playground equipment. 
Now on to arguably the most exciting new feature. The reimagined playground brings a whole new level of exploration and play to Carey Grove Park. The playground is divided into two sections. One section is designed for kids ages 2-5 and another designed for ages 5-12. Kids will enjoy climbing, sliding, swinging and more on this completely modernized playground.  
3. In tune with the arts. 
Do you hear that? It's music at Carey Grove Park! Musical features are incorporated throughout the playground to make it our very first musical park. Not only are the musical features lovely to look at, they also add a unique learning and exploratory component for park visitors. Research by the National Association for Music Merchants Foundation found that there are a plethora of benefits for introducing music into early childhood play. Music allows kids to combine mental and physical skills, and in the long run can help with motor skills, cognitive development, social skills and even literacy! 
4. Get a quick workout in. 
Carey Grove Park is our very first park to have outdoor workout equipment! The park has six pieces of adult workout equipment that can be used at any time of year. There are two bikes and one elliptical on either end of the playground. The workout equipment faces the playground so parents can work out while keeping an eye on their kids. 
5. Restrooms 
Before the updates, if you were at Carey Grove Park and your child had to go to the restroom, you would have had to cut your visit short. No more! We now have year-round bathrooms at Carey Grove Park (woohoo!). This is a lifesaver for parents with little ones and makes planning a trip to the park a breeze. Stay and play all day long.  Please note: restrooms are currently closed and will tentatively open in the next 2 weeks.
These are only five of the many reimagined features at Carey Grove Park. Some other exciting items include a brand new ½ basketball court, shade structures, and picnic shelters.  
Additionally, as a requirement for stormwater management the park's design required additional drainage accommodations so as not to impact neighboring residences. The open area in the middle of the park meets those requirements while also offering some unique topography that can serve as a sledding hill for small children in the winter months. The low area is designed to remain dry most of the time, except during heavy storm events, and can serve as an open recreation area for various informal recreational pursuits such as soccer, playing catch, or flying kites. The lowest portions will be planted with native prairies grasses to help absorb the stormwater and provide additional habitat.
We hope that you enjoy the newly reimagined park. If you get out to explore, we'd love for you to share your memories with us. Tag us on social media @CarmelClayParks!