"Summer afternoon, summer afternoon—to me those have always been the two most beautiful words in the English language," said writer Henry James
And, for over 90,000 visitors this past summer, and 22,000+ ice cream cones later, two other beautiful words conjure up some pretty amazing summer memories: The Waterpark.
From a leisurely float down the Lazy River to surfing the waves on the FlowRider®, a visit to The Waterpark is a family adventure with something for everyone no matter your age.
An Adventure Experience for All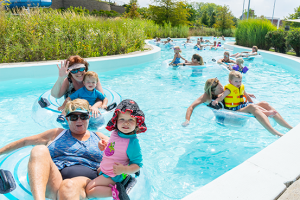 When the summer temperatures heat up, The Waterpark—spanning 3.5 acres at Central Park's Monon Community Center (MCC)—offers more than just a place to cool off. It is a water wonderland for MCC members and visitors to enjoy a one-of-a-kind water experience beyond swimming laps and kiddie pool play.
For example, more than 5,000 folks focused on staying active and healthy by attending aqua fitness classes over the summer. MCC aqua fitness instructor Jenny Owens-Cripe shares that, "Water fitness is just like any other fitness class and you get out of it what you put into it." While there are gentler aqua classes, not all are geared toward an older population or those only wanting a lighter workout. Aqua classes like Aqua Bootcamp and Aqua Zumba® really get the heart pumping.
"My family loves coming to The Waterpark every summer. My little kids love the different sized slides, fountains and play areas as well as the zero entry pools and activities. Even this big kid (38-year-old) loves the tube slides." – Caryn Marshall
Beyond the Lazy River, lap pool and aqua classes, The Waterpark is also home to The Wall, Adventure Slides, an Aerial Cargo Net Area, a Plunge Slide, and a Zero-depth Activity Pool which touts a new play feature with a futuristic appearance and a 12-foot waterslide suitable for kids of all ages. With all The Waterpark has to offer, all you will need to do is bring your sunscreen (or we'll have that for you, we sold over 200 bottles last year) and sense of exploration and adventure and we'll have the rest of the fun waiting.

Frequent visitor Tammy Murchland says that her entire family enjoys coming to The Waterpark and she personally loves a relaxing trip down the Lazy River.
"There is something for each family member to do and we are all able to enjoy the different areas within one family visit."
Murchland's son is a big fan of the slides and pool area but was drawn to learning to surf The FlowRider®. He spent quite a bit of time during the summer's $5 FlowRider® nights honing his skills and learning to stand-up surf. He should be an expert by next summer!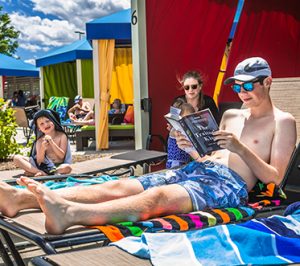 Of course, if spending a relaxing day at The Waterpark in one of our private cabanas is more your speed, we have you covered. Add a snack or two, a cold drink, and a hot dog (we sold over 1,700 of them last year) and you've got the makings of a great day beside the pool with family and friends—a true community atmosphere.
The Waterpark is a wonderful place to meet new friends, share fun times with old ones, rent a cabana for your whole tribe, or get your surf on. With something for everyone in your family to enjoy—those summer afternoons, or mornings too—are going to have you chanting these two beautiful words come next summer—The Waterpark!
Use of The Waterpark is included in a membership to the Monon Community Center or come visit for a day at a reasonable price. The Waterpark will open again in summer 2019.