Convenient Before and After School Care for Families – Already in Place at Your Carmel Clay Schools!
From snacks and extra exercise to homework time and enrichment clubs — CCPR's ESE program is tested and trusted by Carmel families.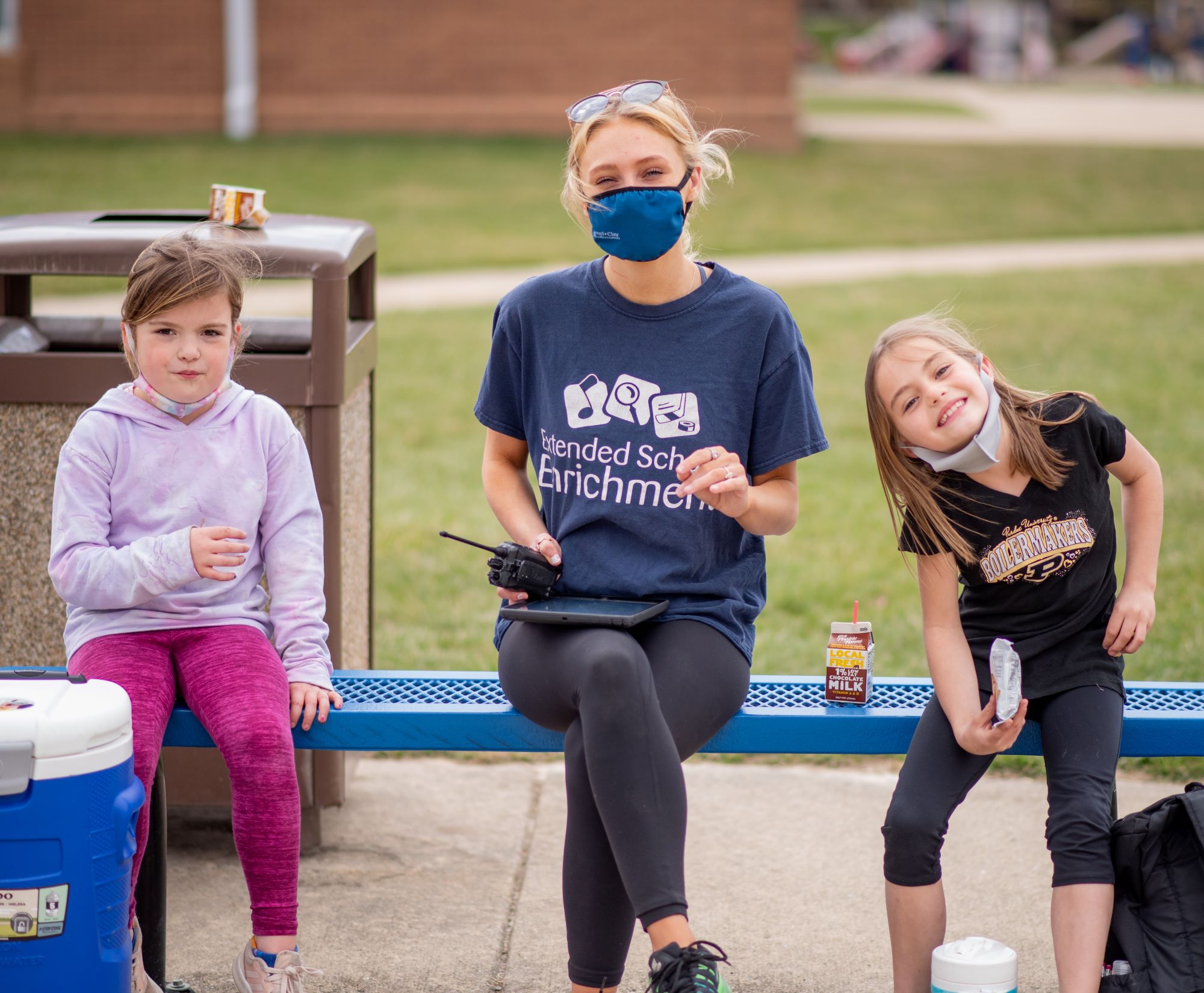 After more than a year of parents balancing work-from-home careers with daily learn-from- home care and teaching assistance for their children — the world is returning to a bit of normalcy and that may mean you and your family can too. Almost all schools, and many workplaces, are returning to regular or hybrid schedules. Carmel Clay Parks & Recreation's Extended School Enrichment (ESE) program is no different. It is available at 11 Carmel Clay Elementary (K-6) schools and ready to supplement the school day with before and after school care for your family.
"Keeping children safe is still and always has been our priority," shares Tiffany Buckingham, assistant director for CCPR's ESE & Camps program. "What makes our before and after school program unique is our staff's commitment to the participants. In addition to safety, having a full-time supervisor at each site emphasizes our dedication to making sure the kids see the same staff day in and day out and that families have just one person — who is always there — to ask about anything from their account balance to schedules."
What is Extended School Enrichment (ESE)?
Extended School Enrichment is a quality before and after school care program available for children enrolled in K-6 at 11 Carmel Clay Elementary Schools. Each of the 11 elementary school sites has the same core components of ESE, with each school customized to serve the best interests of the students and parents/guardians. Our site supervisors and counselors act as mentors while teaching fundamental skills.
It's About the Relationships
Buckingham has been working with the ESE program for almost 15 years. She shares that her favorite thing about her job has been seeing ESE participants grow up through the years.
"We have counselors who are 80 years old and some who come through the program and join us as counselors once they're in high school," says Buckingham. "We even have staff who went through the ESE program, graduated and return to work for us. That is a true testament to its success, impact and long-term relationship building."
Convenient, focused, customized and flexible.
You might be wondering what before or after school looks like. Your child will attend ESE in the same building where they attend school. It makes for a seamless transition either before the day starts or after school ends. Some of the ESE counselors are even teachers at that same school during the day.
An after-school schedule might look similar to the example below, but each student's needs are taken into consideration so that the time spent at ESE is maximized to meet each family's goals. Families choose the days of the week that work best for them. They may purchase by the month, drop-in or buy a 5- or 20-visit pass depending on what works best for them. With a ratio of one counselor per 15 students — individual assistance is a plus.
2:35 p.m.: Arrive from school classrooms.
2:35-3:15 p.m.: K-2 snack time; K3-5 recess time
3:15-3:45 p.m.: K3-5 snack time; K-2 recess time
3:45-4:30 p.m.: Transition to academic/reading assistance
4:30-5:30 p.m.: Enrichment club time begins based on age + interest
Pick-up time is based on individual family preference by 6 p.m.
What is an Enrichment Club?
The CCPR ESE program offers enrichment clubs to all participants at no additional charge. Each ESE school site has unique club offerings based on student input and feedback about their interests, hobbies and ideas.
"The counselors interact and collaborate with the participants at each site and then begin putting together enrichment clubs and activities based on what the kids are most interested in," says Buckingham. "Each site has different clubs. We take the time to listen to the kids and provide enrichment that speaks to their interests. The clubs usually last about 10 weeks and then a new club begins."
Voice + Choice = Empowerment!
ESE is founded on the belief that every student is capable of success. Since its launch in 2006, the program has focused on empowering students and giving them a voice in the program. Students help decide on topics for enrichment clubs and activities by choosing from categories like sports, hobbies, arts/crafts, science, and others, putting in their ideas, voting, and then enjoying the clubs of their own design.
ESE & Camps director Jennifer Brown says, "While we've always had a focus on innovative and engaging programming, a big game-changer for all of us was the addition of Student Voice + Choice. It's empowered our students and given them a heightened ownership of our program."
ESE is perfect for my family, when can I register?
Having the convenience of before and after school care in the school your child attends is a plus for busy parents and families. Having a recognized and established reputation as one of the best before and after school programs in the area is a plus, too! We look forward to seeing your child(ren) this year! Registration for the 2021-2022 ESE program starts August 1.
Written By: Sheryl Rodgers
Sheryl focuses on branding and marketing engagement. She's a storyteller, editorial and media consultant, and brand builder. This story was written in partnership with Pickett & Associates.