Bear Creek Park
Help Us Shape Bear Creek Park
We are thrilled to be in the planning process for our newest community park! The parks' vision will be driven by our community and neighbors. 
The third and final Bear Creek Park Public Input Meeting will be hosted on Jan. 25 from 6 – 8 p.m. at the Jill Perelman Pavilion, 3000 W 116th St., Carmel, IN. At this meeting, our consultant team will share park concepts based on the last two rounds of public input.
Bear Creek Park is accessible on weekends from 9 a.m. – 5 p.m. We encourage the public to visit and share feedback about their experience via an online survey.
Survey responses will be considered during the Master Plan process to help shape and guide the ultimate design of the park's development over the next several years. 
Acquiring land for a park in northwest Carmel is a top priority of CCPR's 2020-2024 Comprehensive Parks and Recreation Master Plan. Prior to this acquisition, West Park was the only park west of U.S. 31. We are excited to offer a park close to home for our community in northwest Carmel!
Initial park development will likely take place in the next two to five years. The first step will be to develop a park master plan, which will guide the future development of the park. Creation of the master plan is typically a nine- to 12-month process and involves significant public input. We will host community meetings to identify public needs and discuss multiple park concepts.
Park features could include access to Bear Creek, restored prairie, wooded areas, playgrounds, splash pads, and trails, although exact amenities will be determined by the master plan.
Prior to park development CCPR will need to secure necessary funding, which is estimated at $6.5 million in 2020 dollars based on recent construction projects.
We will keep the public informed with new developments regarding this new property.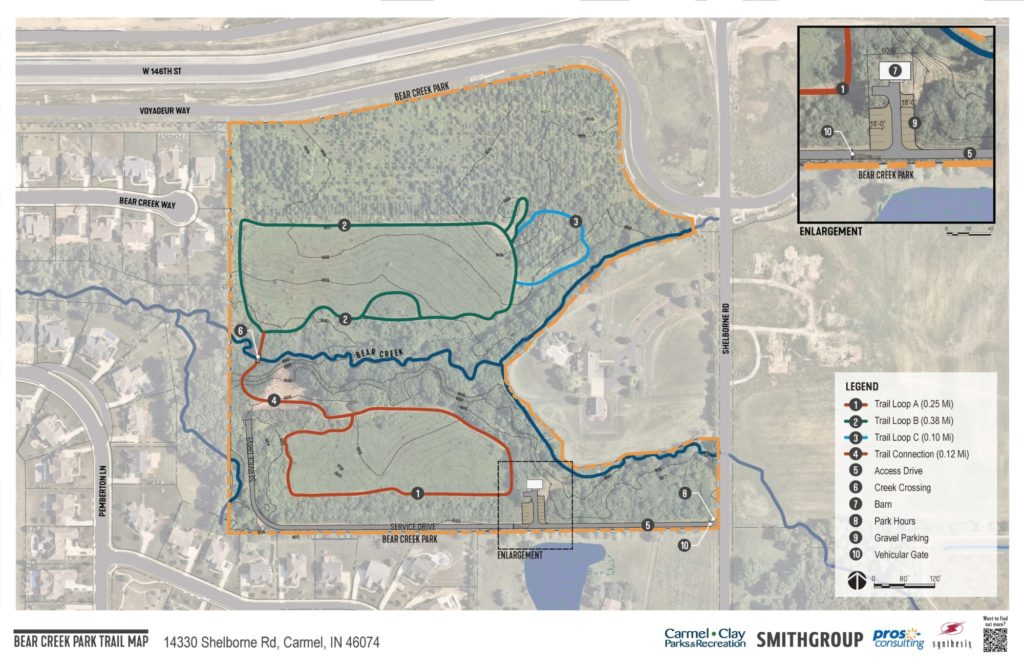 Features
That's for you to tell us!