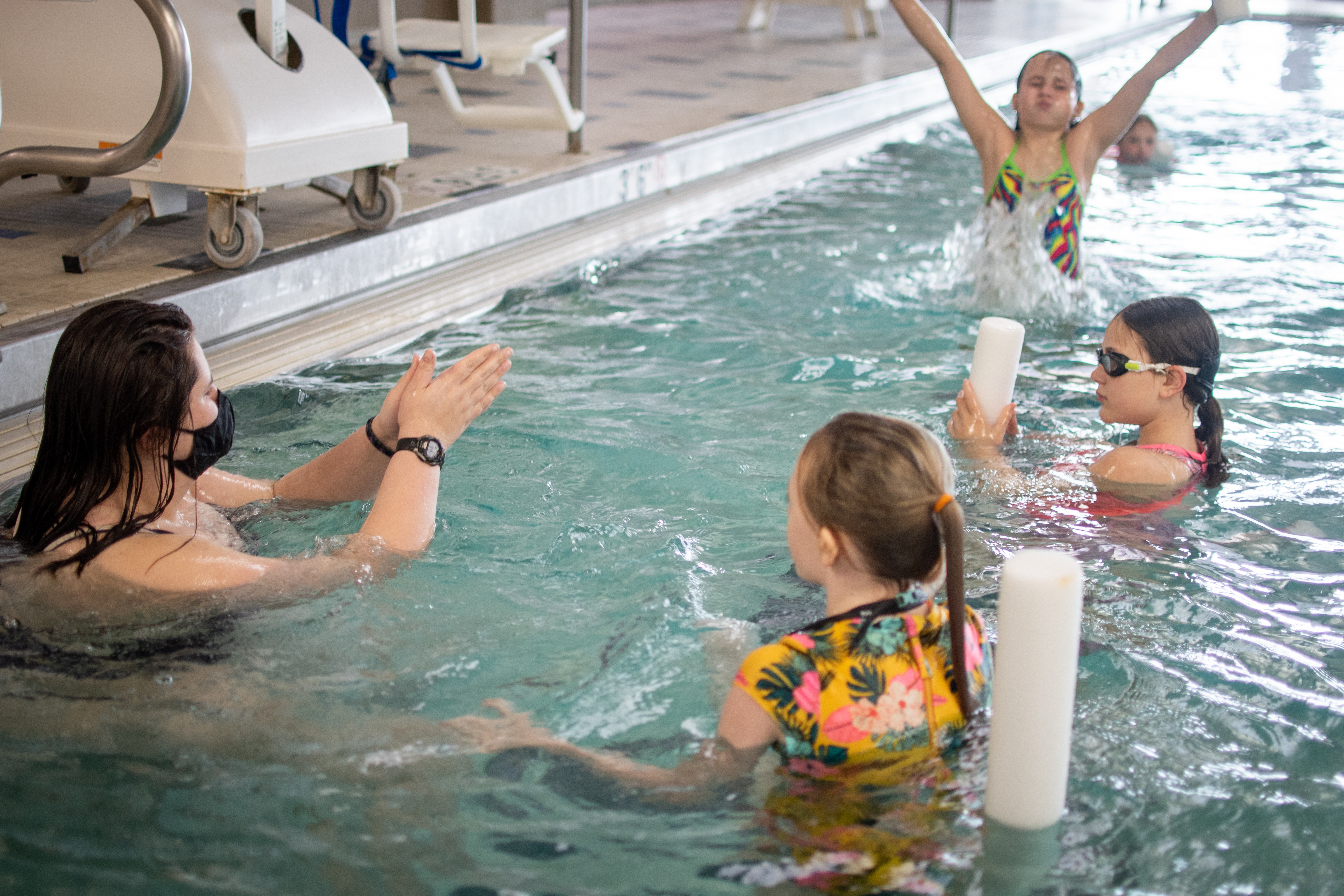 Swimming for all ages at the MCC
How to choose the swim lesson that's right for you
Summer is nearly here, and you know that means … water fun! Did you know that according to the CDC, swimming is the fourth most popular recreational activity in the U.S.? Whether you're headed to The Waterpark, a pool, lake, ocean or something else, we know water safety is a top priority!
If you or your child need a refresher on water safety or need to get started with swim lessons, we've got you covered at the Monon Community Center.
Finding the right swim lesson is easy with our swim lesson class guide! Here is how we break down our swim lessons.
Age
Swim lessons at the MCC are broken down into five age groups:
parent-child (ages 6 months-2 years)
preschool (ages 3-5)
learn to swim (ages 6-14)
youth (ages 8-14)
adult (ages 15+)
Is there an ideal age to start swimming? We say any time!
John Lampe is our Recreation Services Assistant Manager for Aquatic Operations. He oversees all of our aquatic programming, and you can even find him in the pool teaching swim lessons from time to time.
"It is important to start kiddos young so they are comfortable in the water and can start to be independent in the water with support," shares Lamp. "Swimming earlier helps kids be safer and more comfortable without any tears or anxiety. But it's never too late to start learning, everyone can benefit from swim lessons no matter their age."
Level of Comfort
We know that every child is different. Not everyone will have the same level of comfort in the water at the same age. If your child is exposed to water regularly, they may have more confidence than a child who hasn't been around water much or at all. That's why beyond age, we break our swim lessons down by level of comfort.

Use our Swim Lesson Class Guide to determine where your child falls.
"Finding the right level of comfort will help your kiddo succeed," shares Lampe. "We challenge our swimmers but never use force as this only limits abilities. We encourage, support, frequently check-in with the parents."
Goal
Knowing your end goal for swim lessons is also important! Are you headed to the lake for the summer and you want your child to have basic swimming skills? Is your tween thinking about joining swim team? Are you just learning to swim as an adult? Or maybe you'd like to start swimming for fitness?
No matter your goal, our swim instructors can help you get there! Make sure that you share your goal with your instructor. If you have a goal, but aren't sure which lesson would best set you up for success, let us know! We are happy to help you determine which of our lessons is right for you or your child.
So, have you figured out which swim lesson is right for your family? The next step is registering (you can do that by clicking the button below)! We hope to see you this summer at the Monon Community Center.