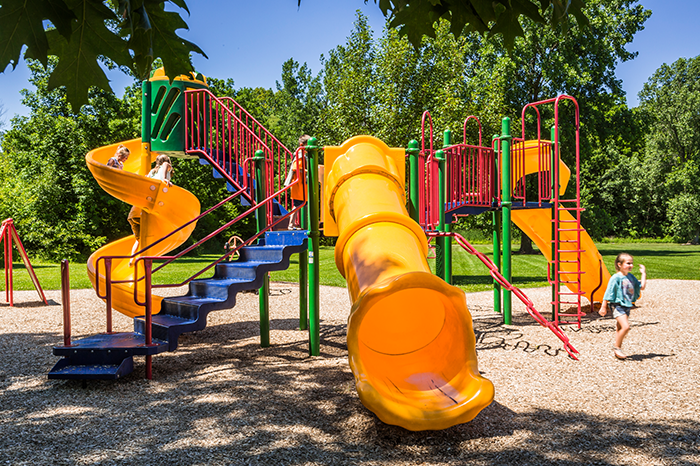 A Day at the Park
Spring has sprung (at least according to the calendar!) and that means it's officially my favorite time of year. Don't you agree, there's just something about spring? Winter always seems to drag on and on and then…all of a sudden…the sun decides to shine. It gets warm and things start to grow!
Margaret Atwood once said, "In the spring, at the end of the day, you should smell like dirt." I couldn't agree more…and I know just the place for that. The park!
Carmel Clay Parks & Recreation has 13 parks. They range from large to small and they all have something unique to offer. One has an artesian well, two have frisbee golf courses, one has a hill perfect for running down and grass for flying a kite. But they all have something in common – they all offer the community an opportunity to enjoy the great outdoors.
Today, I'm going to share with you some of my favorite parks – although it's truly difficult to choose a favorite! These are parks you can visit with your family and friends for hours of fun, and by the end of the day (if you do it right), you may just smell like dirt!
Hazel Landing Park is 41-acres – that's 31 football fields! This park is perfect if you're looking for a day of adventure. You can start the morning with a game of 18-hole disc golf. This challenging course, laid out throughout the woods, offers hours of fun. Next on the agenda, grilling out and enjoying your lunch at the picnic tables! And to finish off the day? Launch your kayak or canoe into the White River for a paddle trip! Now, who is up for that adventure this spring?
Experience: 5+ hours
Amenities: Kayak/canoe launch, 18-hold disc golf, fishing, prairie, open greenspace, soft surface trails, grill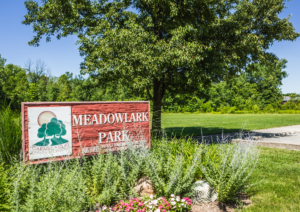 Meadowlark Park is perfect for a day of family fun! Start the morning with a friendly game of basketball or spend time on the large playground. Refuel with a picnic at the picnic shelter. Then head back to the woods and explore the two miles of trail. Along the way you'll find a pond – annually stocked by the Indiana Department of Natural Resources – where you can spend time fishing. Species include sunfish, catfish and trout. This park is close to downtown Carmel, so on your way home, you can stop for a bite to eat or shop along Main Street!
Experience: 4+ hours
Amenities: fishing, open greenspace, playground, basketball court, trails, picnic shelter and grills, bike rack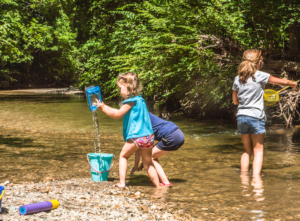 A lot of people know Flowing Well Park for its artesian well. Visitors will often bring empty water jugs to fill! If you're planning a trip to Flowing Well Park, I absolutely recommend bringing a jug, water bottle or cup (if you forget, your hands work too) to try out the water. But, Flowing Well Park is so much more than the flowing well! Walk back in the woods to enjoy the mile-long trail, stopping at the numerous educational spots along the way to learn about the nature surrounding you. You'll also enjoy Cool Creek – which winds through the park. On a particularly warm day, you can play and stomp in the creek. It's also a great park for fishing. And don't forget your picnic! You'll be hungry after your creek stomping and trek through the woods. This spring make a day of Flowing Well Park's 15 acres of fun.
Experience: 3+ hours
Amenities: Artesian well, fishing, soft surface trails, picnic shelter, bike rack
The Carmel Clay Parks & Recreation website has a really neat feature on its parks + greenways page. You can click "choose an activity" and then, depending on what kind of activity you're looking for, narrow down the parks to find just the right one! Looking for a picnic spot, a fishing spot or a splash pad? This feature will help!
I hope you all get out to the park this spring. If you do, please share it with Carmel Clay Parks & Recreation on social media! You can find us on Facebook, Instagram and Twitter @CarmelClayParks.