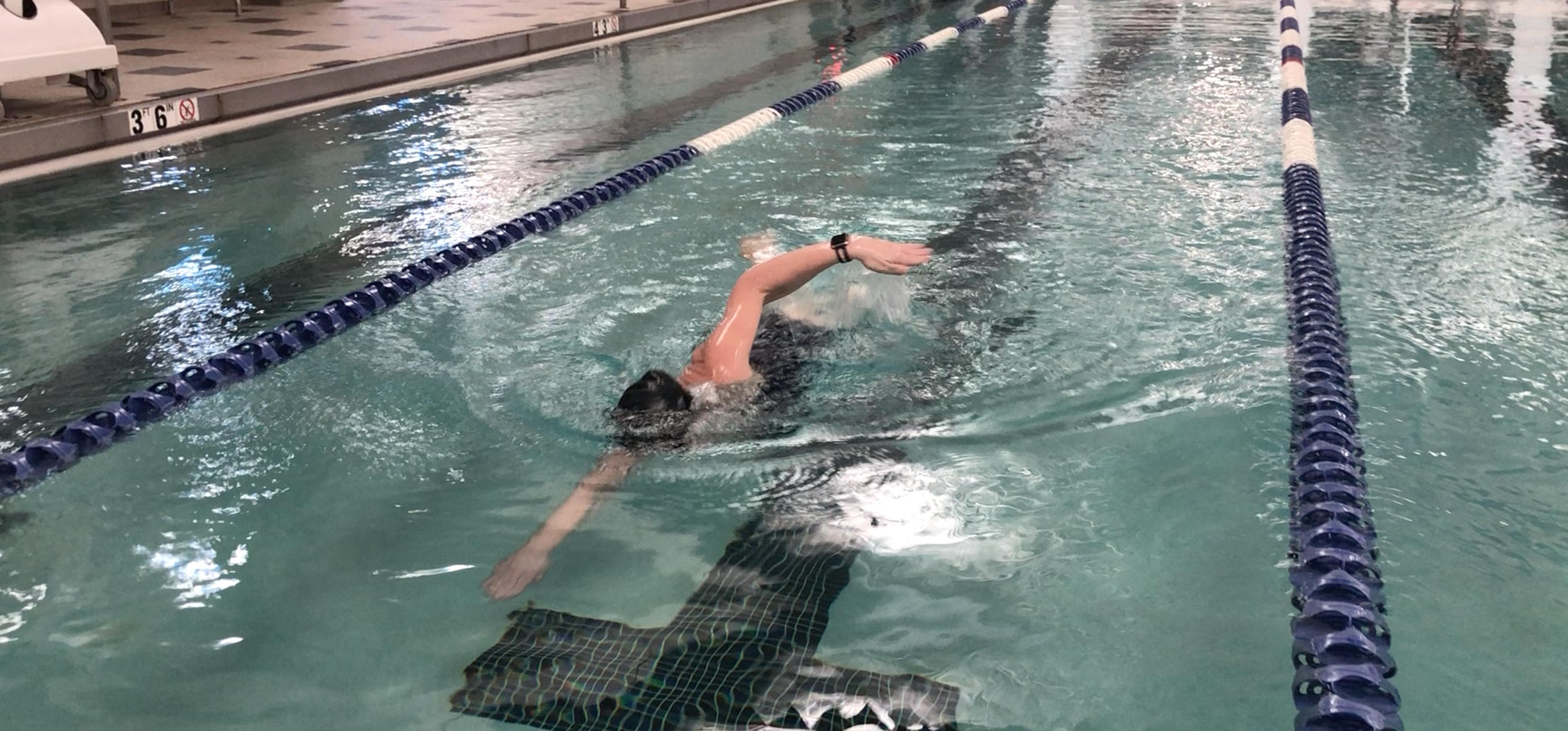 Marathon Runner to Distance Swimmer: A Holistic Approach to Healing
As she began to share her story, Tracy Whitman's soft voice was a bit misleading. Underneath her kind and caring demeanor lies a fierce and determined woman who found out she was much more than a runner. It took a running injury, two surgeries, and a search for a holistic way to get strong and healthy again for her to literally take a leap of faith—a leap right into the water.
Whitman became a runner a little later in life than most. "I added running as a part of a weight loss program in my late 30s and found I really loved it. I felt so great when I was running and I began to set goals for myself. By age 40 I was running my first marathon."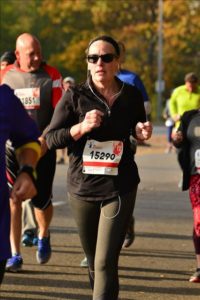 She started setting incremental goals of finishing a 5K and then a 10K and then a half marathon. About seven years after running became part of her life she was preparing for her fourth full marathon. Whitman had trained on a treadmill at her work's fitness center, on a treadmill at home and outside. "A lot of the time you just do marathoning or just focus on the running and you don't do other strengthening activities." But focusing on just running was about to change for Whitman.
During her fourth full marathon – the Chicago Marathon a couple of years ago – at the mile four marker she rolled her ankle and knew something was not right. Somehow, she persevered and finished the marathon. A visit to an orthopedist when she got back to Indianapolis proved she had torn ligaments that would require surgery to put some anchors in her ankle for stability.
"During the rehab for my ankle surgery, they discovered that I also had a hip issue. Most likely, the hip issue started during the time that I had been favoring my right ankle causing some issues in my left hip," Whitman shared. "What they thought was a tear in my hip soon revealed a bone-on-bone situation which would require a complete hip replacement and changed my life in more ways than one."
The Monon Community Center Pool Becomes an Extension of Physical Therapy
The hip replacement rehab didn't go exactly as planned. It was slower than Whitman had anticipated. In October of 2017, she began physical therapy on her hip and knew she needed some alternative to the running life she was used to. In early 2018, she realized her employer offered discounted access to the Monon Community Center (MCC) as one of her health benefits.
"It was a life saver. To supplement my physical therapy, I joined a water aerobics class as a beginner just to see how things would feel in the water," Whitman said.
Whitman admitted she's had a lifelong fear of the water, and she was determined to overcome it. She took Aqua Zumba and Aqua HIIT classes and felt herself strengthening week by week in the water. One day, she noticed a step class on the group fitness schedule.  She thought to herself: "I'm stronger now, I wonder if I can do that?" Well, the answer was yes. And classes in step, strength training and yoga began to literally transform her body.
Transforming More Than Her Body
As Whitman's strength slowly began to return, she also began walking again with a bit of a run/walk included. In late summer of 2018, one of her friends challenged her to compete in a local triathlon. Knowing that a distance swim was part of the triathlon, her fear of water made her apprehensive. But in true Whitman form, she decided a challenge is a challenge. She signed up for private swim lessons at the Monon Community Center to prepare for the swimming portion of the triathlon.
"The first night I got in the water for an evaluation I think I really had a panic attack. I could barely put my face in the water and blow bubbles. But, I had a conversation with the aquatics program supervisor and shared with her my goal. She assured me that her team could create a customized and flexible workout plan or two to get me ready to swim and I'm determined to be strong enough to swim the triathlon distance this spring," Whitman shared.
Whitman is training for a triathlon in Carmel consisting of a 400-meter swim, a 10-mile bike ride (and yes, Whitman has been training for that as well), and a 5K walk at the end. Her personal swim instructor Jeannette Sondermann has been a true inspiration and support system for Whitman during her journey.
"Tracy is determined to improve her swimming and is extremely hard working. The free-style breathing is her biggest challenge while swimming long distances, but she has made major improvement in the last few months. When we started private lessons, she was swimming partial pool laps, but she can now complete a one-mile workout and has exceeded my expectations," Sondermann shared. "She's here sometimes three times a week working to get stronger and I know she will be ready for a spring triathlon. She is one determined lady."
Holistic Strength
Whitman shared a quote from Lord Byron that states: "There is pleasure in the pathless woods." She's likely drawn to this quote because the path she once saw as a runner has changed, and she has embraced it like the determined and now versatile athlete she is. From the pool to step class to power yoga to strength training—the Monon Community Center has become a mecca of holistic training for Whitman alongside her running.
"I wish I'd known then—when I first started running—what I know now about taking a more holistic approach to getting stronger and healthier," Whitman said. "I just love trying all of these new options to gain strength, agility, stamina and yes—I've learned to love the water, too."