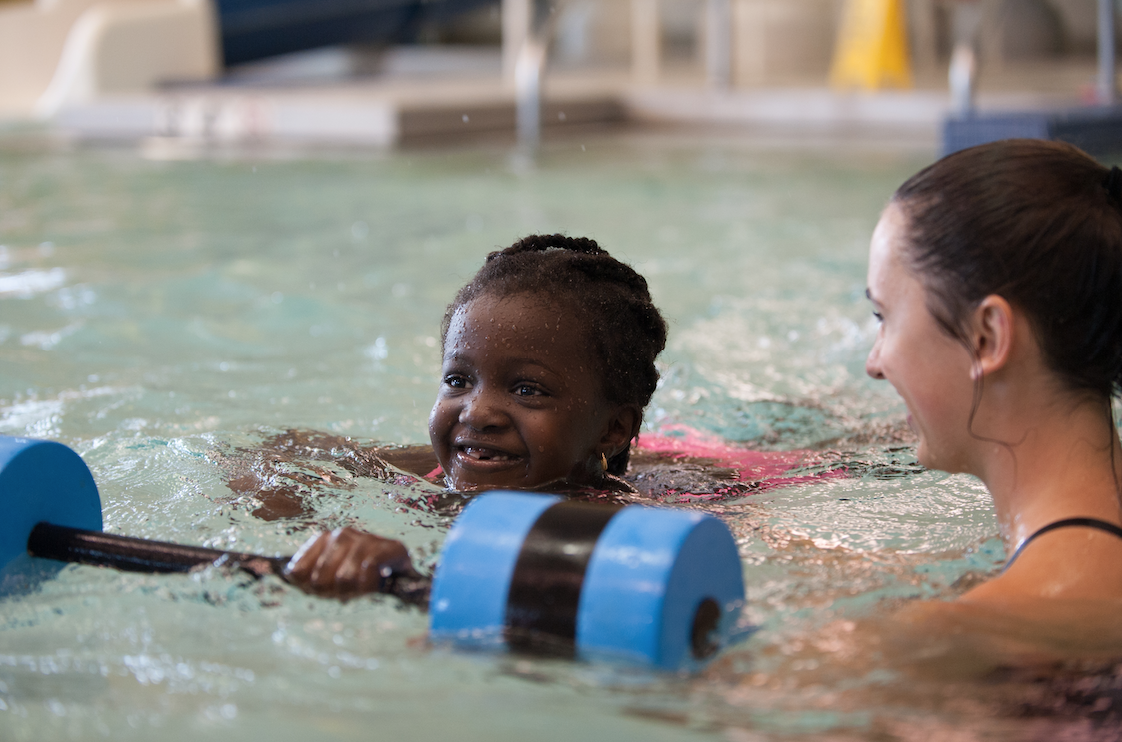 Answers to your frequently asked questions about swim lessons at Carmel Clay Parks & Recreation
Thinking about swim lessons for yourself or your kiddo(s)? Swim lessons are a great option for all ages and levels to learn new skills and build confidence in and out of the water. Did you know that we offer swim lessons for all ages and abilities at the Monon Community Center, right here in Carmel?
We sat down with our aquatics program supervisor Alex Box to talk about how to choose the right swim lesson, how to know if an instructor is right for you, and more. Here's what we learned!
How do I know if swim lessons are right for me or my child(ren)?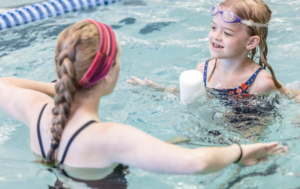 No matter your goals, we have a swim lesson option for you. We offer lessons for all swim levels, whether a child is just learning to be comfortable in the water all the way to participating in our recreational swim team, the Sea Dragons! And for adults, we offer beginner adult lessons all the way to endurance and stroke clinics.
What should I look for in a swim instructor?
The right swim instructor for you or your child(ren) is an instructor who provides high-quality instruction through effective teaching methods. All swim instructors at the MCC receive roughly 10 hours of training before they even begin teaching. This ensures they can provide the highest quality of swim instruction to their students. 
Beyond that, we encourage our swim instructors to bring in their own personality and style of teaching when leading swim lessons. This helps them better connect with their students one-on-one and find novel and fun ways to teach swimming skills and water safety.
How long should my child be enrolled in swim lessons?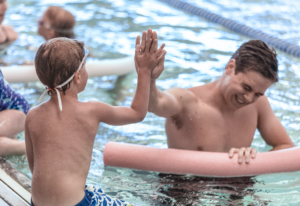 Your child can stay in swim lessons for as long as they want! At a minimum, we recommend students stay in swim lessons until they are able to float on their backs and make independent progress while swimming on their front. However, we always advise students to stay in swim lessons as long as possible to continue benefitting from the low-impact fitness and confidence boost from continuing to develop their skills.
We offer lessons at every level. Our Parent/Child lessons introduce infants to swimming and in our adult Stroke Clinics instructors analyze intermediate to advanced swimmers' stroke mechanics and offer individualized drills and workouts to help them improve.
How much do swim lessons cost?
Our lessons range in price depending on the swim level. Here is a cost breakdown for five sessions at each level:
Parent/Child (6 months to 2 years) costs $48+.
Preschool (3-6 years) costs $64+.
Learn to Swim (6-14 years) costs $78+.
Youth Fitness (8-14 years) costs $78 +.
Adult (15+ years) costs $78+.
What makes swim lessons at the Monon Community Center stand out?
Carmel Clay Parks & Recreation is an American Red Cross Gold Level Learn to Swim Provider and a Top Training Provider – meaning CCPR has issued the most training certifications in the entire state of Indiana. This demonstrates how important it is to us to employ the best of the best on our swim instructor team.
We use the American Red Cross method for teaching swim lessons. All our instructors strive to instill confidence in their students while teaching them how to have fun and be safe in aquatic environments. We provide continuous training for staff at our monthly inservices.
Ready to sign yourself or your kiddo up for swim lessons? Click here to explore our current opportunities and let's dive in!