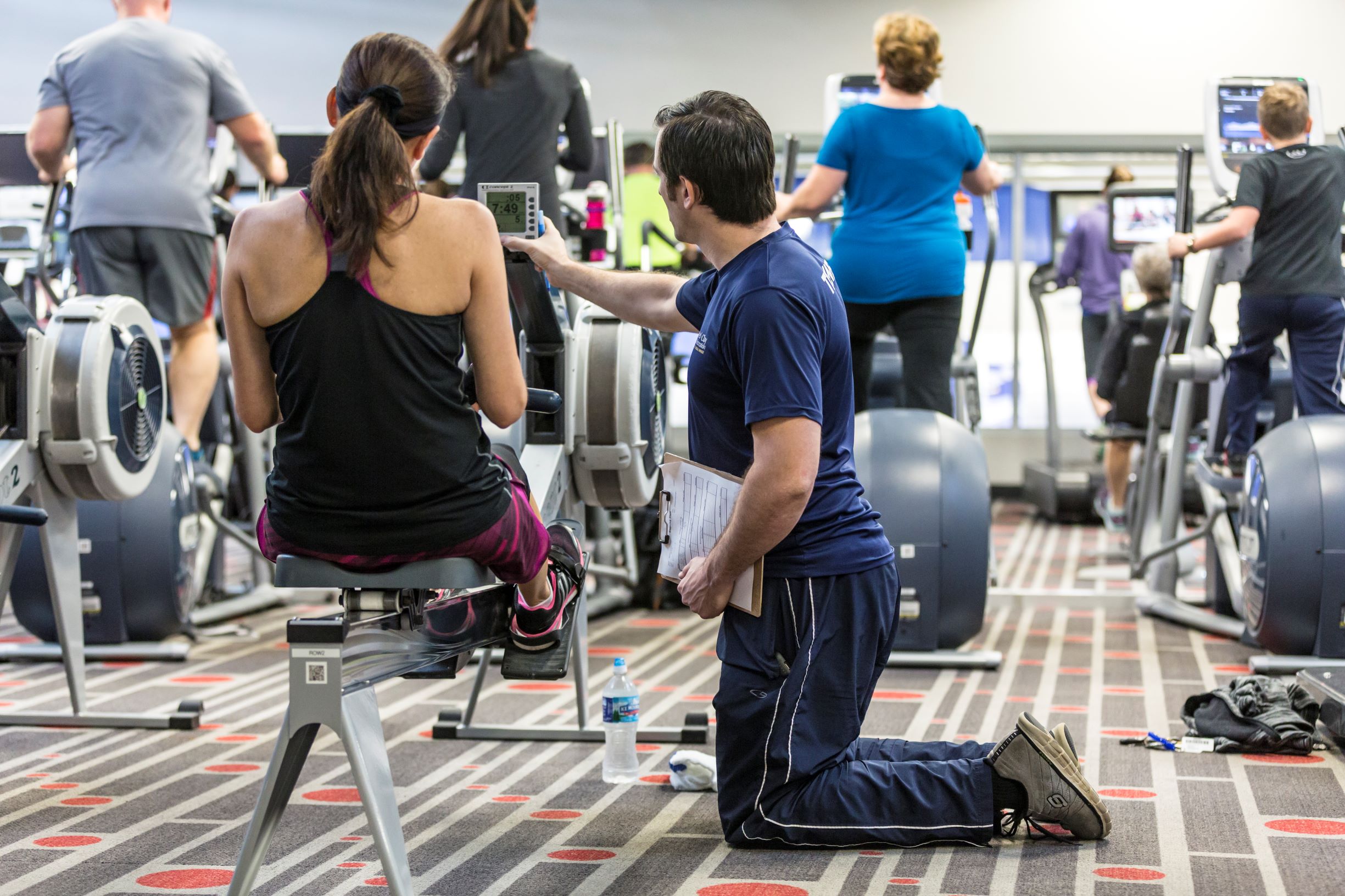 Husband/wife duo Mark Dewart and Margo McAlear are used to doing things in tandem.
They are both teachers at Park Tudor and have an active schedule compared to other couples half their age. Yet the two were noticing signs of aging – lack of mobility and not really feeling fit, despite walking four or five miles daily – that they didn't like. 
While they had participated in classes during their summer "off" months and enjoyed walking at the track at the Monon Community Center (MCC), Margo was in search for more. The MCC Fitness Supervisor helped line Margo up with a personal trainer.
"As wives often do, I persuaded my husband Mark to join me," she said. "As with many new ventures we start, a person who offers kindness and a willingness to help is crucial. Mary was that person."
And their progress over the last six months has been noticeable.
"I started as a pretty healthy person, but I was losing some range of motion and strength that caused me to avoid certain activities, something simple like setting up a heavy ladder or swinging my leg over my bike," said Mark. "To regain flexibility, I wanted to learn some exercises and get into the habit of doing those exercises/movements and seeing improvement with a knowledgeable person guiding me."
Mark reports his current status as much improved.
"Things that were hard and that I was avoiding are easier to do, and seeing that progress makes me wonder with even more effort what additional gains I can make."
For wife Margo, the progress has improved both her physical status and her outlook.
"I started out about 15 pounds over my ideal weight and wanted to gain flexibility, strength and feel better about my body. Since August I have lost 12 pounds, gained so much strength throughout my body, and literally bound up the stairs now, several flights of them at a time."
Beyond that, she reports a bounce in her step that helps her maintain a positive outlook. "The body and mind are so interconnected and the exercise and training tailored to Mark's and my needs has made us both happier," she said. "I find I am able to weather crises or even minor annoyances because I feel so much better."
The two agree that the biggest challenge to their improved healthy lifestyle was really just getting started and clearing time in their busy schedule.
"The biggest challenge is getting away from my desk and out the door," said Mark. "Once you are on the way with your trainer, you are drawn into the activities because you want to see if you can do things faster or do more of them compared to your previous session."
They report these workouts bring them a level of energy that lasts for several days as well as increasing their flexibility and strength – after just six weeks. A recent trip to visit their 25 year old son in Albuquerque allowed them to show off their new-found agility a bit, hiking and climbing through slot canyons.
Margo reports that she has a sign on her desk that says, "Do something today that your future self will thank you for."  She says this reminder applies to this fitness journey.
"I pause at last twice a week and read that quote, imagining myself 5, 10, and even 15 years older and looking back … I have made many good decisions in my life based on the wisdom in that sign that makes me think about the difference between living and simply existing. The investment in our health and well- being is the foundation of so many other experiences in a life well-lived."
Margo advises to talk with the Fitness Supervisor about options, interview a trainer, take a class, or grab a friend to go with you down a path that your future self will thank you for.