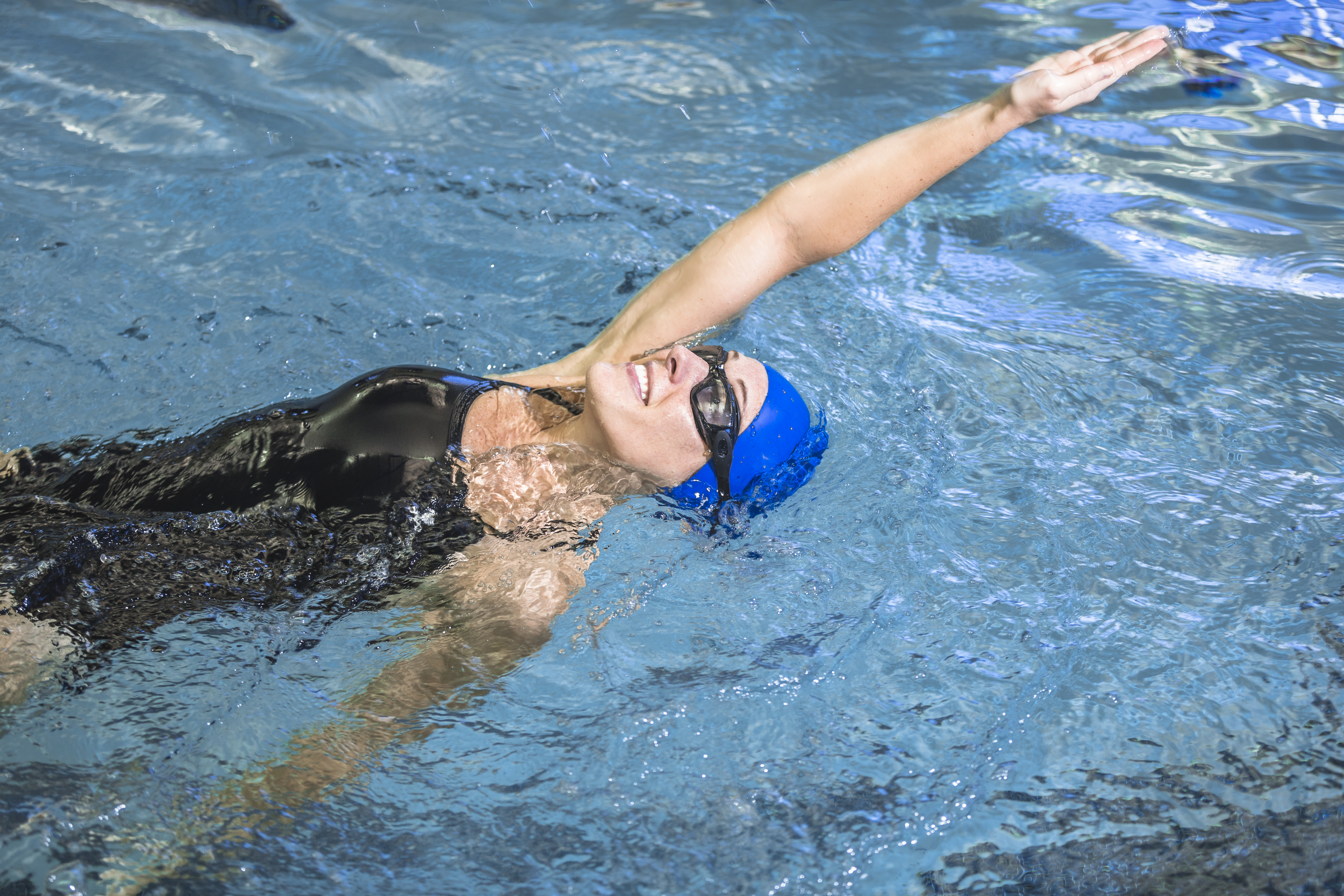 It's Time for Adults to Suit Up!
Most of us won't stand on an Olympic podium and collect a medal or two or 28 for that matter. And, especially not for swimming. You don't have to be an Olympic athlete or an IRONMAN participant to  call the water home.  Anyone can learn to be comfortable in the water,  learn to swim strokes the right way and use those skills to become a strong and confident swimmer.
Even Michael Phelps likened all of his success to a pretty simple credo: "Swimming is just normal for me. I'm relaxed. I'm comfortable, and I know my surroundings. It's my home."
Like Phelps, Carmel Clay Parks & Recreation Aquatics Program Supervisor Leah Weprich can tell you that many folks call the indoor pool at the Monon Community Center (MCC) their water home these days. Many of them start out just swimming laps at the pool, but Weprich is often approached about private lessons or questioned about how they can improve their stroke or get stronger in the water.
Enter Weprich with her absolutely contagious spirit and her own love of all things swimming.
"I've always loved being in the water but wasn't a competitive swimmer myself. I see a lot of my own story when I'm talking with others who are setting a goal to become a stronger swimmer, enter a competition, or even those who are just beginning to get comfortable being in the water," said Weprich.
"I wasn't a D1 swimmer or a runner or even an athlete. I set a goal to train for an IRONMAN and created workouts that were going to get me strong enough to compete. If I can do it, anyone can. It is an evolution."
What's your goal?
Weprich and her team of instructors can help you get there. From monthly adult fitness swimming classes to private lessons to 90-minute clinics, the MCC pool can be the place you learn to swim safer, longer and stronger.
In a recent winter clinic, participants in a small group session had their swim strokes and form evaluated. To build each swimmer's endurance and make their stroke stronger and safer, swimmers ran through simple drills so that instructors could identify swimmer's individual needs.  After the clinic class, Weprich and her team put together individualized workouts tailored to meet the needs and goals of each swimmer with the caveat that extended help was always available. This way, participants can progress through their workouts on their own and in their own time.
Some swimmers come to the CCPR aquatics instructional team with a very specific end goal in mind. Like Jack Brummett. He was an average swimmer but was planning the trip of a lifetime in late 2018 to Machu Picchu and the Galapagos Islands. He knew he wanted to be as strong a swimmer as possible as he snorkeled and swam in some of the most beautiful water in the world.
"It had been years since I had been swimming and I thought of myself as an average swimmer back in the day. But, not good enough. So, I decided to take some private lessons and am so glad that I found such a fantastic place to come to learn and train. The atmosphere was perfect," said 70-plus-year-old Brummett. "I was able to work one-on-one with Hannah to evaluate and strengthen my stroke and endurance and then work on adding in the snorkeling mask factor. It made the trip and my water experience so much more enjoyable!"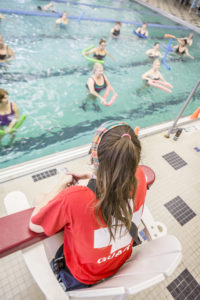 Weprich also shared that you don't have to be training for an IRONMAN, a triathlon, or even a once-in-a-lifetime trip. "There are a number of people who are just learning to swim at 40 or 50 or even beyond. We have beginning and intermediate classes for those just learning to swim or getting comfortable in the water for the first time," Weprich said. "For those who want to go that next step beyond just learning strokes, we offer the clinics and a more individualized training approach."
The MCC indoor pool is a one-stop shop for adults looking to transform their own experience in the water — no matter what that experience looks like. And, the aquatics instructional team can help you get there with a plan set in place just for you. You will become their family and your personal goals will become their goals.
"When I think about a woman who began with us just six months ago just blowing bubbles and putting her face in the water and realize that she is out there swimming laps now — that is just a great feeling of accomplishment for both the swimmer and for our team," said Weprich. "And, it is no more satisfying than preparing a swimmer who may end up in first place in their next IRONMAN competition."
"We are in this together and we want you to call our pool … your pool … your water home."