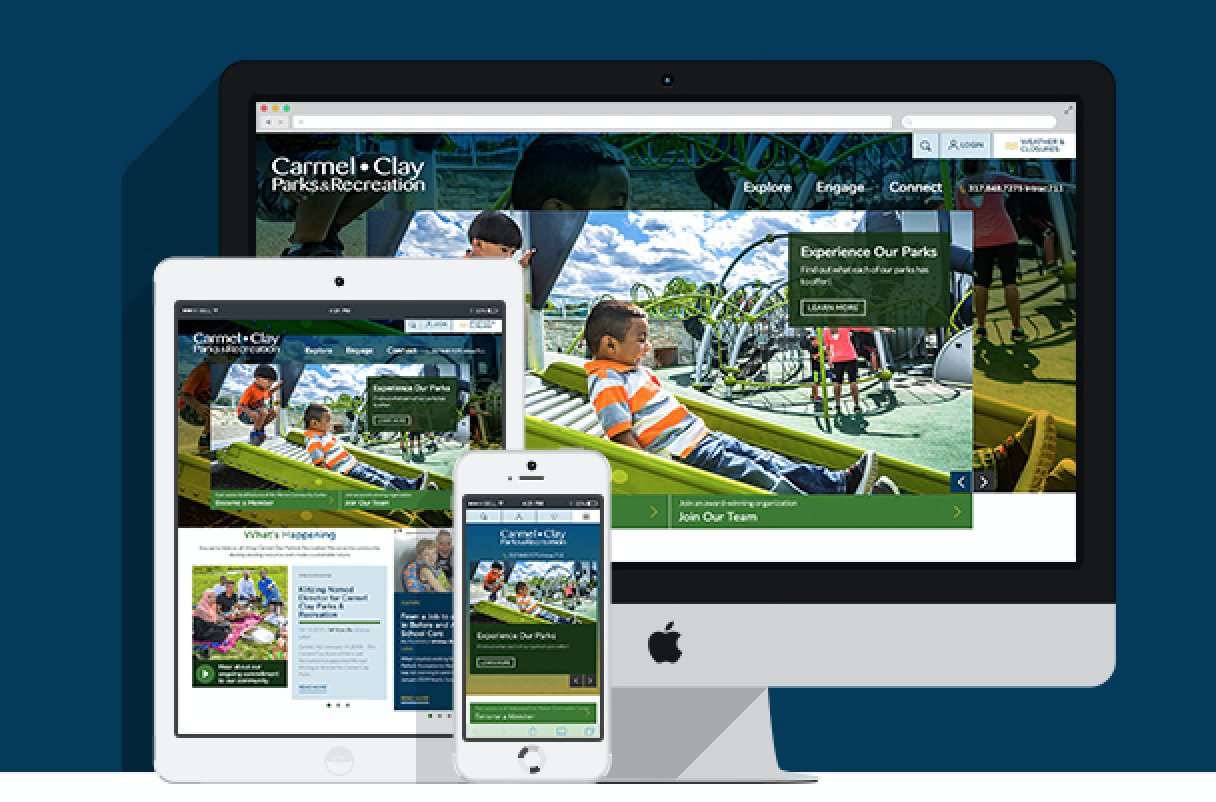 Our New Website: 5 Things to Know
Welcome to Carmel Clay Parks & Recreation's new website! We are thrilled to share our updated website with you. As you click around and explore the revamped site, you'll see lots of changes. Each change was thoughtfully made with our community in mind. Here are the 5 changes we're most excited about!
Design
The website's updated design is hard to miss. The new website has exciting photos, pops of color and engaging graphics that will keep you scrolling through every page. The updated design reflects the fun, engaging personality of our organization. We also wanted to incorporate you– our best feature – into our design. As you look through the new website you'll see your photos. Tag @CarmelClayParks on Instagram and you might have your photo featured! We love to see the memories you make with us, so we're excited to feature your photos throughout our website.
One-Stop Shop
Everything you need to know about Carmel Clay Parks & Recreation is now in one easy-to-find place. Our new website hosts a wealth of information on every page. Want to know our hours of operation, information about all our rental facilities, or membership rates? We have it all!
You asked, we listened. That's why you'll find an FAQ section on several pages of the website. This organizes all the answers to your frequently asked questions.
Explore
On the new website it's easy to see all we have to offer. Ready to explore? Just click the "Explore" tab to get started. Do you have a child enrolled in Extended School Enrichment (ESE)? Now it's easy to navigate beyond ESE to see what programs your child may enjoy. Do your frequent our Group Fitness classes? Now it's easy to look outside the Monon Community Center to see how you can take fitness outdoors to the park. Planning a family reunion, bridal shower or corporate meeting? Explore our rental shelters and facilities to find the perfect space for your next event. Your next adventure is waiting – start exploring!
Engage
Have you ever thought about applying for a job with us or volunteering in our parks, but didn't know where to start? We have all kinds of volunteer opportunities for groups large and small. We are also regularly on the look-out for part-time and seasonal staff. Engaging with Carmel Clay Parks & Recreation is now just a click away. You can find all the ways you can engage with us on our website under the "Engage" tab.
Connect
Our new website is a way for you to get connected. Take a look at our history on the About Us page, read our latest news on the Newsroom page, and read our stories on the Blog page! The site is a hub of information and a place where we can share our impact and stories. We have amped up our content to keep you up-to-date with everything going on at Carmel Clay Parks & Recreation. Make sure to check back often to see what new, exciting content we have posted for you.
These are our top 5 changes – but it's just a glimpse at the updates to our site. Explore our website to see which update is your favorite and don't hesitate to engage and connect with us!