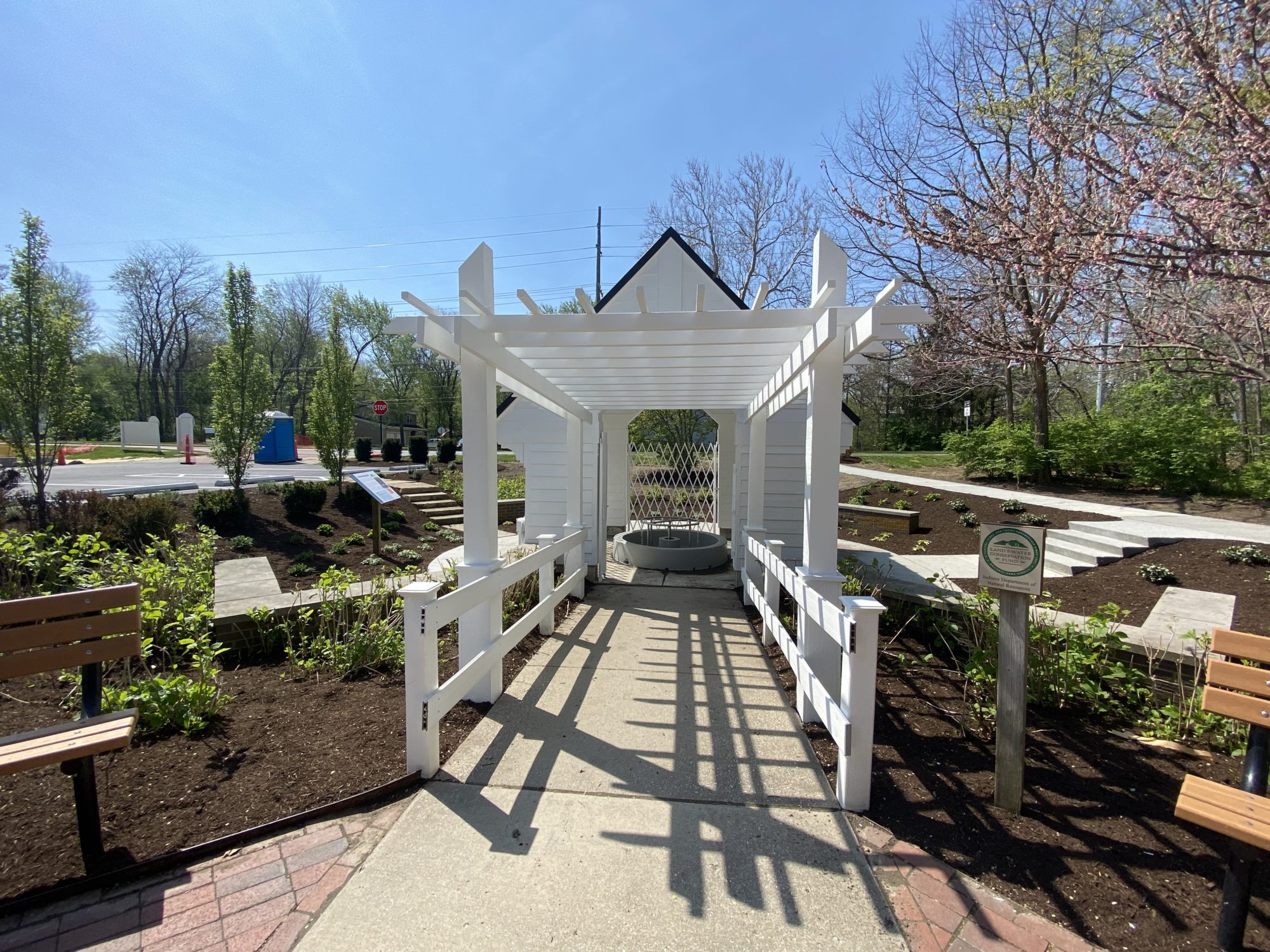 Explore the Newly Reimagined Flowing Well Park 
Here are the tops 5 things you won't want to miss!  
Flowing Well Park is located at 5100 E 116th St 
It's the moment we've been waiting for … we are incredibly excited to share that Flowing Well Park opens April 30 at noon! This destination park has received several upgrades over the last year. On your next trip to the park, you won't want to miss a thing.   
1. Expanded Parking Lot 
It's no secret that Flowing Well Park is a popular spot, which means plenty of parking is important. We know parking might not seem particularly exciting, but the only time you think about parking is when it's seriously easy or seriously difficult. We wanted to make it seriously easy. The expanded parking lot is an update you'll notice right away. The parking lot is now double in size and offers two ADA parking spaces and one van-accessible parking space. 
2. Cool Creek Bank Stabilization 

One of Flowing Well Park's most exciting natural features is the creek. Cool Creek winds directly through the park and offers endless opportunities for fun. If you've visited over the last few years, you've likely noticed the banks were eroding. Bank stabilization was one of the main goals for this park's "reimagining" to ensure the plants, wildlife, and trails in the park are protected. By restabilizing the banks of the creek, we're ensuring the longevity of this resource for our community. Impacted areas are undergoing long term restoration to encourage native plant revegetation.
To ensure habitat sustainability, access will be restricted to areas receiving restoration and long-term monitoring. When you visit you'll notice live stakes. Live stakes are dormant, woody plant cuttings that have their branches trimmed off and are used to reduce streambank erosion. As they develop roots and grow into maturity they help anchor the soil in place.
Buttonbush, Silky Dogwood, Pussy Willow, and Sandbar Willow are the species of live stakes being used here in Flowing Well. These particular selections should grow quickly and do well along riparian corridors like this one. The stakes can root easily in this soil and provide long-term sustainable solutions for stabilizing the streamside habitat and reducing erosion.
Want to be part of our monitoring and restoration efforts? Learn more about upcoming opportunities at carmelclayparks.com/park-stewardship.
3. Restrooms 
Ever had to cut a trip to the park short because you or your little one needed a bathroom break? No more! We now have year-round bathrooms at Flowing Well Park. Now you can plan to spend hours upon hours exploring, creek stomping, picnicking and enjoying what the park has to offer. 
Please note: restrooms are currently closed and will open soon! Due to global supply issues, we are still waiting on some roofing materials. The restroom and shelter roofs will be completed mid-May.
4. Learn something new 
Our Parks & Natural Resources Director Michael Allen once described Flowing Well Park as having a "National Park-feel right in the heart of Carmel." It's true that the park offers much in the realm of exploring and experiencing nature. Along the parks' freshly resurfaced trails you'll find updated interpretive signage that shed light on the plants and animals that call the park home as well as the area's natural history. 
5. A few other exciting notes 
What else was updated? Here's a quick snapshot: 
New trailhead access at Gray Road via a sidewalk path. 
New benches. 
Bike racks. 
Grill. 
Picnic tables under the shelter including one which is ADA accessible. 
Updates to the well house. While not an update, we are also excited to share that the artesian well is now open and available again for park visitors. Don't forget that the water from the well is not purified. It is the natural water directly from the aquifer. To ensure your own safety when drinking/consuming water from the well, we suggest you always do the following: 

Use a sterile container to collect the water. 
Boil water before drinking it. 
Please respect the closure signage and barricades when the well is closed. 
We hope that you enjoy the newly reimagined park. If you get out to explore, we'd love for you to share your memories with us. Tag us on social media @CarmelClayParks!