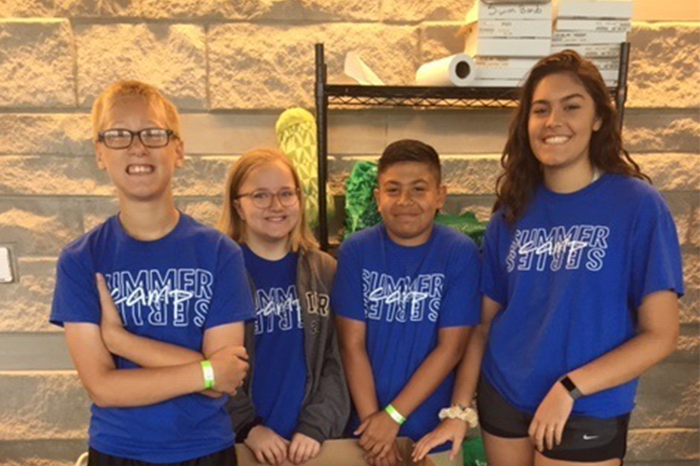 Young Leaders, Big I.M.P.A.C.T.
This summer some young leaders made an impact in a big way. I.M.P.A.C.T campers at eight of our summer camps led a community service project. I.M.P.A.C.T. stands for Initiative, Motivation, Professionalism, Achievement, Compassion and Teamwork. They teamed up with Indy Backpack Attack, a school supplies drive that helps students get the essential tools to learn and be successful in the classroom. From designing donation box decorations to creating promotional materials, these campers served as positive role models and difference makers. At the end of the summer, their hard work resulted in a total of 833 collected items.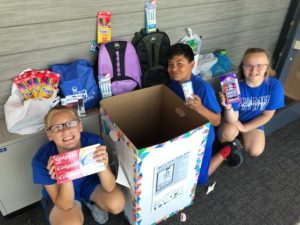 The I.M.P.A.C.T program itself teaches essential life skills in a job-like setting. These young leaders, ages 12-15, are assigned to one of our Summer Camp Series where they assist with daily tasks, younger campers, and – as of this summer – a community service project.
"The passion to help and create a positive impact continues as campers grow older and enter adulthood. That is why we thought it was so important to incorporate a community service project into the [I.M.P.A.C.T.] program." – Tiffany Buckingham, Extended School Enrichment & Camps Assistant Director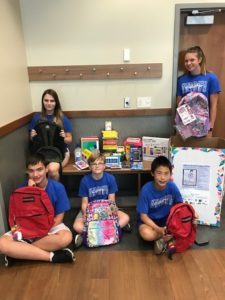 The Indy Backpack Attack – which occurred from June 24 to July 19 – was an additional learning component and responsibility for I.M.P.A.C.T campers this summer. The campers were tasked with designing donation bins for each drive location, making promotional posters and flyers, and promoting the importance of service to parents as well as campers junior to them.
"Through this service project, kids were able to think and experience beyond their own perspectives," Buckingham explained. "They were able to recognize others' needs and be aware that others may be less fortunate."
School supplies and hygiene products collected through the drive were donated to Indianapolis Public Schools and Mayor's Chartered Schools. There they will be organized and distributed to children in need.
"I realized that a lot of young people do want to help," I.M.P.A.C.T. camper Hannah Lauchner-Keels said. "If we are able to serve when we are younger, we are more likely to continue when we are older. We can contribute to society by helping those who may be less fortunate."