Why The Waterpark is Perfect for Friends with Kiddos
By: Kate Ruddell
I'm at that weird age – you know, where half of my friends are married with children, and the other half are still figuring it out. It's a magical and maddening time all at once. Many of my mama friends say that once you start a family, your social circle changes. It's more 10 a.m. birthday parties and Disney® soundtracks on repeat than late nights out and songs with lyrics that would make your own mother blush. Friends weather many seasons, and it's so important to be flexible so you can both grow together. As I've gotten older, I've learned to be a bit more mindful in finding activities that are both adult and kid-friendly. Not only do I get to enjoy spending time with my friends but, I'm going to let you in on a little secret, participating in kid-friendly activities is way more fun than you can ever imagine. I decided to kick summer off by putting together a "Girls Day Out" with my two mama friends and their daughters at The Waterpark at the Monon Community Center.
The Cabanas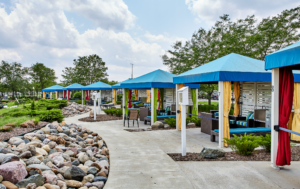 The cabanas at The Waterpark make for the perfect nest. Both mamas were able to park their strollers at the cabana without any hassle. When we first arrived, we decided to hang out in the cabana before hitting the pools. The cabana provided the perfect mixture of a luxurious escape from the sun as well as privacy from the crowds. We turned on the ceiling fan, turned up the in-cabana radio for a little dance party before getting the girls ready for a fun day at the pool. My favorite part about the cabana is that we have access to a large safe. We were able to store all of our diaper bags and pool towels in the safe while we were out and about having fun in the sun.
The Pools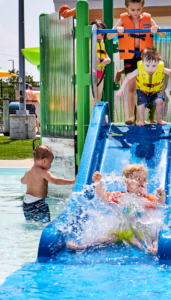 The Waterpark offers something for everyone. We started off in the kiddie pool, which was perfect for the little ones. The kiddie pool is restricted to children under 48" tall. We never worried about the older kids splashing or having too much fun. The zero-depth entry made it accessible without worry. The girls loved going down the new slide.
After getting the girls acclimated to the water, we decided to journey through the lazy river. We found it easiest to keep the smaller child on mama's lap while the 3-year-old wanted her own big girl inner tube. They offer two sizes of inner tubes to accommodate children. We seriously could have stayed there all afternoon! Pro Tip: Bring your phone in a waterproof case to snap some fun photos in the lazy river. I wish I would have thought of this myself, but I'm totally stealing this idea from someone else we saw floating along. Brilliant!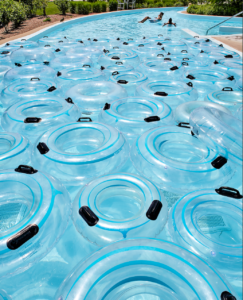 We decided to walk back to our cabana but got totally distracted by the amazing FlowRider®! There were kids both bodyboarding and flowboarding – like surfing. The FlowRider® is like a surfing area that you would see on a cruise ship. While our girls are too little to ride it – that didn't stop the mamas! I totally chickened out last minute, but my friend Tara totally rocked it. Her daughter was completely enamored watching everyone participate, especially her own mama. According to Tara, it was not easy, but these kids will have you thinking otherwise! They were absolutely fearless, and I loved watching all of the different tricks they could do. I wish they had this when I was a kid!
Food Options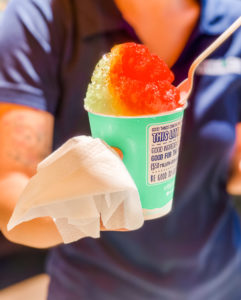 We worked up quite the appetite after swimming and flowboarding, so we decided to check out the concessions. We were all totally impressed with the affordable prices! They have all of the concessions staples such as nachos, hot dogs, burgers (veggie burger option!), popcorn, ice cream and drinks. If you forgot your sunscreen or swim diapers, they offer those too.
If you're not a snack bar person, or maybe you have a food allergy – don't worry! Outside food is allowed in designated areas of The Waterpark, including the cabanas. We had a group next to us celebrating a birthday. They brought in a cake and had pizza delivered. We passed by several celebrations. I think the Monon Community Center is perfect for any family celebration. The fact that you can bring in outside food is just icing on the cake.
To Sum it Up
We ended our fabulous girls day out by relaxing in the cabanas and even closed off the side portion for some extra privacy. Our girls were exhausted and ready for a long nap! We had such a great time all together. It was an easy way to keep the little ones entertained and we could still socialize while they played together. Making memories with my friends and their children is something I will cherish forever. I am so lucky to have the Monon Community Center just minutes away.  They truly made our day something special.