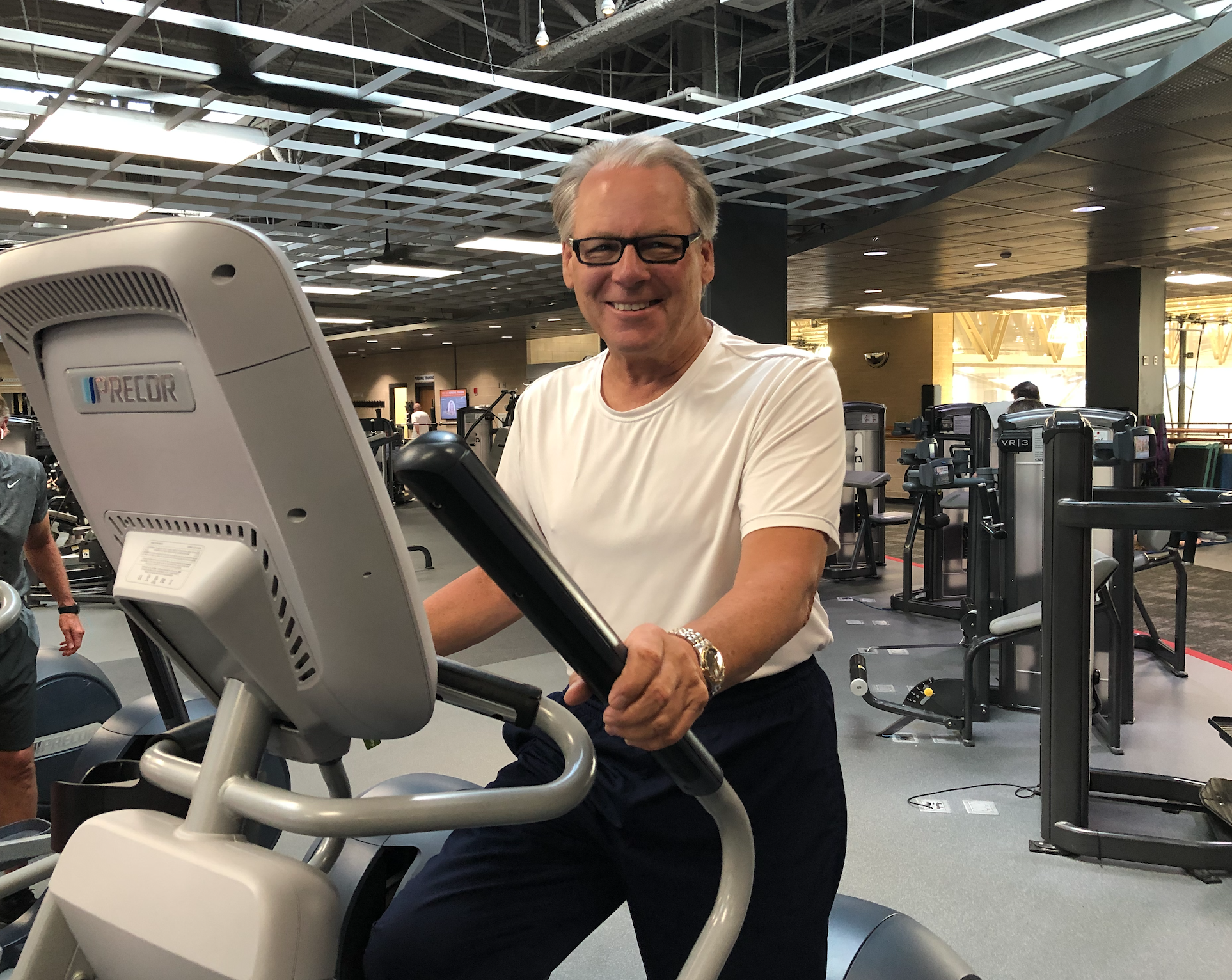 The wear and tear on a high school and collegiate gymnast's body is grueling. Almost every part of the body is involved in gymnastic training, performance and competition. Longtime Monon Community Center (MCC) member and former gymnast Dan Gooliak shares that preparing for a total knee replacement was as crucial as the actual replacement surgery and rehab that followed.
"I needed a knee replacement, no doubt," shares Gooliak. "I've always been quite active working out, walking, biking and swimming. I knew this was going to be a tough recovery and I wanted to make sure I was as strong as possible going into the surgery. Working with MCC personal trainer Nate Thomas really was the missing piece of the puzzle."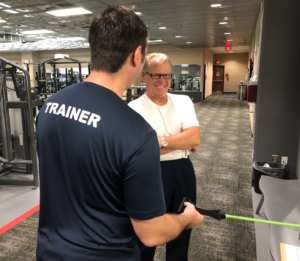 Gooliak's surgery was in September 2018. Today, you can tell how pleased he is with the outcome and his recovery. Prior to surgery, he started personal training sessions with Thomas tailored to his pre-surgery needs. They worked to increase the strength of his quad muscles (located above the knee) and maximize the strength and flexibility of his hamstring. Even Gooliak's doctors were impressed with his strength prior to the knee replacement.
"For Dan, having a personal trainer has helped him to be consistent in his workouts," shares Thomas. "He has a routine to follow, and goals to hit every time he enters the gym. He doesn't have to think about what the next exercise or weight is supposed to be because it is all written out for him. And he can always call or email me if he has any concerns or questions."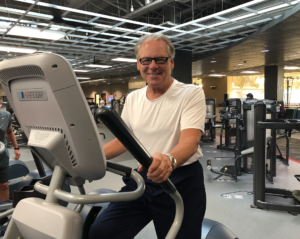 Besides a new knee, Gooliak says he's open to trying just about anything new the MCC has to offer. He loves to hop on the elliptical, take one of the hundreds of available group fitness classes, swim laps, or walk the indoor track. He occasionally comes with his wife Jane who takes several classes at the MCC including a popular cycling class. Gooliak works in the hotel industry and due to his shift schedule often makes the trip to the MCC for his workout on his own. He says he usually comes two or three times a week to stay in shape and has been coming for many years.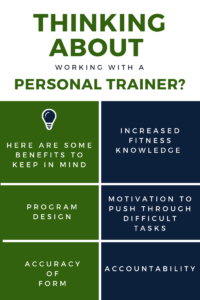 "Dan is extremely positive and it has helped a ton in his progression to get stronger and more limber," Thomas says. "So much of your success in training or in life has to do with your outlook. When you can approach things from a positive application, it makes things easier and helps you to achieve the results you are looking for. For Dan, we bonded a lot over our love for our sports teams. My Purdue Boilers vs his IU Hoosiers. My Colts vs his Patriots. It was and still is a ton of fun to banter back and forth on our opposing teams and his positive outlook makes it so much fun to work with him."
The Gooliaks have even ventured beyond the MCC and are avid fans, if not addicts, of walking and biking the Monon Greenway. "We use just about everything Carmel Clay Parks & Recreation has to offer and it is the kind of place that really makes a difference in your health and fitness. We've met a lot of friends here and the family atmosphere is what really keeps you coming back. They have everything you'd ever want or need for a state-of-the-art workout — no matter what you are into — all in one place."
A trainer can be everything from a coach to a teacher to a friend. At any given time they might be all three. A good trainer is going to help you to succeed where you may or may not have on your own. Weight loss, strength gains, flexibility and mobility, all of these are benefited from having a trainer. Your training sessions give you a direction to follow in your exercise goals. The program design helps you to maintain progress. Form must be perfected for the best results of the muscles and ranges of motion. If you are concerned that you aren't getting maximum results in your training, having someone take a look at where you are at and help you to reconsider your routine is highly beneficial. Even as a personal trainer myself, I will often spend time working under another trainer just to give myself a new challenge and a new viewpoint on my body's limitations and weak points.