Programming Perfect for Young Explorers
By: Shelly Bergman
This summer we were on the hunt for summer classes, camps and programs that really engaged our daughter. We were so excited to discover Carmel Clay Parks & Recreation! One of the classes we took was Knee High Naturalist because one of the weekly themes focused on birds. This past homeschool year we did a large study on birds, and I thought this would be a great way to keep her interested in the subject. And I know the class was a hit because she was excited to go to each session and even shared the facts she learned with other visitors to the parks! 
The Class: Knee High Naturalist
The description in the Carmel Clay Parks & Recreation Program Guide sparked my interest: Your young explorer will build an appreciation for nature as they discover the great outdoors through hikes, songs and art projects. Adults will gain knowledge and skills for teaching children about the natural world around them with both indoor and outdoor experiences. Ages 1-5 years, $26
Personally, I was very drawn to the idea of gaining knowledge and skills for teaching our girls more about nature. We love taking nature walks and bike rides! Throughout the program sessions the instructor, a naturalist with more than 30 years of experience, taught participants to stop, listen and look around for habitats when out in nature.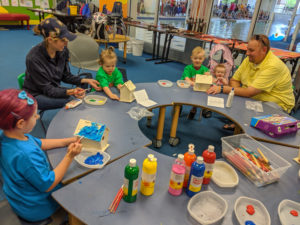 There are only a handful of kids in the class, which makes the instructor to student ratio perfect for the activities. Each session we started with a game followed by a craft. While the craft – a birdhouse – was drying the instructor read a picture book relating to the craft and taught the children about birds. Then we would all head outside for a nature hike looking for something specific related to birds (a certain type of bird or their homes). Each night my daughter would come home with her craft and excitedly tell her Dad all about her class. She proudly hung her painted birdhouse in her fairy garden in hopes of giving a comfy home to a bird family. 
Why We Loved It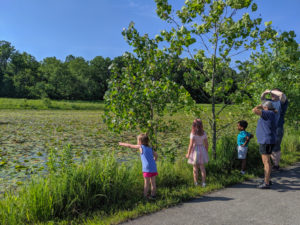 Knee High Naturalist was a really fun class. It had just the right amount of craft, storytime, learning and outdoor experience for my active 5-year-old. The younger kids (2-3 years) also really benefited from the quick activity turnaround. I really enjoyed how laid back the class was. Several of the adults, myself included, brought younger siblings who needed to have dinner, diaper changes, etc. and we all felt comfortable in that setting. The instructor even included babies in the storytime, which was so sweet!
The Monon Community Center is a wonderful facility not only because it is host to this program (and hundreds of others!) it also has a really nice, kid-friendly indoor space and beautiful outdoor grounds (Central Park) to explore. We found great value in the program and had a really fun time learning about birds and meeting new friends. I can't say enough about how much we enjoyed our classes this summer with Carmel Parks & Recreation. We can't wait to sign up for fall classes!
By the way, registration for fall programs is now open! Which programs will you try this season?